Culture
Parenting from prison: 'In your children's eyes, it's like you just disappear'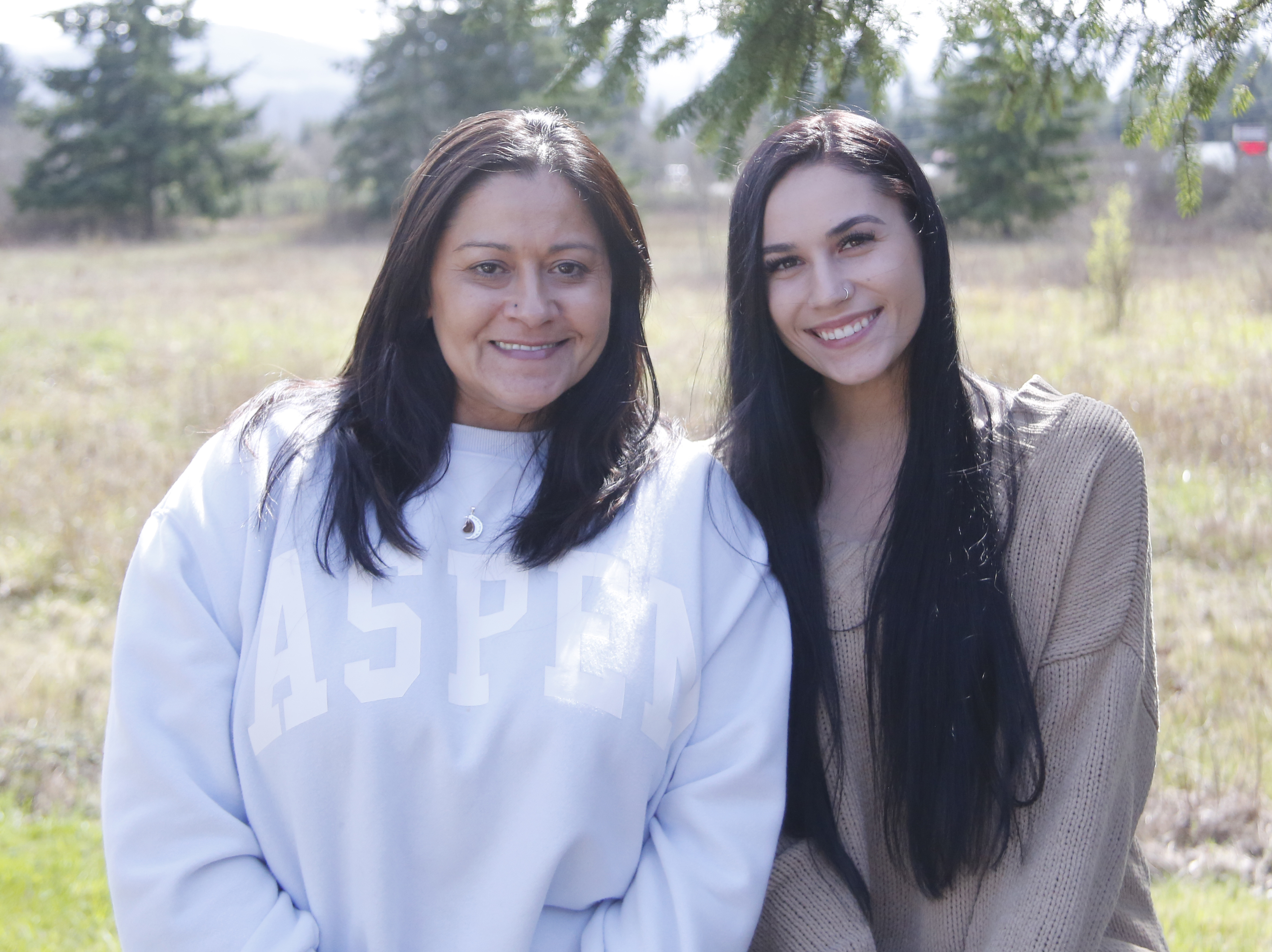 (Editor's note: The U.S. criminal justice system disproportionately affects Native Americans, women in particular, who are overrepresented in the prison population with the highest incarceration rate of any racial group. This story is the first in a series that examines the effects of mass incarceration on Grand Ronde Tribal mothers and their children.)
By Danielle Harrison and Kamiah Koch
Smoke Signals staff
SALEM -- Michele Plummer went to court to face drug charges during a lunch break in September 2008.
She never made it back to the office.
Plummer was arrested and taken to the Marion County Jail. From there, it would be five months until she was able to see both of her daughters, who were then 14 and 5.
 "I committed a crime and deserved to be where I was, but for your children it's like you just disappear," Plummer says. "My oldest daughter (Myranda Bradshaw), it crushed her. It was right before her birthday. She was a teenager and just needed her mom. My youngest was 5 and at school. I can't even begin to identify what they went through. One minute I'm there, the next I'm not."
Compounding the situation was Measure 57, which Oregon voters approved in 2008. It increased prison time for those convicted of certain drug and property crimes.
Plummer says she sold drugs to supplement income at a state job because she wasn't able to make ends meet as a single mother. Desperate to escape a violent partner, she turned to what she knew.
"A lot of times, women who are in prison, it is due to circumstances which led them to the choices that they made," she says. "That is what happened to me. After I split up with my ex, I couldn't afford to take care of the kids, pay for rent and groceries and make the car payment. I worked and sold drugs, but you can't do that for long without getting caught."
Research from the Prison Policy Initiative backs this up. In addition to policy changes that increased the arrest and incarceration of women, the underlying cause of many substance use and resulting criminal behaviors are desperation, it states, and many would be better served by community treatment programs than prison time.
"Many women on the social and economic margins of society struggle to survive outside of legitimate enterprises, which brings them into contact with the criminal justice system. … The most common pathways to crime are based on survival (of abuse and poverty) and substance abuse."
Jail to prison
During her five months in jail, Plummer spoke with her children on the phone, but there were no in-person visits with her youngest.
She says it was particularly heartbreaking to try to explain things to her 5-year-old, who didn't understand what had happened.
"Going five months without seeing Risa was really difficult," she says. "I knew I could handle it, but she could not. It was gut-wrenching knowing she was suffering. It took so long because DHS kept trying to find something more that was going on because she wasn't eating. I told them, 'She's not eating because she misses her mom. It will be better for her if she sees me.' It wasn't the ideal lifestyle we were living, but she missed her mom and didn't know where I was."
When Plummer arrived at Coffee Creek Correctional Facility in Wilsonville in 2009, her main goals were to see her children and be released as soon as possible. That's when she heard about the Family Preservation Project.
The project was originally started by the state Department of Corrections in partnership with Portland State University in an effort to help lessen the effects of incarceration on mothers and their children. It became a program of the YWCA of Greater Portland in 2015.
Plummer was accepted into the program, which she calls a "game changer."
"If I hadn't gotten into that program, I don't know if I would have seen my children at all," she says. "Only seven moms at a time can be in program. It's intensive and long lasting. You have to have five years or less and be on the minimum security side to be (eligible). The moms who are already in the program select you."
Visits are provided in a separate building on the prison campus with a home-like atmosphere. Mothers and their children interact by doing crafts, sharing a meal, reading or simply being together. 
"They tried to provide the most normal atmosphere that they could," Plummer recalls. "Kids need to know that their mom is OK and they know where she's at and that they get to come back."
The program has proven highly successful: Many participants have earned college degrees, become therapists, started businesses and served as advocates for other women behind bars. According to Plummer, not one mom who participated when she did went back to prison and she was released in 2011.
A recidivism rate of zero is not the norm. According to the Criminal Justice Commission of Oregon, the current recidivism rate for all prisoners after three years is close to 53 percent.
Despite the real-life data showing the program's effectiveness, it has ended up on the chopping block for state budget cuts a number of times. It motivates the moms who have been helped to travel to the State Capitol in Salem and share their stories.
"I have done plenty of speaking at the State Capitol in favor of keeping the program," Plummer says. "When you talk to legislators, you only get 30 seconds to tell your story. I will always go to advocate (for the program), whatever topic or focus, I will do it. People need to know and understand what it is they're trying to do. … If you give people hope, they are less likely to reoffend."
Myranda's perspective
Tribal member Myranda Bradshaw was at volleyball tryouts just a few weeks into her freshman year of high school when she received the news that her mother was going to jail.
Bradshaw grew up with her father in Molalla, but maintained a good relationship with her mother, calling Plummer her "best friend."
Her mother's sudden incarceration lead to a challenging few years until she was released in 2011.
"I never lived with her, but the fact that if I needed her, I couldn't just call her. She missed birthdays, graduation, Christmas and Thanksgiving," Bradshaw says. "Everything I grew up having her there for, one day she was just gone. I think that was the hardest part. She was still here, but not at my disposal. If something exciting happened I had to wait for a call time or visitation."
Bradshaw recalls jail visitations as difficult with strict rules, glass partitions and spontaneous lockdowns.
Although these visitations helped maintain the relationship with her mother, they also began to negatively affect her schooling. Visitations were usually at the same day and time, which meant she repeatedly missed the same class.
Bradshaw says the situation improved when her mother was moved to prison and was able to join the Family Preservation Project, which held visitations on the weekend.
"I was actually too old to be a part of the (Family Preservation) Project," Bradshaw says, "They made an exception for me because it helped Risa go. She would rather her sister go with her than have her just walk alone into the prison."
The sisters visited their mother at every chance and Bradshaw says the program offered some sense of normalcy without rules restricting their interactions. Bradshaw says without it, she isn't sure her relationship with her mother would have remained strong. 
"People on the outside, they don't see how much it changed relationships," Bradshaw says. "That kept those moms going, knowing 'I get to see my kids and give them a hug and hang out with them Saturday.' It really helped the moms want to be better and not have to come back."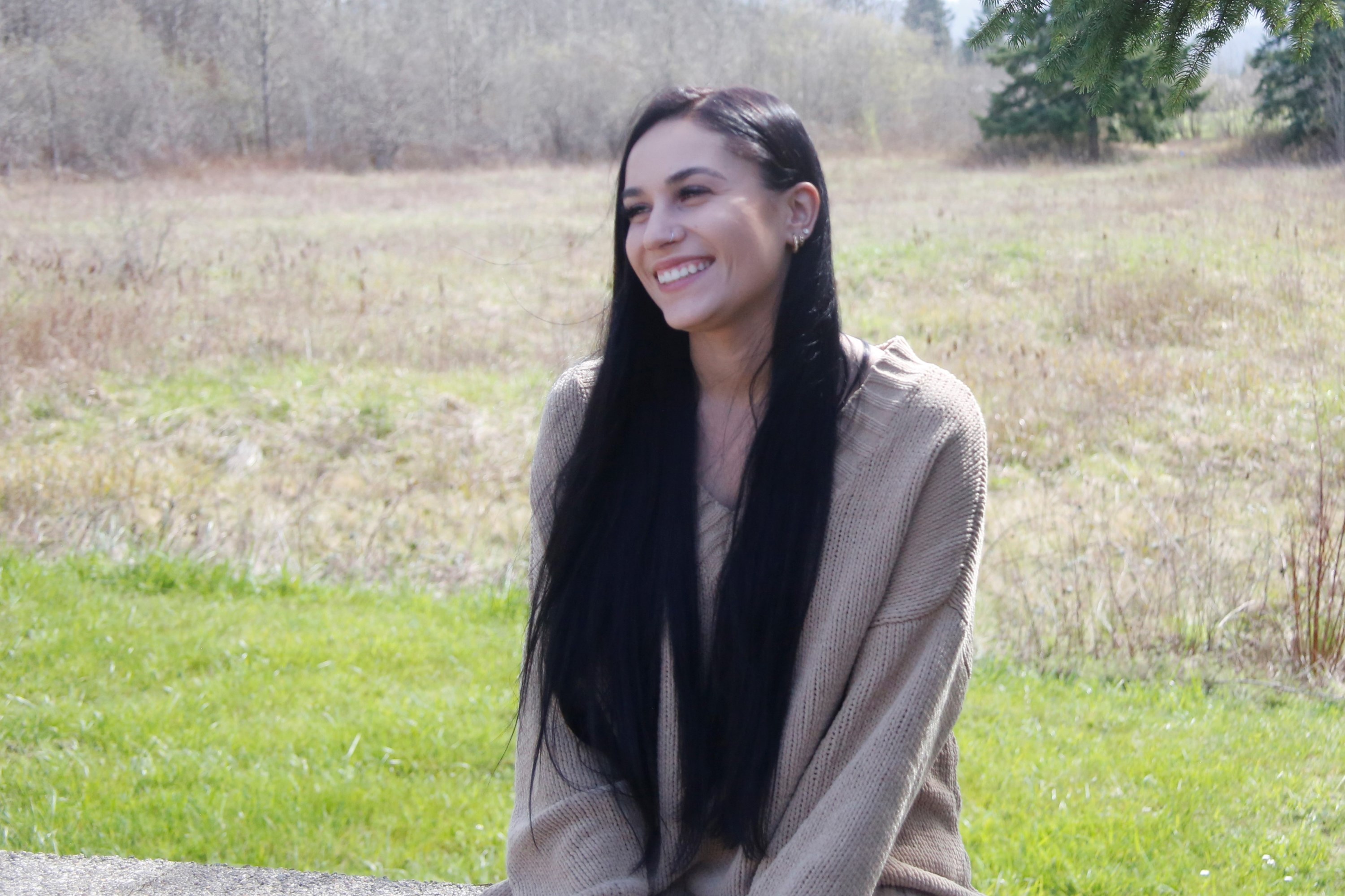 Tribal member Myranda Bradshaw sits outside the Grand Ronde Housing Department offices where she serves as Rental Housing coordinator. Bradshaw is the daughter of Tribal member Michele Plummer who spent a year and a half incarcerated at the Coffee Creek Correctional Facility when Bradshaw was a teenager. (Photos by Kamiah Koch/Smoke Signals)
Female incarceration rates
skyrocket after 1980
Women are one of the fastest growing segments of the prison population, according to data from The Sentencing Project. Between 1980 and 2019, the number of women who were incarcerated rose by more than 700 percent, increasing from just over 26,000 to more than 222,000.
Various research studies concur that this is mostly due to the war on drugs, which resulted in tougher drug-sentencing laws, even for nonviolent or possession charges.
Plummer says she experienced this: Despite having her drugs locked up in her bedroom, when she refused to reveal the identity of her suppliers, she was hit with additional child endangerment charges as well as delivery of a controlled substance within 1,000 feet of a school.
"That one still baffles me because I didn't deliver anything," she says.
Even without a violent offense on her record, Plummer faced significant societal barriers after being released from prison as a convicted felon.
 "Life after prison didn't come easy. … I had to fight for my children, my housing and my education," she says. "I never really had to fight for my job though. Unlike so many others, I got support because our Tribe believes in second and third and however many chances you need. I don't even know what I would be doing for a job otherwise."
She adds that the Family Preservation Project helped those who participate prepare for both positive and negative situations after leaving prison.
"I didn't know if my kids would be returned to me," Plummer says. "I was pretty sure they were not. Some moms aren't able to see their kids when they are released or have difficulty finding housing, so they go back to what they know, bad situations. The program helps prepare you for many different outcomes."
In the spring of 2021, Senate Bill 720 was introduced in the Oregon Legislature. If passed, the bill would have allocated permanent annual funding to the program, but it stalled in committee. This means program funding remains in limbo.
Plummer wishes that legislators would take into account the larger societal costs of mass incarceration.
"I wish that costs to the whole family had more of a focus," she says. "It's a pyramid, a ripple effect. I think it is a lot less for prevention. If they could see the bigger picture, it's much more expensive to house an inmate than it is to run this program. Look at how much it costs to put a child in foster care. There needs to be treatment of the whole family unit."
Day of Empathy focuses
on raising awareness
Mothers served by the Family Preservation Project, including Plummer, gathered at Abundant Life Church in Portland on Wednesday, March 30, for the second annual Day of Empathy event. The purpose was to "raise awareness in pursuit of a shared vision to keep communities safe, families whole and economies strong."
This year's focus was for attendees to imagine what the world would be like if it "centered care and not punishment in addressing harm."
Plummer joined project alumni Alicia Roach, owner of Birthing With Dignity Doula Services, while award-winning documentary filmmaker Brian Lindstrom served as discussion moderator.
Plummer says no matter how many times she tells her story, it still feels like it just happened.
She talked about her struggle post-prison to obtain a college education while working full-time, including earning a law degree.
"It was a struggle and I have tried to give back for the harm I caused in whatever capacity I can," she says. "My struggle began when I was born and was in 12 different homes before turning 2. That abandonment stayed with me. My adoptive family was wonderful, but didn't understand the trauma and healing that I needed. … That cultural component was missing from my life and I didn't have that to give my children when we were hurting."  
Plummer adds that the entire Day of Empathy experience had been enlightening for her, even though she'd already had firsthand experience with the criminal justice system.
"I thought that prison saved my life, but that is not the truth," she says. "I saved my life. I got out of there to never go back. Sitting in prison was a waste of time for everything and everybody. The healing didn't start until I left that place. I'm so glad I wasn't in there for a long time."'
Tribal member Michele Plummer spoke about her experience with the Family Preservation Project at the second annual Day of Empathy event held Wednesday, March 30, at Abundant Life Church in Portland. The event was put on by the project and Dream Corps Justice organization to highlight the effectiveness of these organizations' work with families through speakers and artistic presentations. (Photos by Kamiah Koch/Smoke Signals)
Listen to "Parenting from prison: Tribal members' stories of mothering from within Coffee Creek Correctional Facility" on Spreaker.