Gaming
Tribe opposes Siletz Salem casino plan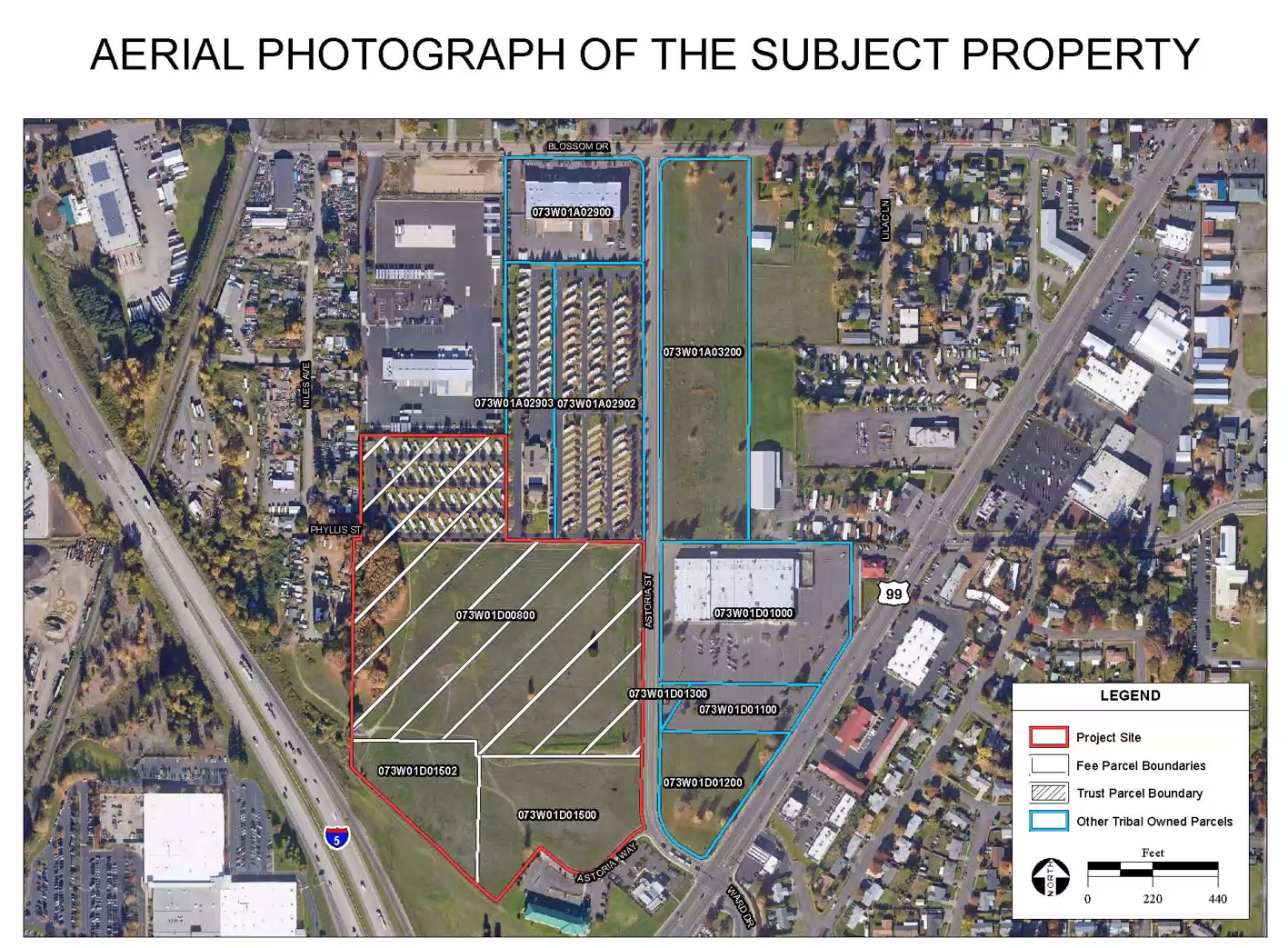 By Dean Rhodes
Smoke Signals editor
SALEM – The Confederated Tribes of Grand Ronde's opposition to a Siletz Tribal proposal to build a casino in north Salem dominated a virtual public meeting held by the Bureau of Indian Affairs on Wednesday, Jan. 26.
Of the 28 speakers during the 110-minute hearing, 21 – 75 percent – were Grand Ronde Tribal members or employees.
All Tribal Council members – Chairwoman Cheryle A. Kennedy, Vice Chair Chris Mercier, Secretary Michael Langley and members Lisa Leno, Denise Harvey, Jack Giffen Jr., Jon A. George, Michael Cherry and Kathleen George – spoke.
Tribal members or employees who testified included Spirit Mountain Casino General Manager Bruce Thomas, Spirit Mountain Casino Assistant Manager Camille Mercier, Tribal Police Chief Jake McKnight, Tribal Attorney Rob Greene, former Tribal Council members Reyn Leno and Steve Bobb Sr., Rosemary Jameson, Engineering and Planning Manager Ryan Webb, Anthony Quenelle, Editorial Board Chair Mia Prickett, Communications Director Sara Thompson and Tribal lobbyist Justin Martin.
The Grand Ronde message was loud and clear: Allowing the Siletz Tribe to leapfrog over the Grand Ronde Tribe's Spirit Mountain Casino to build a second Class III casino in Oregon near Salem would violate a long-standing state policy, start an arms race of new Tribal casinos moving closer to metropolitan areas and, most importantly, devastate the local rural economy and Grand Ronde programs and services that rely on casino revenues.
The meeting was held via Zoom and participants were limited to comments of three minutes or less. To prepare, the Confederated Tribes of Grand Ronde held a virtual meeting of its own on Thursday, Jan. 20, in executive session to brief Tribal members. About 45 Tribal members attended that meeting, Tribal Council Chief of Staff Stacia Hernandez said.
Langley led off the BIA testimony, saying the Grand Ronde Tribe cannot support the Siletz project.
"I'm here to tell you that the proposed revenue sharing in this proposal does not make sense," Langley said. "There's some confusing terminology. Net gaming revenue and net income are two very different terms. Of the two, net gaming revenue represents a bigger slice of the pie. In this proposal, the state will be sharing 25 percent of this larger slice. Participating Tribes, as yet undefined, would be sharing the smaller net income slice and then that would be cut into eight smaller slices. … Looking at this proposal, I am left with a lot of questions for the Siletz and BIA, but two pop out: Why would the Siletz give away so much revenue to the state of Oregon when other Tribes have shown how detrimental it can be to Tribal members and whether revenue sharing is even legal under the Indian Gaming Regulatory Act? My understanding is that it is not."
Langley was followed by Salem City Councilor Jose Gonzalez, whose ward the proposed casino would be built in. He objected to the proposal on several fronts, including the fact that the Salem Police Department is currently understaffed, the neighborhood is 90 percent Latino and that a casino off an Interstate 5 exit could be a potential gold mine for Mexican drug cartels.
"This is not the right location for this project," he said.
Gonzalez was the only city, county or state elected official to testify during the virtual meeting.
Mercier said that the Siletz Tribe should be concentrating on making its current casino, Chinook Winds in Lincoln City, better.
"I believe that Chinook Winds has what it takes to be successful," Mercier said. "Chinook Winds has all the components to continuously be highly successful. It's one of Oregon's largest casinos and it's located on the Oregon coast, which for many years was one of the largest tourist draws in our state. … We should not be making accommodations against state practice and policy to grant the Siletz a second casino when they already have one on the Oregon coast. … The coast will always be a draw and I believe that the amount of resources that they are committing to make this Salem casino happen would be better spent to enhance the casino that they already possess that is already located in a major tourist attraction in our state."
Jon A.  George said allowing the Siletz to build a second casino in north Salem would "re-traumatize" the Grand Ronde people who were Terminated in 1954, restored in 1983 and have never received sufficient funding from the federal government.
"I believe putting two Class III casinos owned by one Tribe on each side of us will be financial termination," George said.
Cherry, who served as director of Spirit Mountain Community Fund before being elected to Tribal Council in September 2021, said that a Siletz casino in Salem would negatively affect Spirit Mountain Casino revenues, which, in turn, would negatively affect the good work that nonprofits organizations receiving Community Fund grants could accomplish in 11 northwestern Oregon counties.
"Any reduction in Spirit Mountain Casino's revenue would negatively impact Spirit Mountain Community Fund's ability to invest in these rural, low-income communities," Cherry said.
Kathleen George said that allowing Reservation casinos to start moving closer to larger metropolitan areas would rob rural Oregon of important living-wage jobs.
"I ask the bureau to consider the significant and irreversible impacts of moving Oregon Indian gaming to big cities and away from Tribal families and other rural families who depend on our unique and successful Reservation casinos," George said.
Former Tribal Council member Reyn Leno said it would be unfair to allow the Siletz Tribe to leapfrog from Lincoln City to Salem. "This is a bad decision no matter how to you look at it," he said.
Former Tribal Council member Steve Bobb Sr. had perhaps the best zinger of the meeting, turning the Chinook Winds advertising tagline back on the Siletz Tribe. "After all," Bobb said after arguing against the Salem casino proposal, "it's better at the beach."
Kennedy said allowing the Siletz Tribe to build a second casino in north Salem would have catastrophic impacts on the Grand Ronde Tribe and devastate the local economy. Estimates mentioned during the meeting were that a Salem casino would cut Spirit Mountain Casino revenue by more than 40 percent or more than $70 million a year.
"This project would devastate our people and our overall well-being," Kennedy said. "The project site proposed by the Siletz is located in the heart of Grand Ronde's ceded lands, as well as our largest gaming market. There is no denying that an off-Reservation casino in Salem would have catastrophic impacts on Spirit Mountain Casino. This loss of revenue would harm the services that we provide to Tribal members and devastate the local economy that Spirit Mountain Casino supports through jobs."
She added that the Grand Ronde Tribe would have to consider mass layoffs, end services and curtail programs should the Siletz casino proposal be approved.
Greene said that since the Bureau of Indian Affairs thought it was necessary to conduct a more thorough environmental impact statement when the Cowlitz Tribe opened its casino north of Portland in 2017, it should do the same for the Siletz casino, which is much closer to the Grand Ronde Tribe's gaming facility.
"How does BIA justify not performing an EIS for the Salem casino when it required one for Ilani?" Greene asked.
As the final speaker, Martin said that permitting the Siletz Tribe to build a second Class III casino in Oregon would set off an arms race among the eight Tribes in the state that operate casinos.
Of the seven non-Grand Ronde speakers during the hearing, four were in favor of the proposal, including longtime Siletz Tribal Chairwoman Delores Pigsley, who said the casino project will spur significant economic growth in the Salem area, and provide 2,300 construction jobs and 1,200 living-wage jobs once operational.
The Siletz Tribe filed an application to build an 180,800-square-foot casino with 2,000 gaming devices and 45 table games just north of downtown Salem in April 2020.
The proposed Siletz casino complex would feature a 500-room hotel, three restaurants, food court, nightclub, sports bar and multi-purpose events center that would accommodate a 20,000-square-foot ballroom. It also would feature a 2,000-car parking garage and two surface parking lots on eight adjacent acres on fee land.
In 2017, the Siletz Tribe proposed building a casino at the 20-acre site off Interstate 5 and splitting the proceeds with the state of Oregon and eight other federally recognized Tribes in Oregon. The Grand Ronde Tribe objected to that proposal as well.
The Salem market has become even more important to Spirit Mountain Casino following the Cowlitz Tribe opening its Ilani Casino approximately 17 miles north of the Portland-Vancouver metropolitan area in April 2017.
The Siletz Tribe will need the approval of Interior Secretary Deb Haaland and Gov. Kate Brown before proceeding with its Salem proposal. The state's current gaming policy of one casino per Tribe on Reservation land would have to be shelved for the Siletz to proceed.
Should that long-standing policy end, the Grand Ronde Tribe also is poised to seek permission to build a second casino at the former Multnomah Greyhound Park site in Wood Village just east of Portland. The Tribe purchased the property in December 2015 and is currently working to have it taken into trust.
The 20-acre Salem parcel has been held in trust for the Siletz Tribe since 2000.
The public comment period for the 2,700-page environmental assessment opened on Jan. 7 and will end on April 8. Written comments should be e-mailed to scott.doig@bia.gov or mailed to Tammie Poitra, Regional Director, BIA Midwest Region, 5600 American Blvd. W, Suite 500, Bloomington, MN 55437.
Should the BIA find the Siletz project will have significant adverse impacts, an environmental impact statement will have to be prepared and require additional analysis.