Tribal Government & News
Tribal member designs label artwork for Deschutes Brewery's seasonal beer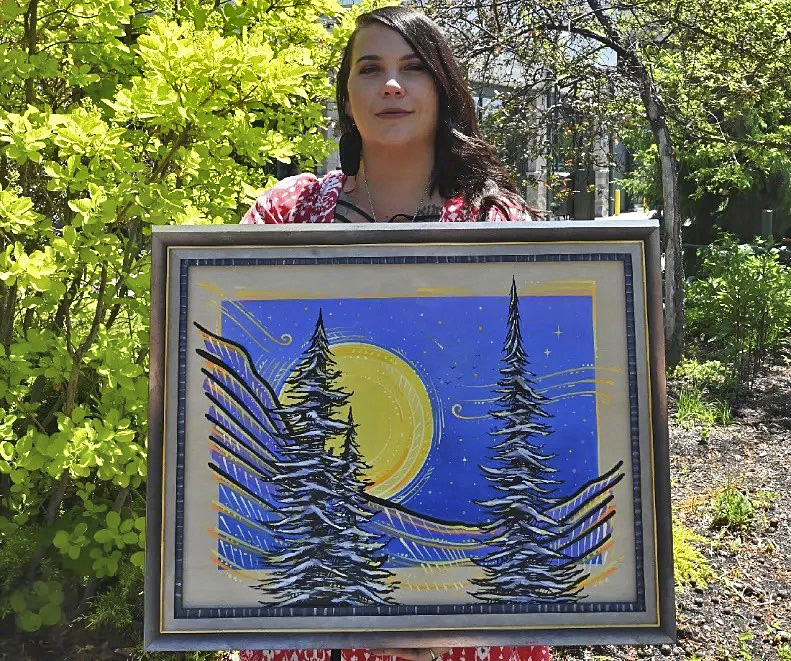 Each year as winter approaches, Deschutes Brewery in Bend, Ore., selects an artist to design the artwork for its popular seasonal beer, the Jubelale.
This year, the brewery selected Indigenous artist and Grand Ronde Tribal member Steph Littlebird for the job.
Littlebird, 37, grew up in Oregon, but currently lives in Las Vegas, Nev. She returned to Oregon in 2021 to participate in a residency program with Caldera Arts Center in Sisters. The program prioritizes selecting people of color whose artwork advances cultural and social change.
For the past 30 years, Deschutes Brewery has gathered submissions from its pool of local Bend artists. This year, Deschutes Brewery sought to expand and diversify that pool by partnering with Caldera Arts Center and Littlebird was asked to submit samples of her artwork as a former resident.
"I wasn't really sure my work would fit with what their brand was," Littlebird says during a Zoom interview from Las Vegas. "So I was like, I'll throw my hat in the ring and just see what happens. Then they evidently selected my work and I got a call a couple of months later and they offered me the opportunity to design the label for the Jubelale."
The artwork displayed on Littlebird's website is colorful and outlined with heavy black lines. The black lines and vibrancy of Littlebird's style is evident in the Jubelale packaging that features a bright yellow moon against a lavender night sky and dark snow-covered trees.
"I came up with the idea to do a beautiful landscape," Littlebird says. "Something that looks beautiful on the can or bottle because Deschutes is known for being a very specific kind of location that's natural and rugged. I wanted to depict that."
Littlebird was compensated for her work and specified in the agreement that she would not use any Indigenous aesthetics or directly Native designs, such as the Chinook zig-zag or imagery of basket weaving to help them promote their beer.
Littlebird says she made these boundaries clear with Deschutes Brewery and was happy with the way the company respected them. In her experience, many Indigenous artists struggle with being hired as a "token" Tribal artist for organizations.
"I'm very aware our community struggles with alcoholism, I have alcoholics in my family," Littlebird says. "For me, I'm doing this for you as a designer. I'm not going to give you anything that is traditional because I have recently seen a few different beer companies hire Indigenous artists and then use traditional or very specific regional styles in their work. I really wanted this to be like me, which is color and mark making."
Littlebird says her process for creating artwork is a little different. Like many of her other pieces, she started with a digital rendition of the painting. Once the digital version was finalized, she painted it on canvas to then be scanned and digitized again by Deschutes Brewery for package distribution, which requires approval from the U.S. Food and Drug Administration.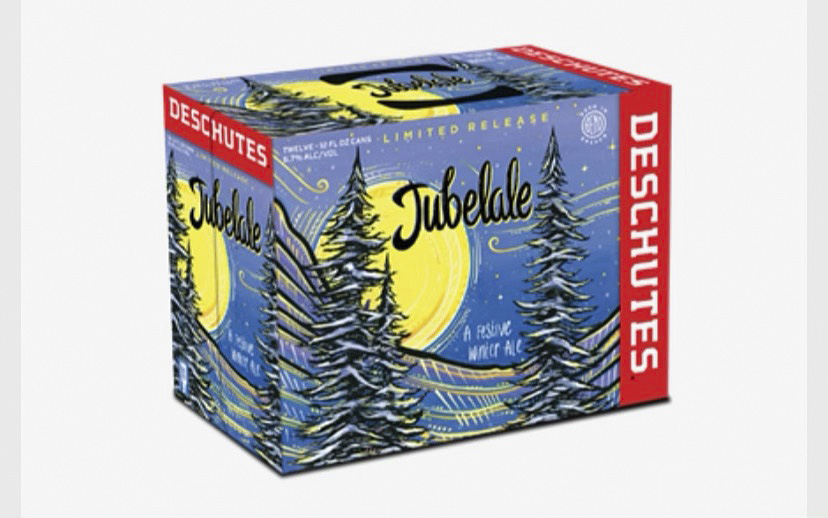 Littlebird also says there were a few factors to consider when creating the design. In the past, the Jubelale artwork often incorporated holiday tropes. Littlebird says she wanted her work to be culturally broader and nondenominational.
She says she noticed the bottle designs have never focused on the moon as the subject. She says the moon gave way to the color choice, adding that she believes the lavender and yellow color scheme will stand out on the store shelves against the traditional red and green designs of other seasonal beers.
"For me I think the color choices are really strong. Even though it's a very simple palette – it's really just purple and yellows – they harmonize in a way I am really pleased with," Littlebird says. "I think I achieved a good balance that I think looks really cool in your hand, too."
One of the most important factors she considered for the design was the folklore behind the seasonal beer. Urban legend has it that the amount of snow featured in the Jubelale artwork predicts how much snow central Oregon will receive that winter season. Littlebird says she needs to see some statistics on the beer's weather-predicting accuracy before she believes it, but played into it anyway with the design. She says this year's Jubelale artwork is all snow.
According to Deschutes Brewery's Facebook page, commenters from all over the country say the Jubelale is one of their favorite beers. Littlebird says it has a "cult following."
The artist herself has yet to try it. Deschutes Brewery is shipping her a few bottles and she looks forward to holding her work in her hands and tasting the famous beer for the first time.  
To commemorate the project, Littlebird will return to Oregon at the end of October to sign posters of her artwork and celebrate the release of the 34th Jubelale. The event will be held 5 to 7 p.m. Friday, Oct. 22, in the Deschutes Brewery's tasting room in Bend.