Culture
Tribal member seeks to become Mrs. Oregon America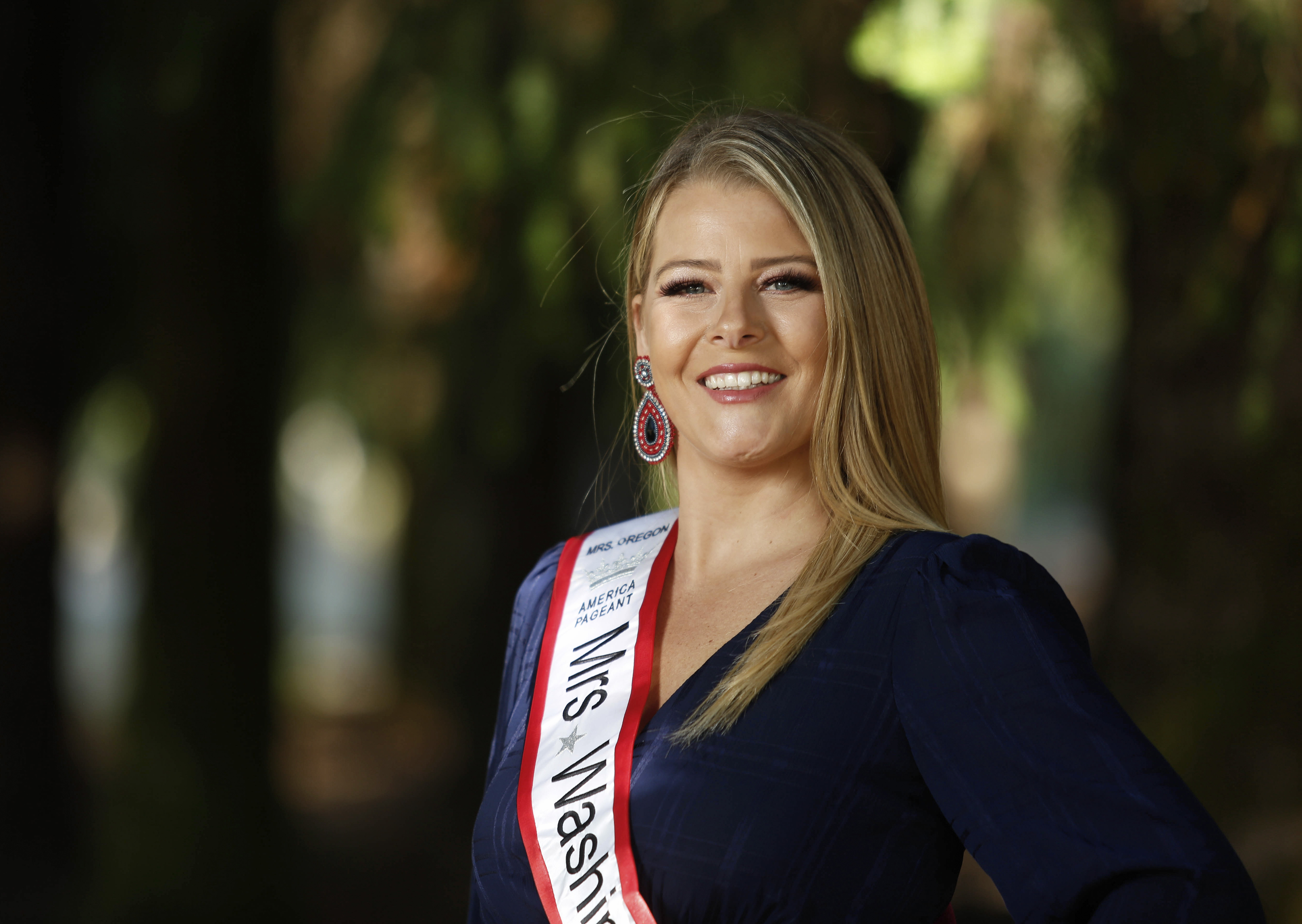 By Danielle Harrison
Smoke Signals staff writer
Tribal member Brittny Frederick says she never imagined being in the running for the Mrs. Oregon America title.
However, her social media post about not letting trauma get in the way of letting your future unfold caught the eyes of the then-reigning Mrs. Oregon America, Salena Griffith, who contacted Frederick and asked if she'd ever considered doing pageants.  
 "I was like, 'No way, I'm a mom, I'm married and is that even a thing for us?' "
With a husband, three children ages 11, 3 and 1, as well as a full-time job, Frederick wasn't sure if she could also juggle pageant obligations.
However, the 32-year-old Beaverton resident agreed to attend the Mrs. Oregon America statewide pageant earlier this summer and see what was involved.
There, Frederick learned about Victoria's Voice, an organization dedicated to keeping teenagers from drug abuse. It was founded after a family lost their 18-year-old daughter, Victoria, to an opioid overdose. They believe that by Victoria's death, thousands will be saved through their foundation that supports ways to reduce drug experimentation, addiction and overdose.
"That really struck a chord with me," Frederick says. "I didn't realize it was that big of an aspect in the event and that there was so much community outreach. That's when I decided to think about doing this. I wanted to get back to working with youth."
As a teen and young adult growing up in Grand Ronde, she worked for the Tribe's Youth Education Department and the Native Wellness Institute as a facilitator, educating other youth about healthy alternatives to using drugs and alcohol.
"It really was such a passion of mine, I thought that was the direction my life would go, but plans changed," Frederick says. "I got pregnant and had a daughter and didn't want to be away too much at the time. That's why I felt this (pageant) was a good opportunity. Community outreach is the biggest part of the pageant and it really inspired me."
Frederick decided to apply for Mrs. Washington County, the first step to becoming Mrs. Oregon America. She was accepted in August and recently participated in her first community outreach charity event at Pumpkin Ridge Golf Course.
The statewide pageant will be held in July 2022, and involves a panel interview, then a dance, fitness, evening gown and onstage question portion.
Mrs. America was established in 1976 to honor married women throughout the United States. Each of the contestants represents one of the 50 states and the District of Columbia, and participants range in age from their 20s to their 50s. Participants earn the right to participate in the national event by winning their state competition.
"I'm really looking forward to the community outreach piece," Frederick says. "I'm excited to get out there and talk to people, and do some of my own events as well. My goal is reduce drug exposure to kids and teens, and encourage other activities."
She says she is nervous about participating in the pageant itself.
"I'm a farm girl and grew up wearing jeans and boots, not makeup and gowns," Frederick says. "But I know it will all be OK. The other women are very supportive and it's like a sisterhood. We're already getting really close. I'm excited to represent the Tribe in this way, too."
Frederick's Tribal roots come from her father, Dennis Linton, grandfather Thomas Linton and great-grandmother Geraldine "Toots" Mercier.
"The reason I decided to do this is because of the experiences I had growing up and what the Tribe means to me," Frederick says. "I'm very proud to be Grand Ronde."