Tribal Government & News
Riding In selected as 2021-22 Hatfield Fellow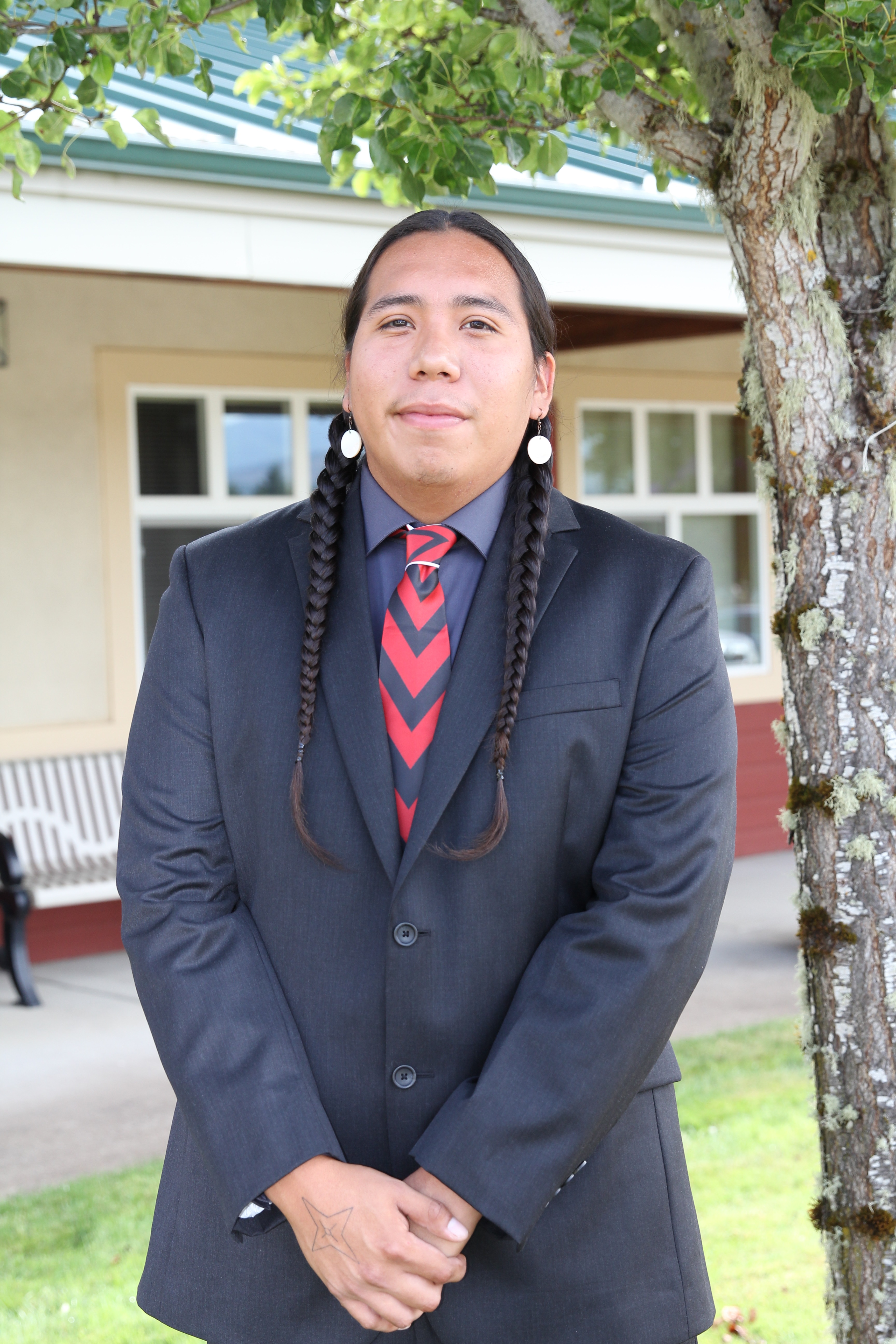 By Danielle Harrison
Smoke Signals staff writer
Grand Ronde Tribal member Samuel Riding In has been selected as the 2021-22 Hatfield Fellow by the Tribe's philanthropic arm, Spirit Mountain Community Fund.
Riding In, a recent Portland, Ore., transplant, grew up in Apache, Okla., and received a bachelor's degree in Indigenous and American Indian studies from Haskell Indian Nations University in Lawrence, Kan.
Riding In also holds a certification in behavioral health and was employed as a case worker and behavioral health technician at Lutheran Indian Ministries, a nonprofit organization in Kansas. He is passionate about mental health issues, Indian education and economic development for Tribal communities. 
"I'm looking forward to this opportunity a lot," he said. "I never had a political leaning or saw myself in that position, but I have a passion to help Native people any way I can. I want to represent the Tribe and the Pacific Northwest the best I can."
The Grand Ronde Tribe established the Mark O. Hatfield Fellowship in 1998 as a tribute to his accomplishments as Oregon governor and representing Oregon in the U.S. Senate. The Community Fund annually sponsors a Native American to serve as an intern in an Oregon congressional office, enhancing the mutual understanding between leadership in Washington, D.C., and Indian Country.
A virtual meet-and-greet event was held via Zoom on Wednesday, Sept. 15, to welcome Riding In as a fellow. The event was hosted by Community Fund Program Coordinator Angela Sears and former director Michael Cherry. Also in attendance were Tribal Council members Denise Harvey, Kathleen George, Jack Giffen Jr., Michael Langley, Jon A. George and Vice Chair Chris Mercier. Kathleen George, Giffen and Harvey also serve on the Spirit Mountain Community Fund Board of Trustees.
"I am sure you will enjoy your time in D.C. and will also have big shoes to fill in Merkley's office," Harvey said. "They will lean on you heavily for your Native American knowledge."
Cherry, who served as Community Fund Director from February 2017 until September 2021, told Riding In she was "super proud and excited."
"You can always reach out to us and you're going to do great things," she said.
Kathleen George noted that the timing "couldn't be better" for Riding In to begin his fellowship due to his interest in mental health issues affecting Native Americans, especially given the isolation caused by the COVID-19 pandemic.
"We live in community together and those things are missing from our lives now," she said. "We know some Tribal people are isolated now and don't have access to those supports that nonprofits can provide."
Sears added that she hopes there will be more opportunity for in-person collaboration than the last two fellows have had.
"This really is an amazing opportunity to go to Washington, D.C., as a Hatfield Fellow," she said. "You will probably still have a lot of Zoom meetings and I know it's been challenging for our last two fellows. I wish you the best of luck and hope you can rise above the challenges of the pandemic."   
Riding In will attend a month-long orientation with the American Political Science Association in Washington, D.C., in November, and then begin working with U.S. Sen. Jeff Merkley's office. This will be the second time Merkley has hosted a Hatfield Fellow.
"I wanted to serve as the Hatfield Fellow because historically Native people have been left out of many conversations and legislation that ultimately affects our livelihoods as sovereign nations," Riding In said. "Our people have overcome immense obstacles in order to keep our culture and sovereignty as distinct Tribal Nations intact, and I believe it is imperative we create a sustainable future for the survival of our political autonomy. My professional goal is to ensure our next generation of people are equipped with the knowledge to succeed and carry on our culture."
Riding In becomes the 10th Grand Ronde Tribal member to be named a Hatfield Fellow, joining the likes of Tribal Council Chief of Staff Stacia Hernandez, Grand Ronde Food Bank Coordinator Francene Ambrose, Tribal Elder and Housing Grievance Board Chair Simone Auger and Bureau of Indian Affairs Pacific Northwest Regional Director Bryan Mercier.
Past Hatfield Fellows
1998: Pete Wakeland (Grand Ronde)
1999: Direlle Calica (Warm Springs)
2000: Alyssa Macy (Warm Springs)
2001: Bodie Shaw (Warm Springs)
2002: Kevin Simmons (Grand Ronde)
2003: Bryan Mercier (Grand Ronde)
2004: Joseph Hostler (Grand Ronde)
2006: Dennis Worden (Coeur d'Alene)
2007: Rebecca Knight (Grand Ronde)
2008: Francene Ambrose (Grand Ronde)
2009: Stacia Hernandez (Grand Ronde)
2010: Shana Radford (Nez Perce)
2011-12: Darrel L. Lawrence (Grand Ronde)
2013-14: Rudy Soto (Sho-Ban)
2014-15: Mary Bodine (Warm Springs)
2015-16: Maria Givens (Coeur d'Alene)
2016-17: Robert Ahern (Warm Springs)
2017-18: Karlen Yallup (Warm Springs)
2018-19: Traven Joseph (Koyokan Athabascan/Gros-Ventre)
2019-20: Cholena Wright (Klamath)
2020-21: Simone Auger (Grand Ronde)
2021-22: Samuel Riding In (Grand Ronde)