Tribal Government & News
Tribe holds second consecutive virtual Candidates Forum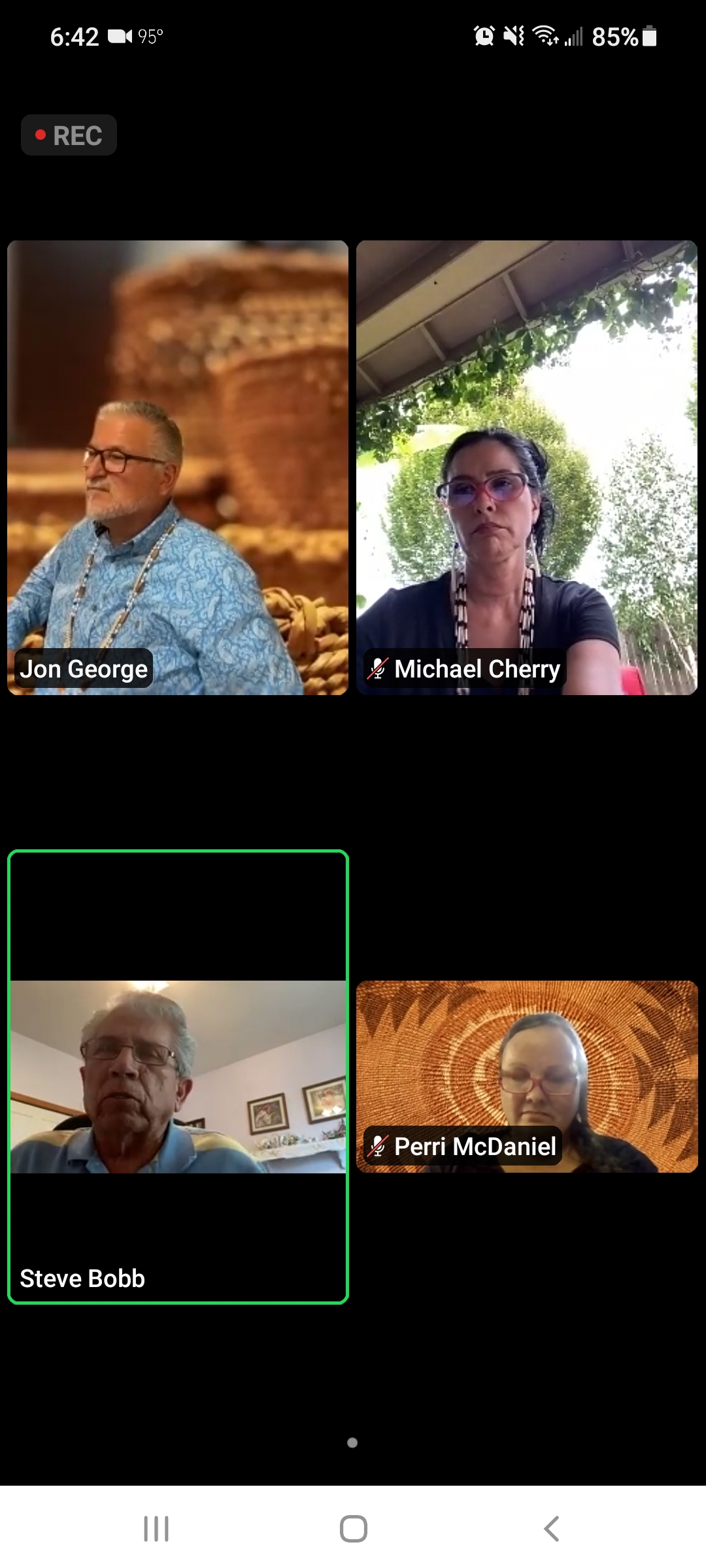 By Dean Rhodes
Smoke Signals editor
For the second consecutive year, the Tribe held the annual Tribal Council Candidates Forum using the Zoom teleconferencing program because of the COVID-19 coronavirus pandemic that is currently being exacerbated by the delta variant and the need to not hold large indoor gatherings.
Starting at 6:03 p.m. Wednesday, July 28, challengers Perri McDaniel and Michael Cherry joined Tribal Council incumbents Cheryle A. Kennedy, Jon A. George and Steve Bobb Sr. for the 62-minute forum that attracted more than 40 viewers.
General Manager David Fullerton handled moderator duties and Tribal Council Chief of Staff Stacia Hernandez watched the clock to ensure candidates did not go over their allotted time.
After three-minute opening statements, each candidate had two minutes to answer previously submitted questions from the membership. Questions covered a wide range of topics, including whether the Tribe can create its own utility companies to become more self-sufficient, whether the Tribe can create its own bank or work with other Tribal nations to create one, how the candidate sees themselves working with Tribal members and department heads, how the Tribe can become food secure and if the candidate supports services for nonTribal Elder spouses.
After answering those questions, Fullerton asked one question submitted by a viewer and each candidate had 60 seconds to answer the same question, which concerned the one important issue the candidate will work on that is affecting the Tribe.
Following the questions, each candidate was allotted two minutes to deliver a closing statement.
This year's field of five candidates ties for the smallest slate since the Tribe's Restoration in 1983. There were only five candidates in 2020, which saw three candidates receive more than 900 votes.
Kennedy is seeking her eighth consecutive term on Tribal Council while George is seeking his fourth consecutive term. Bobb is running for his fourth non-consecutive term.
Cherry, who is making her first run for Tribal Council, and McDaniel, who is making her fifth run, have never been elected previously to Tribal Council.
The Candidates Forum was recorded and will be posted at www.grandronde.org under the Government tab and then Videos.
Tribal voters also can read candidate statements in the July Tilixam Wawa that was mailed out in mid-July and listen to Smoke Signals' podcast interviews with each candidate at www.spreaker.com.
In addition to electing three Tribal Council members, voters are being asked four advisory vote questions on the Sept. 11 ballot. They are:
Should the Tribe increase the minors' trust distribution age from 21 to 25?
Should the Tribe establish a small business loan program for Tribal member startups and businesses?
Should the Tribe establish an endowment for land acquisitions?
Should the Tribe provide expanded health services for Tribal Elders including, but not limited to, dementia care and hospice services?