Tribal Government & News
Leno wins world horseshoe pitching tournament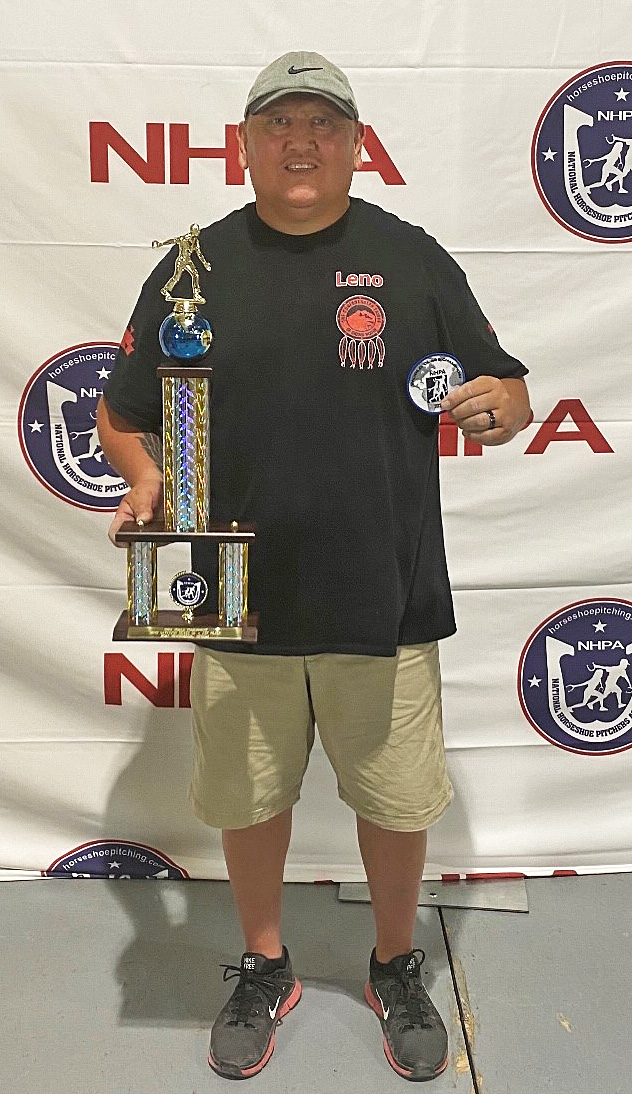 By Dean Rhodes
Smoke Signals editor
Tribal Goundskeeping Supervisor Greg Leno won the Mens D1 horseshoe pitching championship on Saturday, July 24, during the annual World Horseshoe Pitching Championships put on by the National Horseshoe Pitchers Association in Winnemucca, Nev.
Leno, 53, competed against 15 other men whose ringer percentage average was between 30.92 and 28.89. Leno's average entering the competition was 29.76.
For comparison, men who competed in the A1 division boasted ringer averages of between 90 percent and 62.5 percent.
Competitors played five games daily between Thursday, July 22, and Saturday, July 24, tossing horseshoes that weigh 2 pounds, 10 ounces 40 feet into a clay-filled pit. A ringer, worth three points, is when the horseshoe lands around the spike sticking out of clay.
Leno finished with a 13-2 record, said association Fourth Vice President Barbara Carson, who was in charge of keeping the statistics.
Leno then faced off against Ronnie Miller of Georgia, who also finished the tournament with a 13-2 record.
Leno said he and Miller met earlier on Saturday. Miller was undefeated at 10-0 and Leno was 9-1. Leno won and went 4-1 on the final day of competition while Miller lost once again to finish with two losses.
Leno won the championship game 44-9 and finished the tournament with a 34.69 ringer average, tossing 640 horseshoes and racking up 222 ringers.
"I had one of my better games," Leno said about the final match. "He (Miller) was pretty much worn out by then. I had 14 ringers and he only had three."
Leno received a trophy in what was his first appearance in the National Horseshoe Pitchers Association event.
Leno is a three-time Oregon state champ, which qualified him for the national event. He decided to attend because the drive to Winnemucca is only about nine hours from Grand Ronde.
Leno is well-known around the Grand Ronde Tribal campus, often practicing horseshoe throwing during lunch at the pit in the southeast corner of the campus. He also competed often in the annual Monte "Mouse" George Memorial Horseshoe Tournament formerly hosted by Tribal Council member Steve Bobb Sr. and at myriad horseshoe competitions held in the West Valley.
He said he started playing more than 40 years ago with family and friends while growing up in Grand Ronde.
His secret? "I just try to stay focused in the moment and I don't like to lose," he said. "I just want to thank everyone for the support … I really do appreciate it." Leno also thanked Bobby Mercier for designing the shirts worn by Leno and fellow horseshoe pitcher Anthony Henry and Tribal Council for supporting them.
Next up for Leno is the Oregon state singles competition being held Sept. 4-5 in Oregon City.