Tribal Government & News
The cooler side of things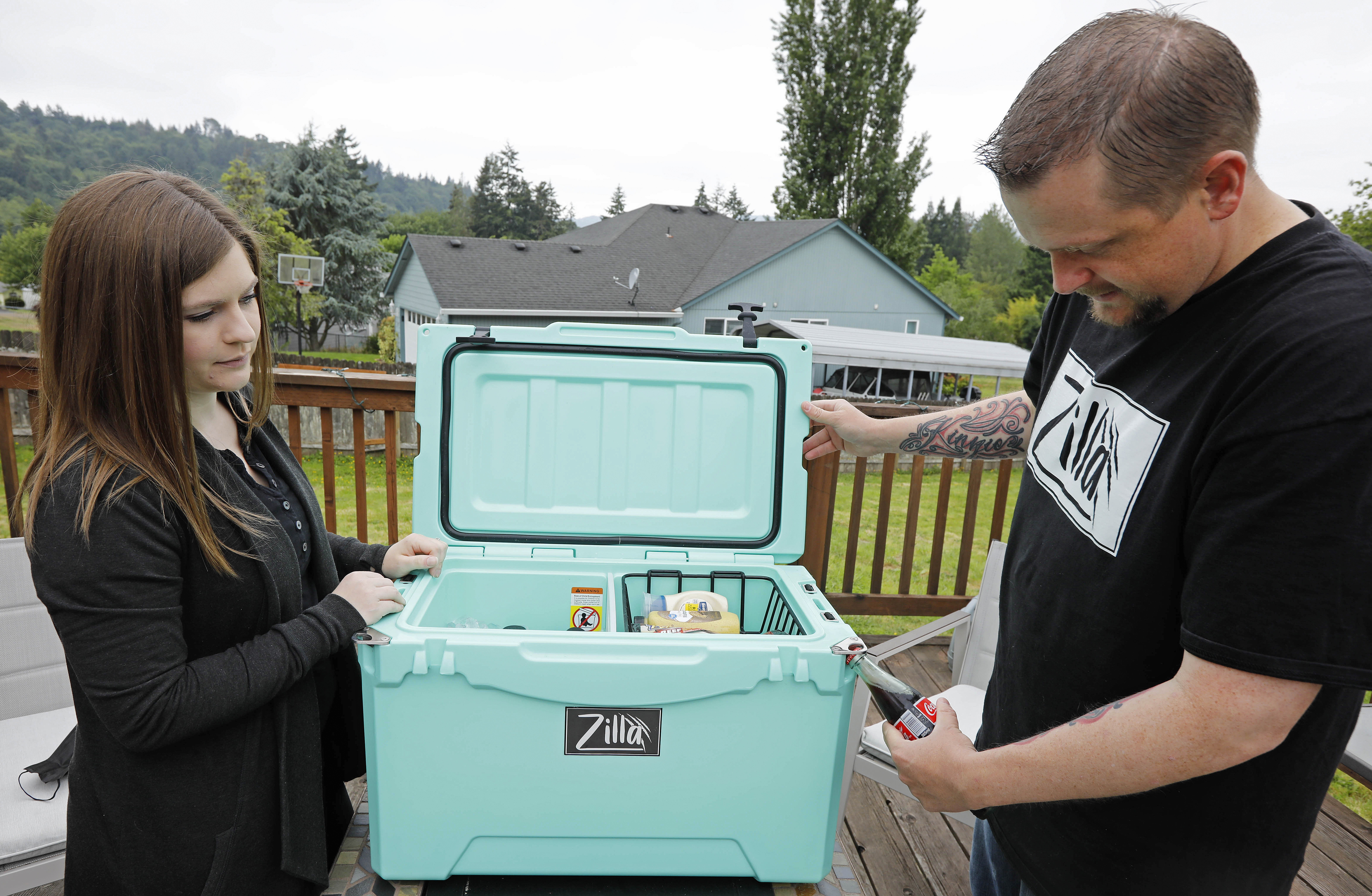 By Danielle Harrison
Smoke Signals staff writer
KALAMA, Wash. – Grand Ronde Tribal member Gene LaBonte has always thought of himself as an entrepreneur.
"I've had small side businesses that have been profitable," he says on Saturday, May 22. "They paid for things like gas money and other extras, but I wanted to create something that would really be profitable."
While Gene was off work last spring after the pandemic shuttered Ilani Casino in Ridgefield, Wash., he began looking for something to fill his time. Instead of sitting indoors, he chose to be outdoors. Living near the Kalama River provided ample recreational opportunities, so he took up fishing.
"I wanted a nice cooler to take along, but then looked into buying a Yeti (cooler) and couldn't believe how expensive it was," he says. "They were no less than $300."
Gene, 37, began researching the outdoor industry and came across an article that noted it was expected to double in business by 2025 due to the pandemic.
That's when the idea of creating his own outdoor gear business was born. He ran the idea by his wife, Ashley, a deputy clerk with the Cowlitz County Superior Court. They began brainstorming potential business ideas and names.
"I really wanted to create a custom fishing rod, but did the research and there is already a business like that in this area, so I started looking into custom coolers and figured we could add other products later," he says. "When I reached out to manufacturers, I really saw the potential profitability and also a way to offer customers a cooler that would compete with the Yeti at a lower price point. I thought to myself, 'What could kick a Yeti's butt?' Then it came to me: Godzilla. We shortened it to Zilla and hired a graphic designer to make a logo. They did multiple markups until we both liked it."
Ashley and Gene are partners in every sense of the word, right down to the font used on their logo.
"We both had to agree on which font we liked before moving forward," Ashley says. "We got our first cooler prototypes in June and instantly fell in love. Then, we got the ball rolling and hired a website designer and launched our company on Oct. 1. Most of our advertising so far has been through word of mouth and social media marketing."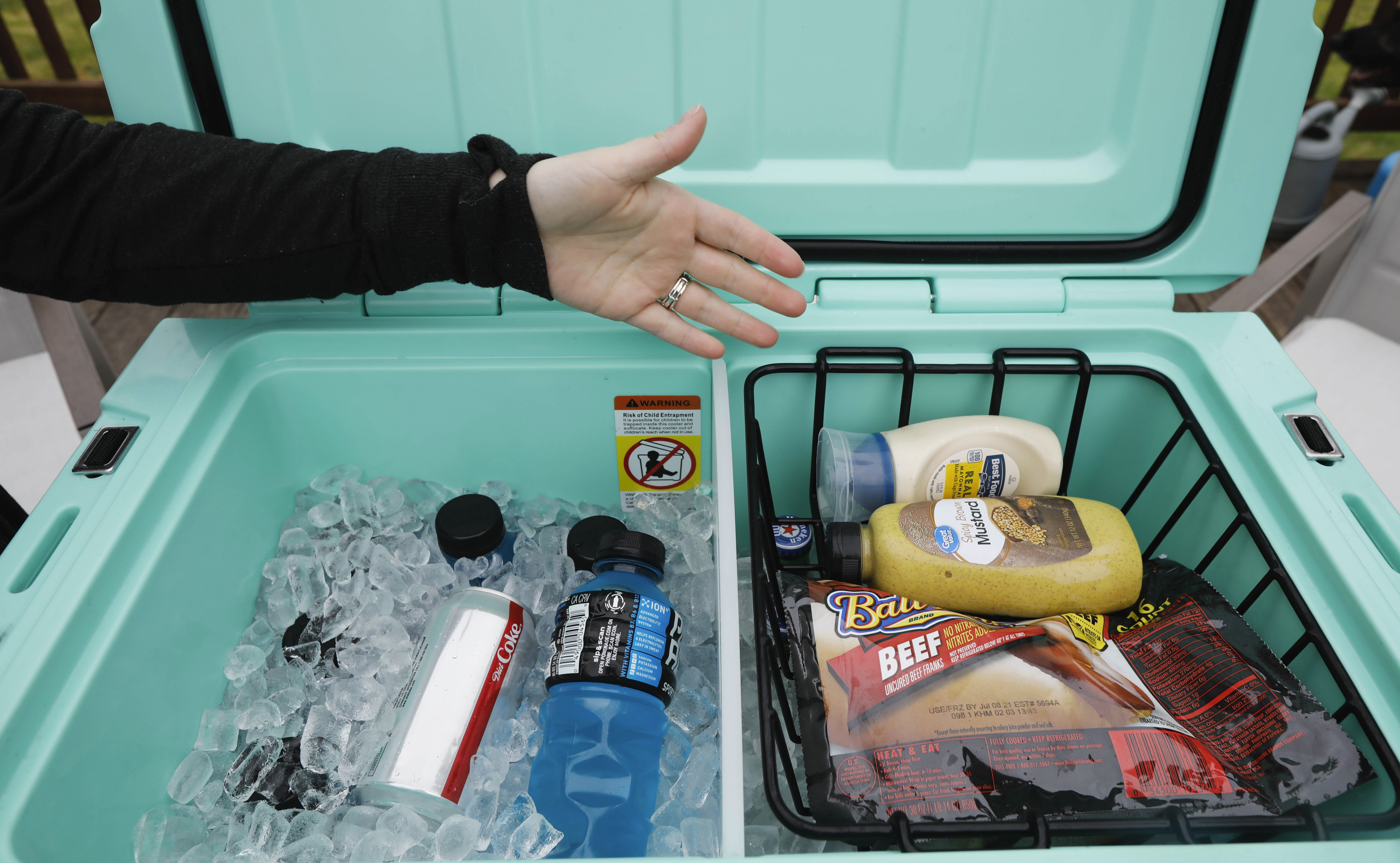 Ashley LaBonte goes over the interior of one of the coolers that includes a dry goods basket and a divider that is also a cutting board that she and her husband, Tribal member Gene LaBonte, designed at their Kalama, Wash., home on Saturday, May 22.
Currently, Zilla offers three different coolers sizes, which can be utilized for everything from a long road trip to camping to keeping freshly caught fish. All Zilla coolers feature up to three inches of foam-filled insulation, which keeps items cold for up to seven days, and include bottle openers on each side, a cutting board that can also be used to separate drinks and food, a basket to hold breakable items like eggs and a leak-proof drain plug.
The Zilla 75 also has wheels for easier transport. The coolers range in price from $179 to $300 and come in 10 different colors.
Ashley and Gene's vision for the company is to continue to provide affordable outdoor gear while also giving back to organizations that helped make their dream a reality.
Since Gene is an enrolled Tribal member, Air Force veteran and leukemia survivor, they will be giving a portion of proceeds to the Leukemia & Lymphoma Society, United Service Organization and the Confederated Tribes of Grand Ronde.
"Life is a journey for us all, and if it were not for the support of family, friends and special organizations, Zilla Outdoor Authority would never exist," their website states. "Zilla Outdoor Authority will always strive to provide our customers with an irreplaceable service through outstanding customer service, unmatchable passion, profound integrity, and the highest attention to detail, which will leave people with no other option than to purchase Zilla products. We look forward to your support and joining us on this journey."
The couple is hoping to grow their business to the point where it truly becomes a family organization, eventually employing their five children, who range in age from 5 to 14.
"I'm hoping to not have to work for anyone else but ourselves," Gene says. "We live near one of the most popular recreation areas in the Northwest and are hoping to utilize that."
Eventually, they hope to add tents, fishing rods, tumblers, rafts and inflatable paddleboards to their product line.
"We also want to have an actual storefront and create our own sporting goods store," Ashley says. "We have tried to make our prices competitive, and our cooler quality is very good as well as quite durable."
So far, the most popular size is the 25-quart cooler, although some customers seem partial to the 75-quart with wheels.
"We are actually pretty equal when it comes to sales," Gene says. "We did sell more 75s, but we also had more product."
Gene says that his experiences in the Air Force and having beat cancer in his 20s contributed to his entrepreneurial drive.
"The Air Force helped straighten me up, helped me become an adult and pay more attention to detail," he says. "It just made me a better person overall. My battle with leukemia helped me appreciate life a million times more and also helped me to be more willing to try new things. I feel like I have been given extra time and should make the most of it. The experience really humbled me and I enjoy the little things in life more."
He added, "Buy a Zilla. You won't regret it."
For more information about Zilla Outdoor Authority, visit www.zillacoolers.com, which includes links to social media channels.
For a Grand Ronde Tribal member discount code, contact gene@zillacoolers.com or ashley@zillacoolers.com.