Tribal Government & News
Tribal member purchases Willamina hotel and restaurant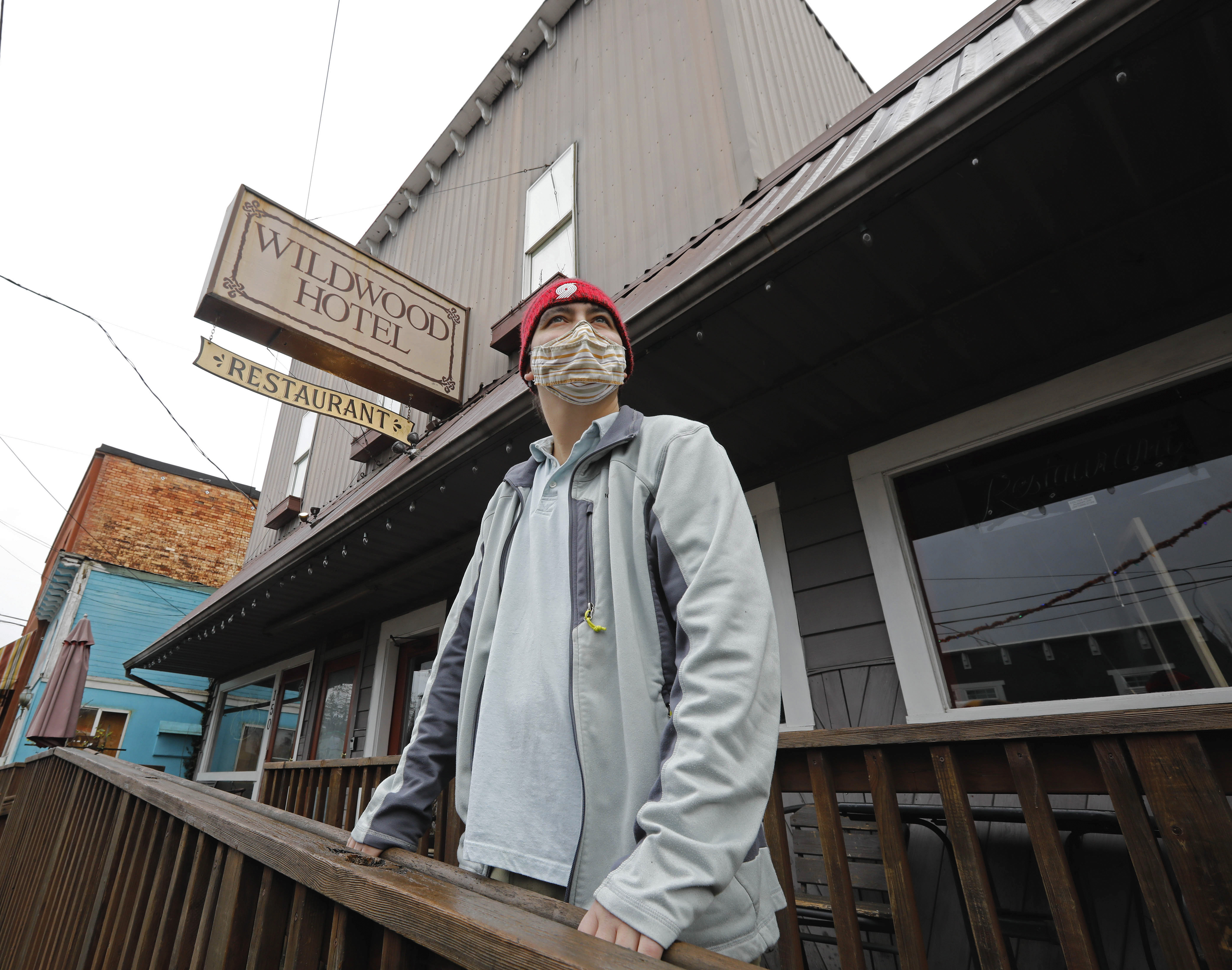 Danielle Harrison
Smoke Signals staff writer
WILLAMINA -- After being shuttered for almost six months due to the COVID-19 pandemic, the Wildwood Hotel and adjoining restaurant are open for business, albeit with limited services for the time being.
The hotel and restaurant were purchased by Grand Ronde Tribal member Matt Haller, 37, and his wife, April, who are also lifelong West Valley residents.
"The previous owners (Meredith and Katie Kendall) made it possible for us to purchase this," Haller says. "People have asked me why I would buy a restaurant during a pandemic, but we've been successful because it's in a small town and the community is very supportive. Ninety percent of those who have come in here, I know by first name. We are successful because of the base of people who surround us."
Due to Oregon's COVID-19 restrictions on indoor dining, the restaurant is open for takeout only from 11 a.m. to 7 p.m. daily.
Since opening a few weeks ago, Haller has added new menu items, such as pretzel buns and a peanut butter burger.
And the hottest seller? Deep-fried pickles, the brainchild of one of the cooks.
"I had my doubts, but after being open for two weeks, we sold 1,000 deep-fried pickles," Haller says. "We got so busy we had to double up on kitchen staff. A couple from McMinnville drove out here because they heard about the pickles."
Haller and his wife are no strangers to the hospitality industry. He worked at Spirit Mountain Casino in food and beverage service for 12 years. She was a manager of Doryland Pizza in Pacific City. They both worked at Fort Hill Restaurant near Grand Ronde as well.
 "We are having fun doing different specials daily," Haller says. "On Taco Tuesday, we sold 140 tacos in two hours. We will have many more new items coming out that will be on our dine-in menu when we are able to offer that again."
Haller says that the purchase of the hotel and restaurant would not have been possible without the help of the Kendall sisters.
"They were very generous and when we talked about us purchasing this place, I told them if they gave us the opportunity, I would put my house up for it. They did, and my house sold in two days."
Most of the Willamina locals seem happy the restaurant is open again, giving them a different dining option.
"Some customers are ecstatic," Haller says. "We experience a different relationship than you would in a larger city because we already know them and if not, have served them at a different restaurant."
As if to emphasize that point, during an interview with Smoke Signals before the Wildwood opened for lunch, Haller's grandfather, Tribal Elder and former Tribal Council member Bob Haller, stopped by for a cup of coffee.
When the COVID-19 pandemic is over, Haller says he is looking forward to extending the menu, hours and bringing back the Wildwood's tradition of hosting live music.
"I can't wait to bring that experience back here," he says.
In the meantime, he and April are continuing to make improvements to the building's interior and experiment with new menu items.
Although the pandemic has affected indoor dining, all six hotel rooms adjacent to the restaurant are fully open for rental, with COVID-19 restrictions in place. They start at approximately $65 a night.
The hotel was built near the end of the 19th century as the Commercial Hotel when the frontier logging town was in its early stages. It served as host to many men who traveled to work in the logging industry or in the town's brick plant. Business men and then eventually some women moved in, creating an informal brothel, according to the hotel's website.
Although it was originally a three-and-a-half story building, the hotel was reduced to two stories after a fire in the 1930s. It is rumored to be haunted and was once rented by the popular show "Ghost Hunters."
"We stayed in there for 20 days when we were remodeling things and never saw any ghosts though," Haller says.
He and April live in Sheridan with their two children, Cheyenne and Robert. His parents are Tribal member Rex Haller and Martha Hood, and grandparents are Tribal Elders Robert Haller and LeVeta Sell.
The Wildwood Hotel is located at 150 N.E. Main St., Willamina. Hours are 11 a.m. to 7 p.m. daily for takeout only. Call 503-876-7100 to place an order or book a hotel room or follow the business on Facebook.