Tribal Government & News
Taking a shot: Tribal member opens basketball-oriented store in Portland's Hawthorne District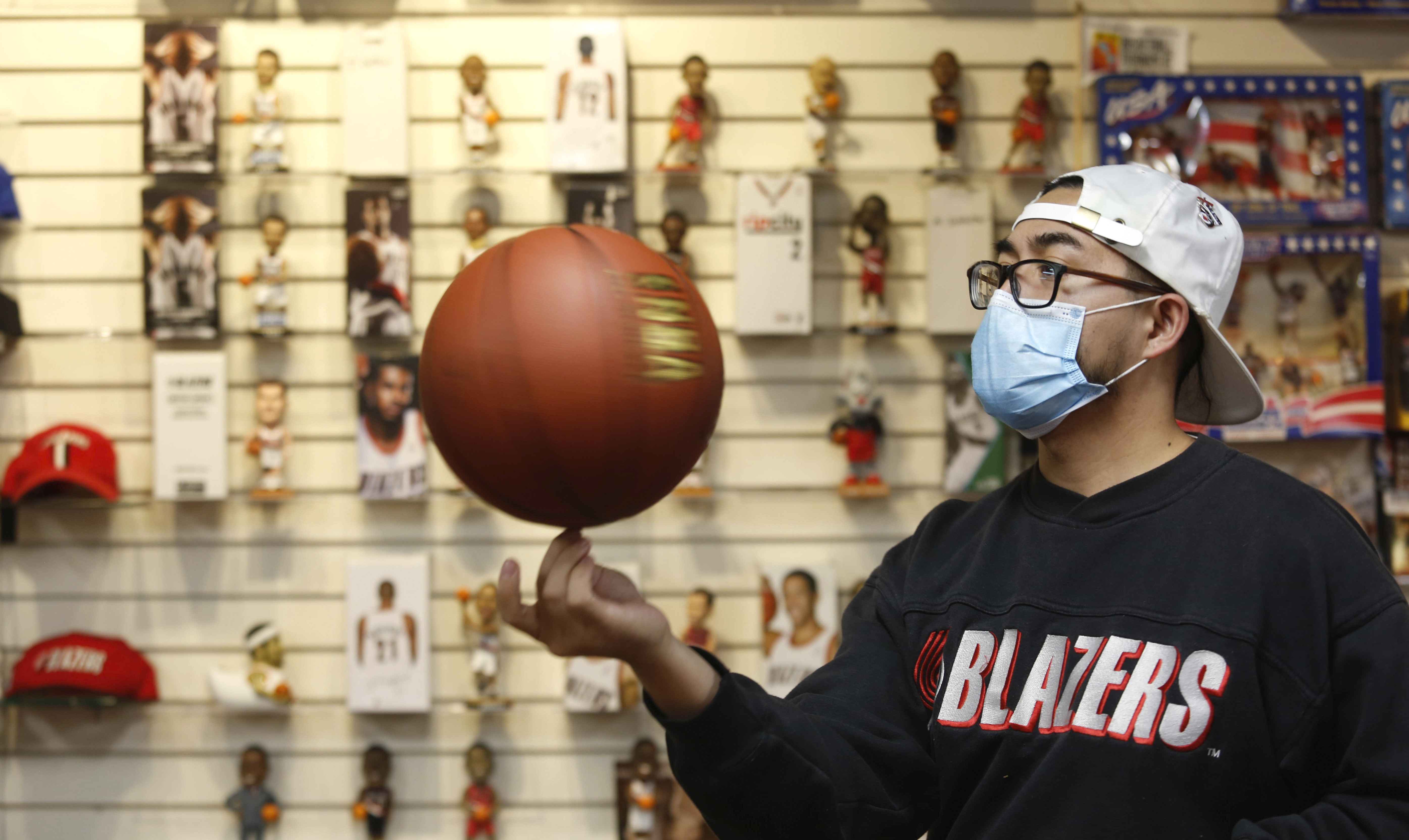 If you go
Ball Was Life
Where: 3405 S.E. Hawthorne Blvd. in Portland's Hawthorne District.
Hours: Noon to 6 p.m. Sunday, Monday, Wednesday and Thursday; and noon to 7 p.m. Friday and Saturday.
More information: Call 971-279-5003 or follow Ball Was Life on Instagram @ballwaslifedotcom.
By Danielle Harrison
Smoke Signals staff writer
PORTLAND – Grand Ronde Tribal member Troy Douglass has opened up a store dedicated to his love of basketball and the Portland Trail Blazers.
Ball Was Life is Douglass's second venture into the retail business.  His first store, Cultural Blends, is located in the Lloyd Center Mall.
Douglass, 31, had long pondered opening a store dedicated to basketball nostalgia, but was waiting for the right opportunity. Oddly enough, the COVID-19 pandemic helped provide that.
"The mall was closed for three months and that was really tough. I really had to hustle to sell merchandise and thought how it would be better if I had a store located in an area with a lot of foot traffic," Douglass said.
The owners of a Native American tattoo shop down the street from the site Douglass had been eyeing contacted him with information that the current tenant was closing her retail business.
"I just showed up and was helping her move her stuff out and began asking questions about this spot," he said. "I talked to the building owner and he is a basketball fan and loved the idea, so it took off from there and I leased this space."   
Douglass opened his store in early October to a line that stretched around the block.
"I was a bit surprised," he said. "It was really cool. All things considered, we are doing really well. People love basketball. When I first opened Cultural Blends, basketball always seeped in. This is a true passion of mine. What we have provided here is an escape from 2020 by proving nostalgia. We are a community spot where people who love basketball can come."
Much of the merchandise for Ball Was Life comes from Douglass's own childhood room, as well as online collectors, websites and thrift shops. The name itself is an ode to the past.
 "Our mantra is, 'I may be past my prime, but I'll still give you buckets,' " Douglass said. "We offer anything and everything basketball: Dennis Rodman dolls, Damon Stoudamire jerseys and Portland Fire collectibles. The employees can even play basketball. We'll take on any storefront staff in the city. I'm not saying we'll win, but we're not afraid to play anybody."
The Portland Fire was a Women's National Basketball Association franchise that joined the league in 2000 as a counterpart to the Trail Blazers. The Fire only lasted two seasons, however.
Other items on sale at Ball Was Life include posters, collectible figures from myriad NBA teams, posters, Blazers jackets, shoes, hats, bobble heads, books and vintage drinking glasses. An NBA Jam arcade game sits in one corner.
Although opening a retail store in the midst of a global pandemic may seem like a Hail Mary to some, Douglass said the opportunity to be in the bustling Hawthorne District was too good to pass up. He notes the store is off to a good start thanks to what he calls Portland's love affair with basketball culture.
"Basketball and the Blazers are huge in Portland. The owner of this space is a big fan, so we went for it," Douglass said. "It's quirky so it fits in well with the neighborhood. People love it."
Evidence of that was shown on a recent Friday afternoon as Douglass handled a sale using a basketball-shaped phone, customer purchases and an interview with Smoke Signals at the same time.
So far, the best-selling product has been the Blazer Barbie Doll.
"We sell a lot of Blazer gear in general," he said. "We have some pretty eclectic stuff."
Like he did with Cultural Blends, Douglass applied for and received a grant from the Native American Youth and Family Center in Portland to help secure a lease on the store. The Oregon Native American Chamber also assisted in his business venture.
"Without them I would be in a world of hurt," he said. "I'm so grateful for their support."
He encourages other millennial Tribal members who may be looking to start to business to trust their instincts and do their research.
"It's also OK to try and be wrong," Douglass said. "I've been wrong about a lot of things. Sometimes you don't know for sure, but you have to go for it."
He added that doing market research is essential.
 "Figure out why a business would do well," Douglass said. "We have a focus -- basketball. If you like basketball, you would like this place. That's our market. Find the 'why' for your business."
Douglass founded the Cultural Blends brand in 2011 while a student at the University of Hawaii. After graduating, he moved back to Oregon. He opened his first storefront in Lloyd Center in November 2018, and hopes to continue growing a reputation for not just providing warm, top-of-the-line customer service, but also a unique experience for customers.
"That's where I see retail going in the next five to 10 years," Douglass said. "It's those that know how to create that amazing experience. For us little guys, that's everything. You get to share a little piece of your heart and soul with your customers."