Tribal Government & News
Tribal Council incumbents reign: Leno, Langley and Mercier re-elected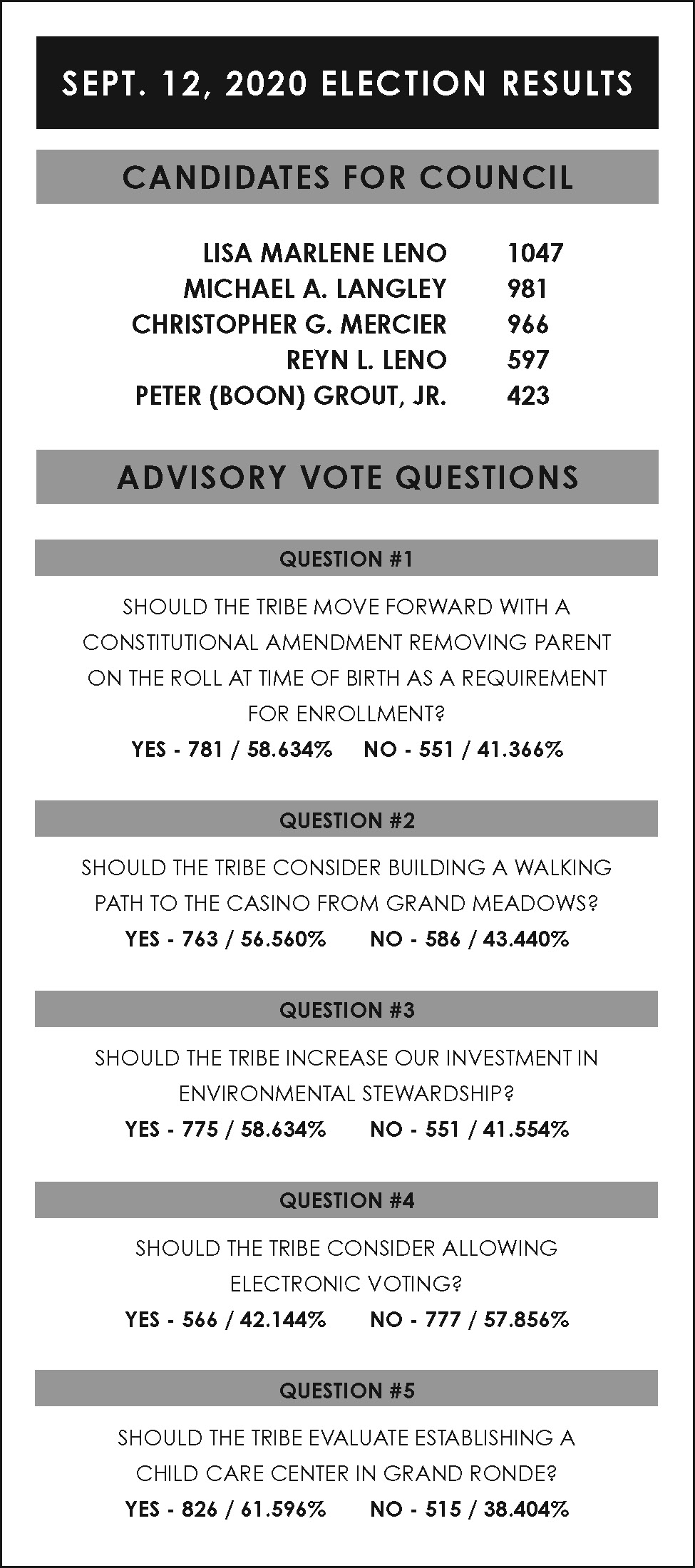 By Dean Rhodes
Smoke Signals editor
For the second year in a row, Tribal voters said they like the status quo on Tribal Council and returned all three incumbents to their seats for three-year terms, according to official results released by the Tribe's Election Board.
Vice Chair Chris Mercier and Tribal Council members Michael Langley and Lisa Leno were the top three vote recipients out of a field of only five candidates – the smallest field since 1983's Restoration – during the Sept. 12 Tribal Council election.
Former Tribal Council Chairman Reyn Leno, who was making his second attempt at returning to Tribal Council after retiring in 2017, finished a distant fourth. Peter "Boon" Grout, who was making his second run for Tribal Council, finished fifth.
Mercier, Langley and Lisa Leno set new benchmarks for the most votes received in a Tribal Council election, shattering Tribal Council Chairwoman Cheryle A. Kennedy's 712 votes received in 2018.
Mercier, who received 966 votes, will begin his sixth term on Tribal Council and will become the third longest-serving Tribal member on council at the conclusion of his term in September 2023.
Langley received 981 votes and Lisa Leno received 1,047. Both return to Tribal Council to begin serving their second consecutive three-year terms.
"I think it shows that we're doing a good job and the membership is pleased with the direction of Tribal Council," Mercier said about the results.
"I am, of course, pleased with the results," Langley said. "I like to believe the message is one of confidence. Confidence in how we handled a crisis. Confidence that we are a group that will work to move things forward in a good way. Confidence that we will continue to let our Indigenous values lead the way in our decision making and in bringing healing to our members. Those values pre-date any of us, but live through all of us. Those values have guided us here to this point in time and will continue to do so in the future. That's how I choose to see these results."
Reyn Leno, who served seven consecutive terms on Tribal Council from 1996 to 2017, received 597 votes and Grout 423 votes.
Mercier, Langley and Lisa Leno will be sworn in during a 10 a.m. ceremony on Wednesday, Sept. 16, in the Governance Center. Attendance will be limited to comply with COVID-19 precautions.
Adult Tribal members who cast ballots numbered 1,496, an increase from the 1,350 ballots cast in 2019. Turnout was 34.8 percent of eligible Tribal voters, the best turnout since 2008.
In addition to voting for three Tribal Council members, Tribal voters were asked for the fourth consecutive year their opinions regarding five advisory topics on the Sept. 12 ballot. Topics and results were:
Holding a constitutional amendment election to remove the enrollment requirement of having had a parent on the roll at the time of birth: 781 yes, 551 no.
Evaluating the installation of a walking path from Grand Meadows in Tribal housing to Spirit Mountain Casino: 763 yes, 586 no.
Increasing Tribal investments in environmental stewardship, such as becoming a carbon neutral Tribe or retrofitting Tribal buildings for solar energy: 775 yes, 551 no.
Consider allowing electronic voting options: 566 yes, 777 no.
Evaluating the establishment of a child care facility in Grand Ronde: 826 yes, 515 no.