Tribal Government & News
Coronavirus precautions force limited closure of Tribal government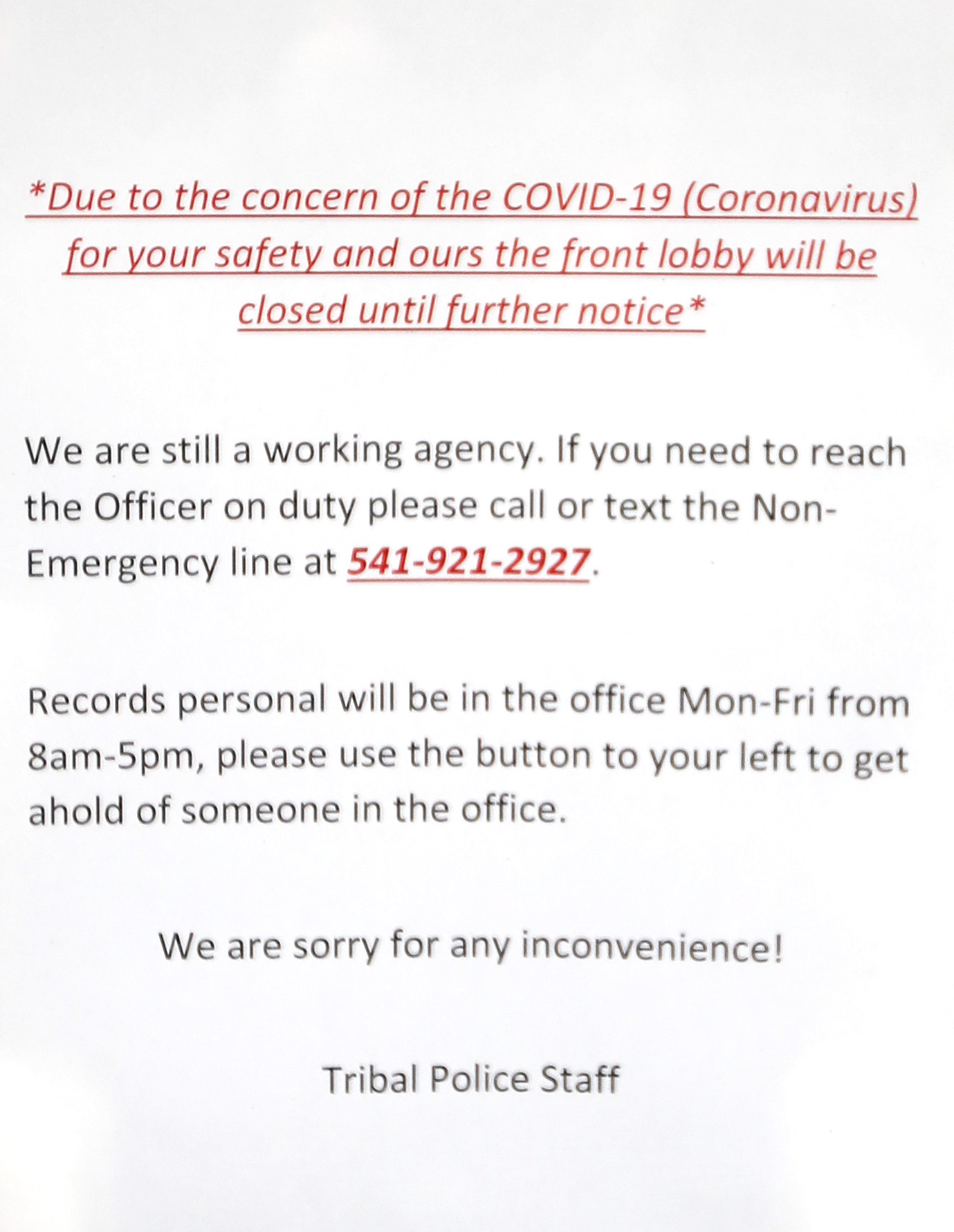 By Dean Rhodes
Smoke Signals editor
Tribal Chairwoman Cheryle A. Kennedy announced a limited closure of the Tribal government on Friday, March 13.
"We are not aware of any cases of coronavirus or COVID-19 in the Grand Ronde community," Kennedy said in a press release. "However, the safety of our community, students and staff are a top priority for us. Therefore, we are moving forward with a limited closure of the Tribal government. We are closing the Tribal government campus at noon today, March 13, and will remain on limited closure through March 20. Essential personnel may be working remotely or reporting to work so that we can keep key services open.
"The Clinic, Pharmacy, Emergency Personnel, Adult Foster Care, Security and a few others will be available, but with limited service. We are taking these actions because we want to be vigilant with the health of our community and staff. We are continuing to work with local and state agencies to monitor the situation and will keep everyone updated if the situation changes."
Health Services Executive Director Kelly Rowe announced that routine medical visits, such as wellness visits and diabetic foot care, and elective dental care will be temporarily postponed starting on Monday, March 16. Appointments will be rescheduled starting May 4 unless clinical judgment identifies immediate negative effects to a patient's health.
"All other medical and dental appointments that will impact a patient's immediate health will be scheduled as usual," Rowe said. "At this time, there are no changes to any other Health and Wellness patient services. I am focused on protecting our staff, patients and community, while ensuring access to care and services remain available."
One of the other dominoes to fall to concerns about spreading coronavirus occurred on Thursday, March 12, when Oregon Gov. Kate Brown ordered all K-12 schools to close for two weeks between Monday, March 16, and Monday, March 30. She has since ordered schools closed through at least April 28.
The order affects the 852-student Willamina School District, which is approximately 40 percent Native American with many of those students either being Grand Ronde Tribal members or descendants. Tribal educational facilities will follow suit and be closed as well.
The Oregon Health Authority reported the first presumptive case in Yamhill County on Sunday, March 15. Neighboring Polk County also has had one presumptive case of the virus.
In reaction, the Tribe continues to make adjustments within its government, including encouraging Tribal members to watch the live stream of the Wednesday, March 18, Tribal Council meeting instead of attending. Questions should be submitted via e-mail to Tribal Council Chief of Staff Stacia Hernandez at stacia.martin@grandronde.org.
A planned ribbon-cutting to open the new arcade at Spirit Mountain Casino on Friday, March 20, has been postponed.
Nutrition Program Manager Kristy Criss-Lawson announced that the Elders Activity Center would close at 2 p.m. Friday, March 13, and remain shuttered through the end of March.
Elders who receive a home-delivered meal will receive four meals on Tuesdays to get them through the week each week and Elders who eat at the center are being asked to pull up to the back doors between 10 a.m. and 12:30 p.m. Tuesdays to receive four meals per Elder.
The elderly with underlying health concerns are the most at risk from the coronavirus, which is similar to the flu in causing fever, chills and difficulty breathing. People older than 60 have the highest mortality rates from contracting the virus.
The Grand Ronde Tribal Police Department has closed its front doors to the public to keep its staff from contracting the virus. A sign has been posted on the front door of the station at 9655 Grand Ronde Road telling people that if they want to speak to an on-duty officer that they can call the nonemergency number at 541-921-2929.
The Police Department also has stopped accepting prescription medications in its lobby drop box until further notice and the Wednesday, March 18, Chat With the Chief event has been canceled.
The Tribal Court is suspending all notary services and court facilitation services until at least April 1. People in need of court forms or information can contact the Tribal Court at court@grandronde.org or 503-879-2303. For forms or information regarding court programs, contact Ramona Quenelle at courtprograms@grandronde.org or 503-879-4623.
All culture classes held at Chachalu Tribal Museum & Cultural Center have been canceled for the month as well.
According to the Oregon Health Authority, people who suspect that they have been exposed to or contracted the coronavirus should call their health care provider to discuss whether they need to be seen. The doctor will consult with local public health department staff members to determine if testing for the coronavirus is necessary.
If it is necessary, a doctor will take samples and send them to the Oregon State Public Health Lab for testing. It is the only lab in Oregon that can test for the virus.
According to the Health Authority, not everyone who is sick will need to be tested. That decision rests with health care providers and public health department personnel.
To stay informed about the Tribal government's continued response to the coronavirus outbreak, visit the Tribal government's website at www.grandronde.org or its Facebook page, or continue following Smoke Signals at www.smokesignals.org or on Facebook.