Health & Education
Tribe opens second medication-assisted opioid treatment clinic in east Portland on Monday, Feb. 6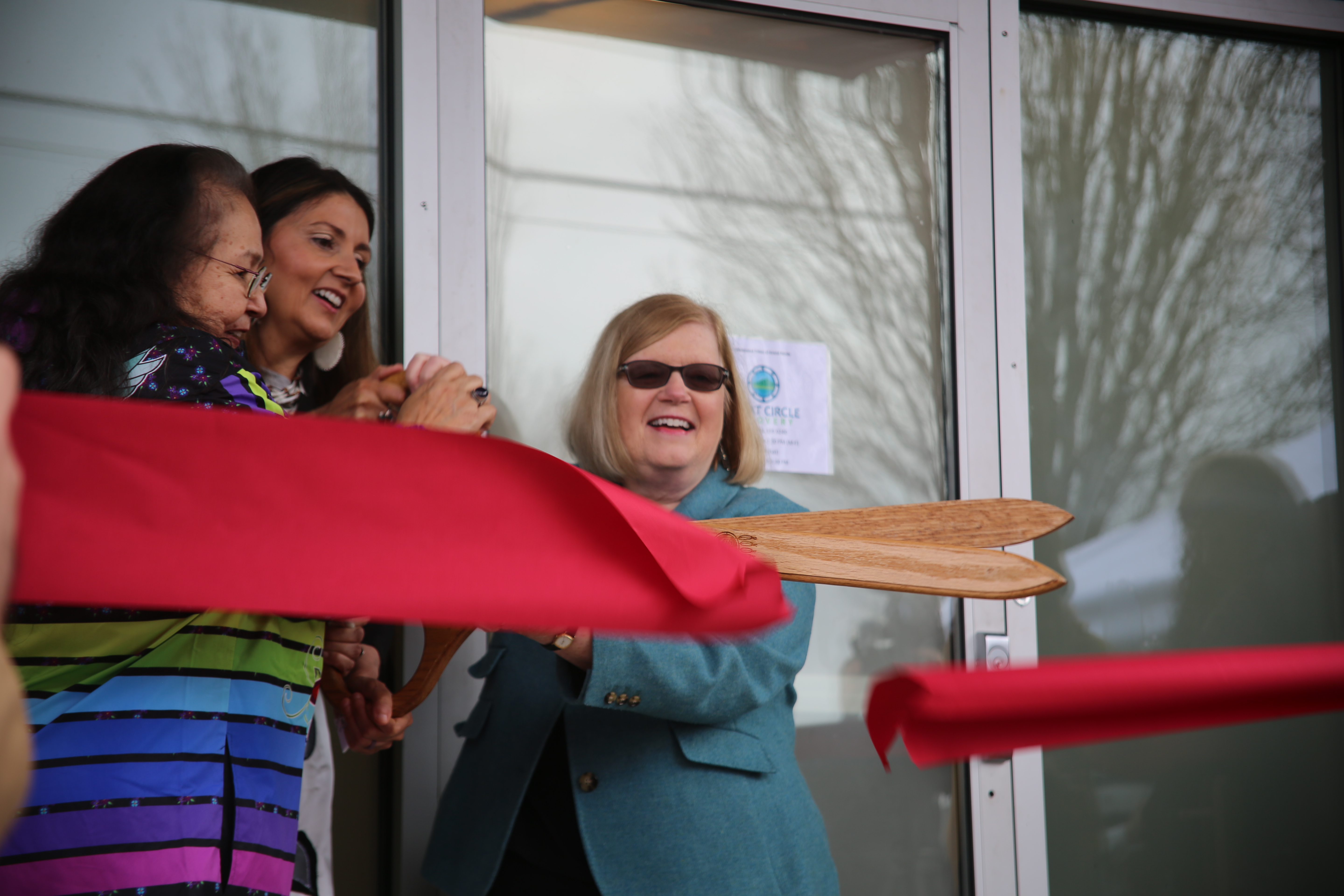 By Danielle Harrison
Smoke Signals assistant editor/staff writer
The Confederated Tribes of Grand Ronde opened its second, long-awaited medication-assisted treatment clinic to combat opioid addiction in east Portland with a ribbon-cutting ceremony and facility tours on Monday, Feb. 6.
The ceremony began with drumming and singing by Tribal Lands Department Manager Jan Reibach, Cultural Policy Analyst Greg Archuleta and Cultural Education Specialist Chris Rempel.
Tribal Council Chairwoman Cheryle A. Kennedy welcomed attendees and shared how the Tribe is embracing a holistic and comprehensive approach to opioid addiction.
"Every day we see the impacts of opioids in our community," Kennedy said. "The addiction doesn't end with the person. It impacts their family, friends and community. I pray that by expanding our services to Portland, more people will find recovery and all of those impacted may begin to heal."
Joining Kennedy in welcoming attendees was Tribal Health Services Executive Director Kelly Rowe and Multnomah County Commissioner Diane Rosenbaum.
"Here we stand at a not too long ago underutilized space, but now it's becoming a healing center," Rosenbaum said.
At Great Circle, patients are prescribed FDA-approved medications to help lessen cravings and reduce withdrawal symptoms, as well as receive supportive, culturally appropriate counseling. The services are open to Grand Ronde Tribal members, other Native Americans and community members.
"At Great Circle Recovery we care about more than the medical side of treatment," Rowe said. "We believe that focusing on the health and well-being of the entire person will set them up for long term success in their recovery."
Tribal Communications Director Sara Thompson said the Portland clinic will offer treatment to any Tribal member, other Natives and the community.
"The clinic focuses on making opioid treatment more accessible by lowering the barriers to treatment and embracing a whole-person perspective to recovery," Thompson stated in a press release. "This approach allows them to administer to the patient's medical needs as well as the physical, mental, emotional and spiritual components of recovery. These activities help to rebuild core values of self and support long-term recovery."
The Portland clinic will begin accepting patients in mid-February and is at 3580 S.E. 82nd Ave.  
The Tribe opened its first clinic, Great Circle Recovery, on Commercial Street Northeast in Salem in April 2021 and has served more than 500 patients since then, according to Thompson.
The Salem clinic also addresses other needs, such as offering a shower and laundry trailer and helping patients sign up for Medicaid and obtain housing, food, clothing and jobs.
There also is a mobile clinic to help those in the Grand Ronde area access opioid treatment instead of having to travel 30 miles to Salem.
The second clinic, a former dental office, was purchased by the Tribe in June 2020, finished final renovations in late 2022 and then underwent a rigorous certification process from the state of Oregon, the federal Drug Enforcement Agency and the U.S. Department of Health & Human Services' Substance Abuse and Mental Health Services Administration.
According to the Centers for Disease Control, opioid overdose deaths among Native Americans are much higher than the national average and have increased by a staggering 500 percent since 2000. This increase is mostly driven by synthetic opioids, such as fentanyl, which is 100 times more potent than morphine and often added to other street drugs to increase profits.
The Tribe began hiring staff for the Portland clinic last year and has already trained several of them. So far, there are 10 staff members.
The Tribe decided to open the two MAT clinics because of the epidemic of opioids disproportionally affecting Native Americans. Treatment offered at Great Circle is culturally sensitive and staff members view opioid addiction not as a moral failing, but as "a dirge on our people."
For more information about Great Circle Recovery, visit greatcirclerecovery.org/