Health & Education
Native students honored for educational success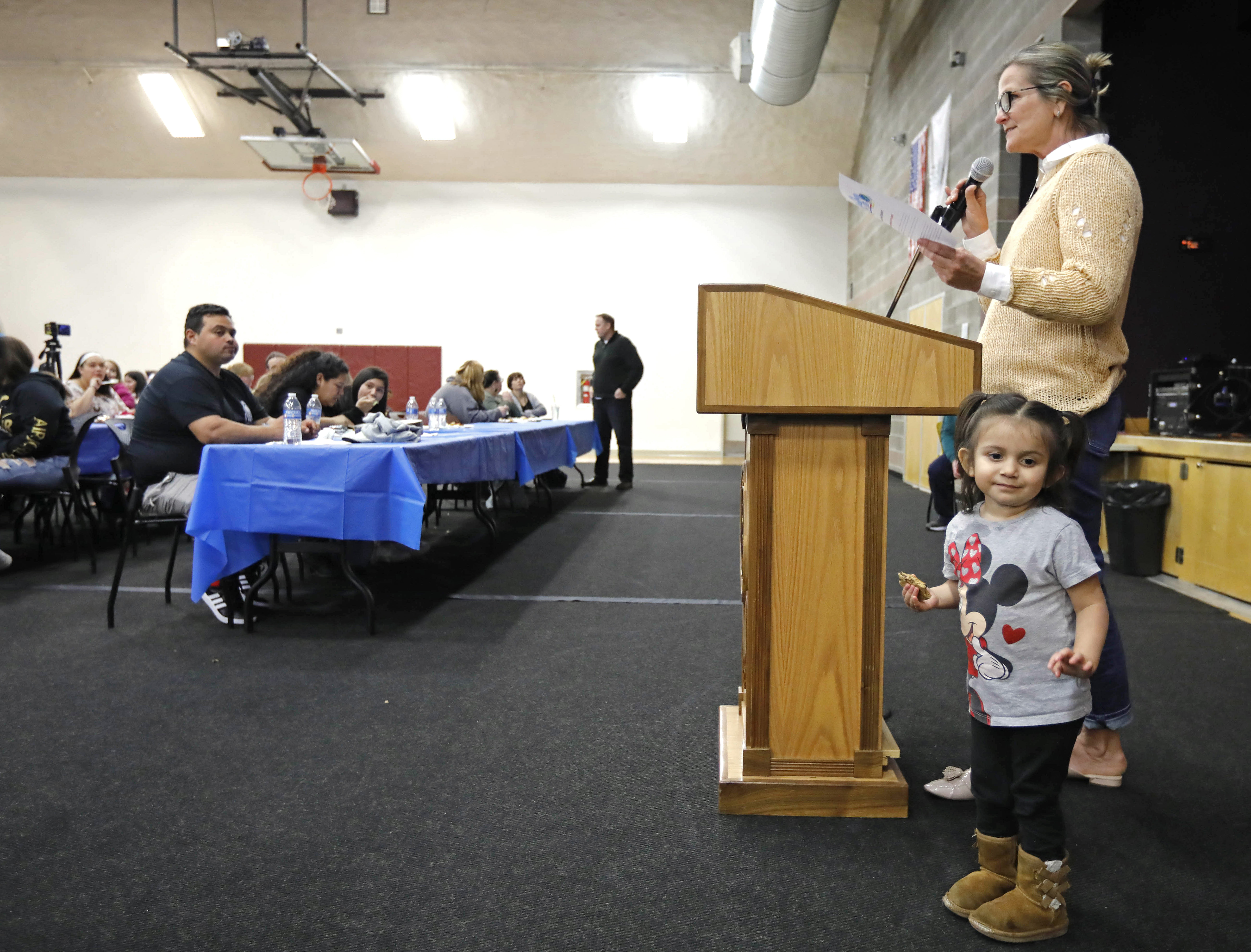 By Danielle Frost
Smoke Signals staff writer
More than 120 Native students from the Willamina and Sheridan school districts were honored for their academic performance and attendance during the fourth annual Student Success Night event held at the Tribal gym on Thursday, March. 5.
"The Youth Education Department is excited to celebrate many Native students at the fourth annual Student Success event," Youth Education Program Manager Tim Barry said. "Students were recognized for their success with academic achievements and excellent attendance for the first semester of the 2019-20 school year. Our staff is very proud of what they have accomplished and (enjoyed) a special evening to celebrate youth and their families."
The evening began with an invocation, followed by a buffet dinner served by Grand Ronde Youth Council members.
After dinner, Willamina School District Superintendent Carrie Zimbrick spoke briefly to congratulate the students on their success.
Following a short video presentation, students were recognized for being leaders in academic achievement and attendance.
During the first semester of the 2019-20 school year, 94 kindergarten through 12th-graders were honored for having 95 percent or better attendance, which means no more than four absences, four late arrivals and four early pick-ups. There were 29 honorable mentions at the kindergarten through 12th grade level.
Students honored for attendance in the Willamina School District include:
Kindergarten: Riker Bailey (100 percent), Carter Campbell, Elijah Freeman, Lyllian Hoopingarner-Spell, Ila Mercier and Talon Vanecek.
First grade: Urijah Freeman, Ethan Hedrick, Michael Hibdon, James Hyatt, Blake Johnson, Hadley Kimsey, Reed Kyllonen, Zendaya ManyHides and Ira Ware.
Second grade: Aubrey Campbell, Ava Drake, Kalai'la Grefsrud-Norwest, Hudson Hubbell (100 percent), Gabreil Langley, Leloo Quenelle, Taylor Ruggles and Aurora Ware.
Third grade: Tiberius Bailey, Cohlman Hubbell, Logan Kneeland, Brody Lux, Kaywah Norwest, Paisley Risseeuw and Kionna Smith.
Fourth grade: Micah Bruckner, Owen Campbell, Libby Ellingson, Mali'la Grefsrud-Norwest, Brayden Hibdon, Bailey Murphy (100 percent), Marie Quenelle and Stephen Sanchez-Haller.
Fifth grade: Ezri Bailey, Haylee Barker, Nya Galloway, Makenzy Hoopingarner, Wyatt Hubbell (100 percent), Konner Hyatt, Ben Moore, Jaden Moschetti, Landon Risseeuw, Abbygale Scofield, Nicholas Thayer and Kayden Zimmer.
Sixth grade: Gracee Allen and Paige Baker.
Seventh grade: Sammy Bishop, Makyajay Grefsrud-Norwest, Annabelle Guardiola, Kashena Gulledge, Austin Langley, Sadie Risseeuw and Michael Smith.
Eighth grade: Chloie Guardiola, Jaylynn Hibdon, Haley Klass and Benjamin Powley.
Ninth grade: Kai Connelly, Christopher Ellingson, Zander Marmon and Hattie Mercier.
10th grade: Brandon Bearface, Gracelyn France, Dakota Smith and Nicholas Ventriglia.
11th grade: Joshua Henry, Moses Mercier and Amaryssa Mooney.
12th grade: Tabor Cain and Desi Crain.
Attendance honorable mentions include the following:
Kindergarten: Nevaeh Grijalva, Kolten King, Jaxson Morales-Hanna and Emmalynn Warren.
First grade: Kai Barton, Laila Holmes-Chavarria, Makalee King and Angel Mathews.
Second grade: Jack Mercier.
Third grade: Sam Hedrick and Timothy Murphy.
Fourth grade: Natilyn Mercier.
Sixth grade: Coben Hibdon.
Seventh grade: Karsen Towner.
Eighth grade: Cohen Haller and Kaileighann Taylor.
Ninth grade: Brooklyn Bailey, Gage Bishop, Mason Mercier and Aryana Murphy-LaChance.
10th grade: Dameon Foster and Kehneen MacCormack
11th grade: Dominik Briant, Kaya McLean and Amelia Mooney.
12th grade: Madison Ross.
Sheridan School District honorees include the following:
Sheridan Japanese School: Gracie Mercier.
Faulconer-Chapman School, kindergarten through fifth grade: Barbara Claunts, Ryliee Gonzalez, Ashley Leno, Laylla Gonzalez, Jaidyn Bolen, Nicholas Leno, Garet Siewell and Imarianah VanScoyk.
Faulconer-Chapman School, sixth through eighth grade: Madelynn Montano, Meleena Montano (100 percent), Trinity Blacketer and Amaya George.
Sheridan High School: Haylie Ayala (100 percent), Lilliana Ayala (100 percent), Izika Pacheco (99 percent), Onahzay Pacheco, Alexis Simpson, Austin Simpson and Rylie Simpson.
Elementary level students in Sheridan and Willamina honored for being at grade level, significantly improved in a core subject or above level include the following: Emmalynn Warren, Bryson Redd, Riker Bailey, Jaxson Hanna-Morales, Carter Campbell, Ila Mercier, Elijah Freeman, Ky-mani Zimmer, Mya Smith, Talon Vanecek, Nevaeh Grijalva, Ira Ware, Alex Zuniga, Angel Mathews, Hadley Kimsey, Tinlee Bishop, Kai Barton, Aurora Ware, Leloo Quenelle, Riley Freeman, Kalea Liebelt, Paisley Risseeuw, Carter Felton, Alexandra Suta, Cohlman Hubbell, Logan Kneeland, Tiberius Bailey, Kionna Smith, Auburn Mercier, Micah Bruckner, Marie Quenelle, Bailey Murphy, Stephen Sanchez-Haller, Makenzy Hoopingarner, Rylee Bishop, Redsky Clawson, Ezri Bailey, Brayden LaChapelle, Stassi Villalobos, Emma Withnell, Ukiah Butler, Barbara Claunts, Phypier Lane, Cainan McKinney, Carter LaBonte, Ashley Leno, Adahy LaBonte, Aurora Morton, Robert Haller, Lakota Blacketer, Laylla Gonzalez, Jaidyn Bolin, Rosalyn Henson, Nicholas Leno, Ian Mercier, Jude Shuler, Urijah Freeman, Devin Doar,
Talon Chodrick, Brody Lux, Faith King, Tanner Siewell, Bentley Fetchner, Maddox Ayala, Ryliee Gonzalez, Mia Montano, Maliya Juarez, Cheyenne Haller, Sophia Grout, Tyce Kidwell, Presley Savage, James Hyatt, Kaiden Norwest and Sam Lancour-Joles.
Middle and high school students recognized for having a GPA of 3.0 to 3.49 include: Aiden Campbell, Bobby Larson, Hunter Mendenhall, Lily Bigelow, Sophia Ortiz, Samantha Bishop, Chloe Guardiola, Cohen Haller, Kaileighann Taylor, Kisor Savage, Madison Blacketer, Macie Ayala, Azen Pacheco, Madelynn Montano, Chloe Ayala, Aryana Murphy LaChance, Brooklynn Bailey, Gage Bishop, Hattie Mercier, Aleah Patterson, Kendall Norwest, Amaryssa Mooney, Amelia Mooney, Bryce Mode, Corina Limon, Darien Leno, Madison Aaron, Vivyan Lopez, Conrad Farmer, Julian Macias, Madison Ross, Nakoa Mercier and Izika Pacheco.
Middle and high school students recognized for having a GPA of 3.5 to 4.0 include: Aurora Scoyne, Orrin Reid, Paige Baker, Bayleigh Leno, Michael Smith, Sadie Risseeuw, Aaliyah Limon, Haley Klass, Kazsia Connelly, Mikayla Mercier, Gracie Mercier and Meleena Montano.
Honorable mentions: Franklin Norwest, Tatum Burcham, Iyana Holmes and John Murrufo.
Student Success Night is organized by the Tribe's Youth Education Program, with support from other departments including Prevention and Nutrition.