Culture
Tribal member creates murals to honor murdered, missing Indigenous women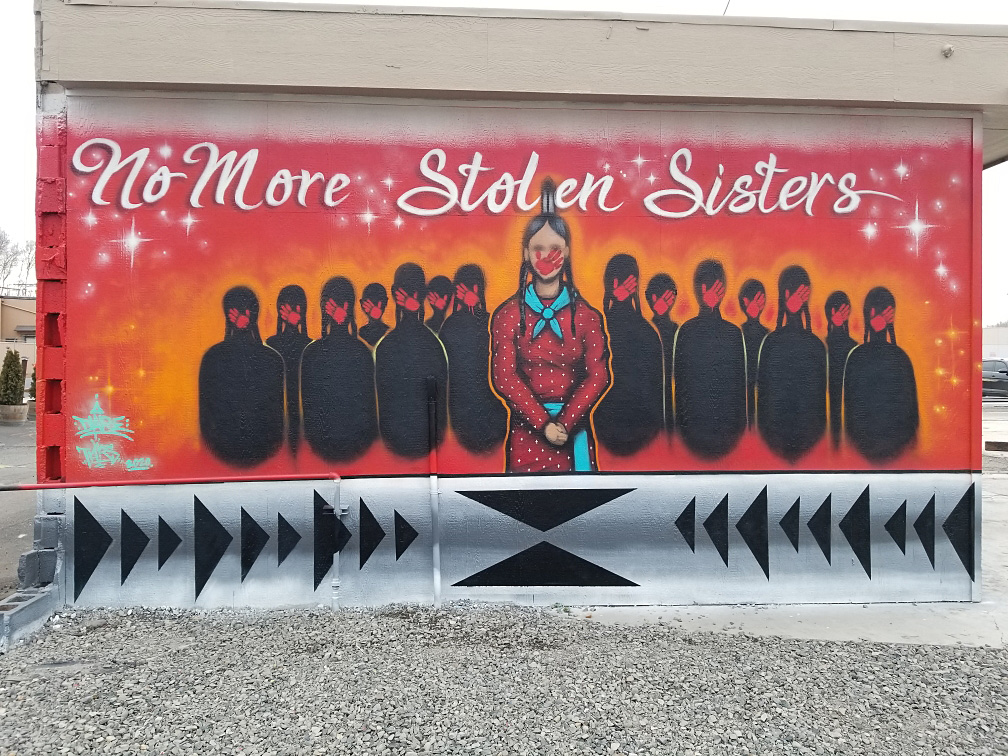 By Danielle Frost
Smoke Signals staff writer
Grand Ronde Tribal member Trevor Braden and his brother, Garrett Mesplie (Umatilla), have created a mural honoring missing and murdered Indigenous women on the Yakama Reservation.
Titled "No More Stolen Sisters," the four murals are wrapped around an outbuilding located at the Yakamart gas station and convenience store in Toppenish, Wash.
"Garrett and I were honored to take on this project," Braden says. "We know it is a very important movement to our Native and Indigenous people. … We were very happy with the outcome and received a lot of good feedback from the community."
Manager Joel John proposed the idea of a mural to the brothers and asked for design ideas. After store ownership reviewed these, Braden, 33, and Mesplie, 32, began working on their creation. Painting was done during the winter, so it took five weekends to complete the project as drying time takes longer in colder weather.
The brothers chose bright colors and images for their mural design to catch the attention of those passing by, and used red because it is the official color of the Missing and Murdered Indigenous Women awareness campaign.
Braden and Mesplie, who live in Toppenish and Wapato, respectively, work primarily with spray paint. They intertwine graffiti-style techniques and incorporate them into Native American designs. They have completed large, colorful murals throughout Yakima County.
The brothers have had artistic leanings since they were children, competing with each other to see who could come up with the best ideas.
"We have made it into a business as a mural company, and also make clothing, create logo designs and (work with) several other mediums in art," Braden says.
They were happy to have their work featured at the Yakamart store, which is a central fixture for many in the community.
"(The Yakamart store) is one of the most popular pathways through our small community," Braden says. "It is right near our main highway and intersection. So, we wanted people to see it, stop and see what it is all about.
"We included popular hashtags on our mural so that those who are not familiar with the movement can look it up. It is sad that our people go missing and no one seems to care other than those who lost a loved one."