Tribal Government & News
So Far Away: Tribal member Sharrah McKenzie digs living in Spain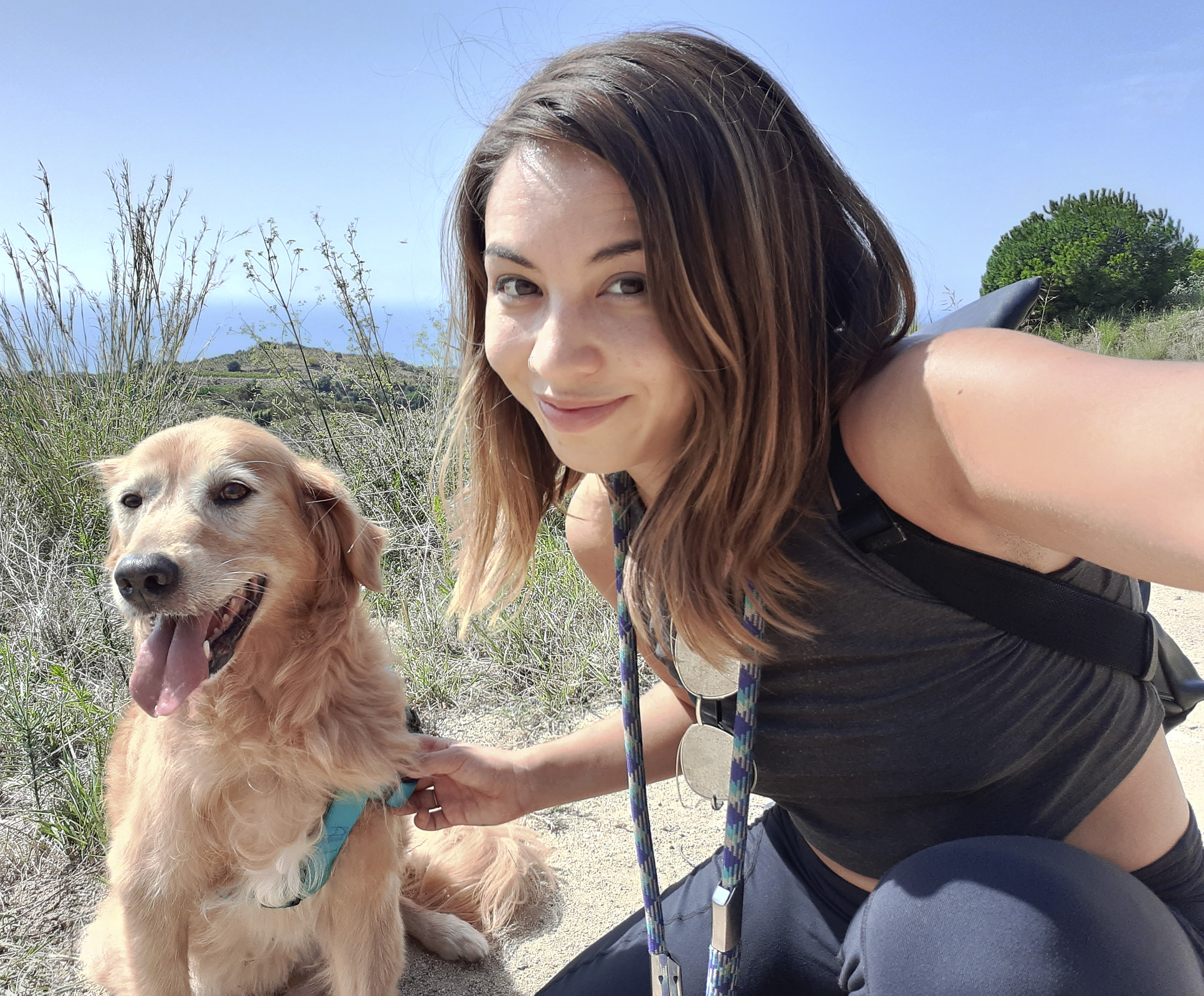 (Editor's note: This is the first in a series of stories in 2020 about Grand Ronde Tribal members who live abroad.)
By Dean Rhodes
Smoke Signals editor
When it comes to the eight Grand Ronde Tribal members who live abroad, Sharrah Marie McKenzie is the second closest.
Residing in Barcelona, Spain, McKenzie is approximately 5,600 miles from Grand Ronde. Just the continent of North America, the Atlantic Ocean and most of the Iberian Peninsula away.
When it's noon on the Grand Ronde Reservation, it is 9 p.m. in McKenzie's flat in the city center of the 5.5 million population capital of the Catalonian region of northeast Spain located on the Mediterranean Sea.
"My flat is located in a 200-year-old building," McKenzie says via e-mail. "Most of the architectural designs are traditional, such as the mosaic floors, exposed wood beam roof and outdoor drying clothes line."
And considering her interest in the ancient past, McKenzie couldn't be in a more perfect city. Barcelona's earliest inhabitants date back to Neolithic times and the city itself was founded by the Romans in the first century B.C. The remains of the original defensive wall can still be found in the city's old town area.
McKenzie, who will turn 29 in May, is Tribally descended from her grandmother, Karleen Parazoo, and father, David McKenzie.
"My father's family kept me immersed in the culture by teaching traditional food recipes and regalia construction, in addition to attending powwows and other Tribal events," she says.
McKenzie first visited Spain after completing her degree in archaeology at Portland State University in 2016. She backpacked through France and Italy and then arrived in Spain.
"I fell in love with the country," she says. "The historical preservation, architecture and archaeological artifacts were like nothing I had seen before. Although the city itself was impressive, the most remarkable part was the Pyrenees mountain range, which is a beautiful divide between Spain and France."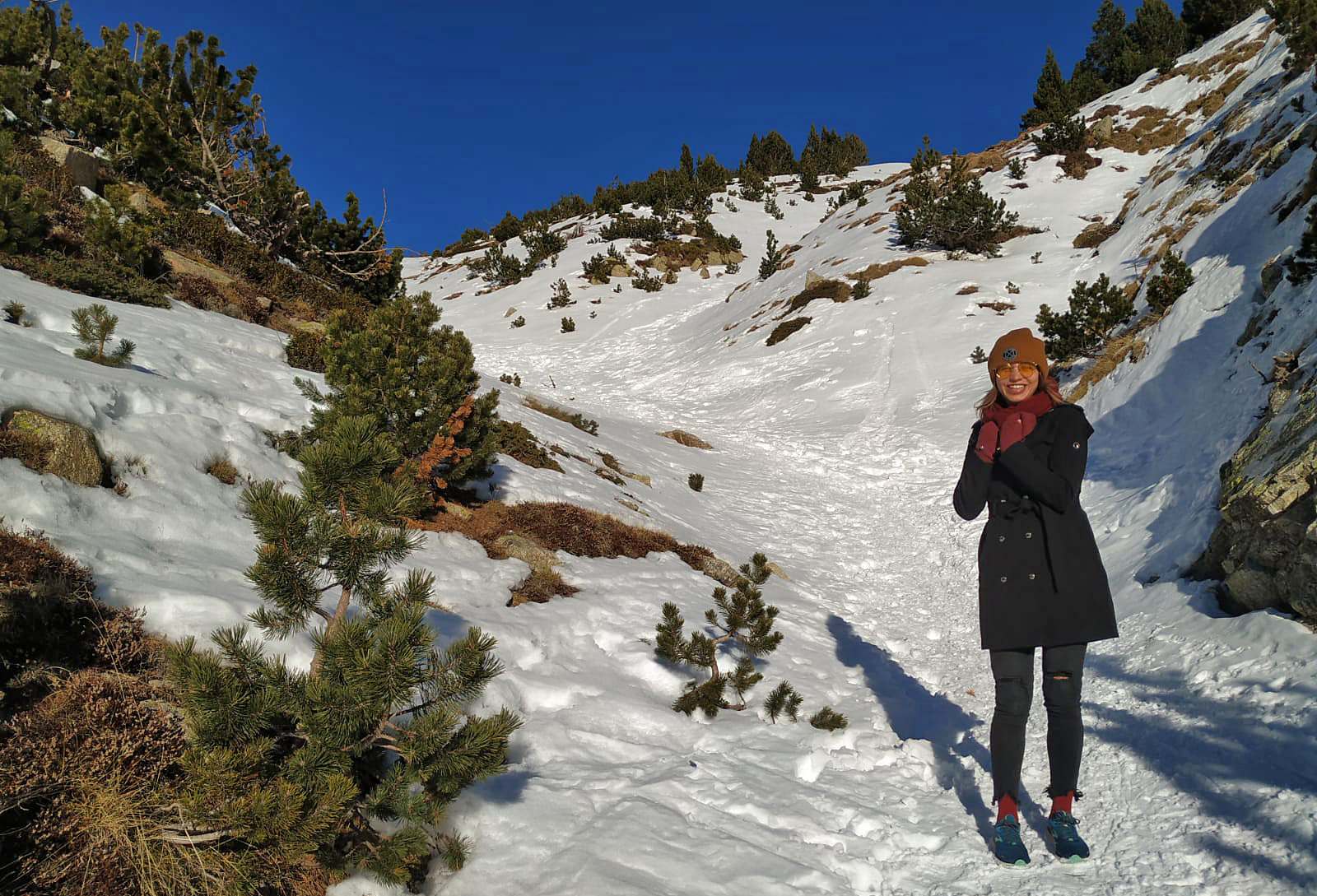 Tribal member Sharrah McKenzie lives in Barcelona, Spain, which gives her plenty of opportunities to see snow by visiting the nearby Pyrenees Mountains that separate Spain from France. (Contributed photo)
She visited paleontology and natural history museums in Barcelona to find out more about the excavations and discoveries found in the Pyrenees, which preserved fossils from millions of years ago.
From those visits, her interest was sparked in pursuing a degree in paleontology and Spain's educational system offered many opportunities in that academic field.
"I applied to a paleontology program and was accepted into the master's program in Barcelona," she says. "After completion of my master's in paleontology and fossil reconstruction, I was invited to continue on to complete by Ph.D."
McKenzie says she has two years remaining until then and may move back to the United States afterward. "Many decisions depend on job opportunities and other unpredictable forces," she adds.
McKenzie says that besides the obvious differences of language and food between the United States and Spain, one of the biggest adjustments she has had to make is in how the Spanish interact with one another. Spaniards typically do not engage with strangers or even colleagues on a social basis.
"They have a tendency to group only with close friends and family," she says. "Although they will almost always be friendly, it is hard to become close as an outsider to these groups."
Another difference is the work-life balance. In Spain, there are 12 national holidays and a minimum of 22 vacation days annually compared to America's 10 federal holidays and no legally required vacation time.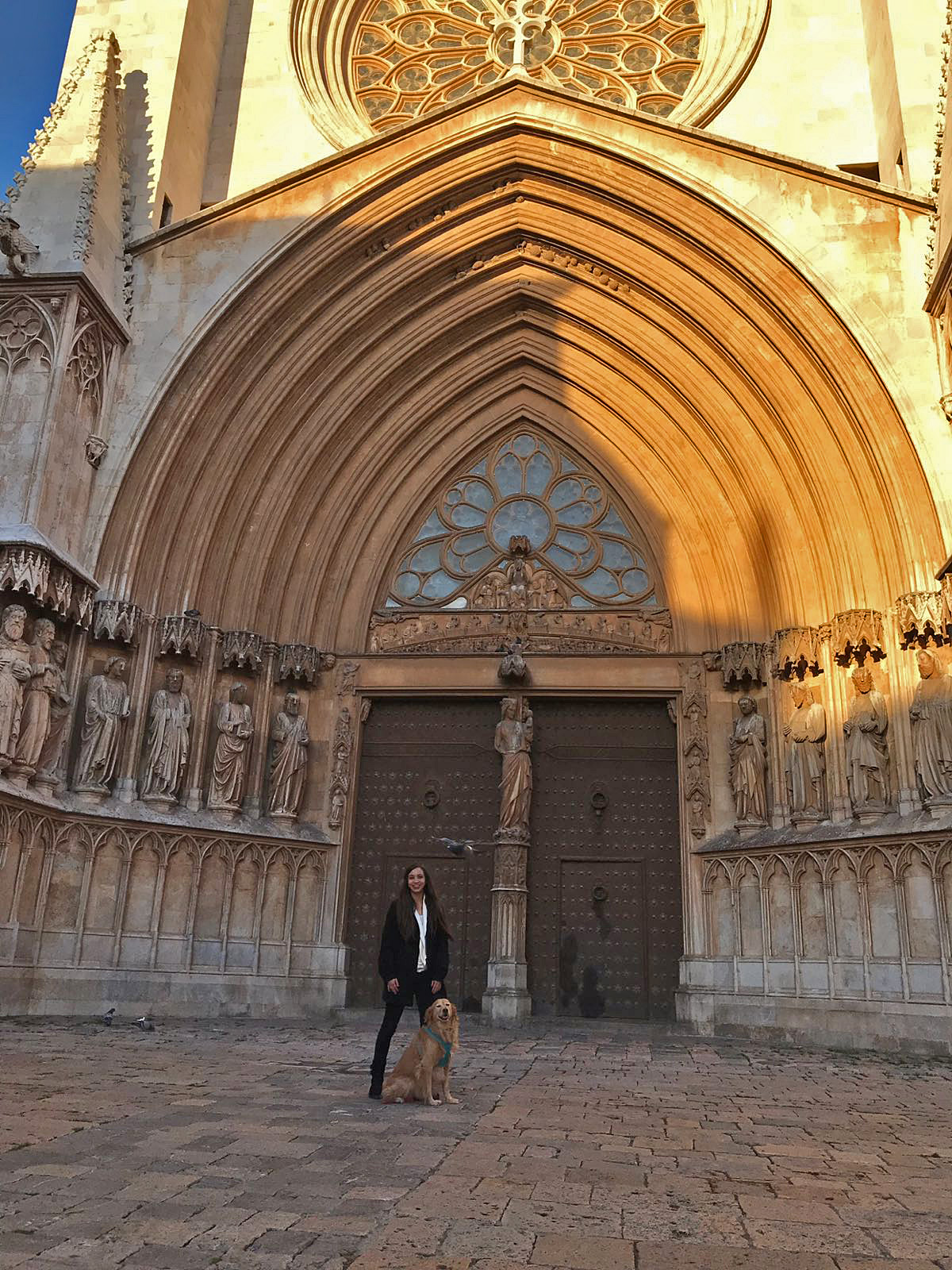 Tribal member Sharrah McKenzie stands in front of the Tarragona Cathedral outside of Barcelona, Spain, with her golden retriever, Gypsi. (Contributed photo)
She also appreciates the public transportation that allows her to travel to far and remote locations. "The train, bus and metro systems are impeccable," she says. "For as long as I have lived here, I have not had the need for a car."
When people find out that she is an American, as well as a Native American, McKenzie says she often finds herself dispelling stereotypes promulgated by Hollywood. In addition, considering that Spain was one of the major New World colonizers in the 15th and 16th centuries, schools mostly teach from the European perspective when it comes to Native Americans.
"When I speak with my friends or colleagues, they tend to relate America to what they have seen in movies," she says. "This is not surprising since it is their only real reference, but it creates a lot of stereotypes, like thinking all Americans are big consumers, own guns and love to have barbecues. … The Hollywood influence has created a lavish, modernized type of image that most people think of when they imagine life in America.
"The first thing I noticed on the topic of Native Americans was the lack of knowledge that most people had. Very few were aware that Native Americans still existed, or that their languages and culture were still practiced today. They are not at all familiar with any type of Native American culture or traditions. The misrepresentation of Native Americans can be seen throughout Spain in the improper use of Native art patterns and traditional designs on products, such as dreamcatchers and moccasins. All this ignorance is due to the lack of education on the history of Native Americans.
"Although there is an unfortunate lack of education on Native Americans and their history, everyone that I have encountered has been very interested in learning about it. They are very open-minded when it comes to learning about other cultures, but the information regarding Native Americans seems to always catch their attention. It almost appears as if Native American culture is this mysterious and secretive thing, so when I talk about it it gives them such a culture shock of interest and amazement."
McKenzie, however far from home, works to remain attached to her Tribe. She receives Smoke Signals in Spain and visits the Tribal website frequently to stay updated on Tribal affairs and activities.
Those connections take the place of traveling back to Oregon, which is a 12- to 15-hour flight and prohibitively expensive for a student.
"I return to the United States once a year," she says. "In order to make the trip worth the travel, I save and use all my vacation days in order to spend three to four consecutive weeks back home. This approach is the most time-cost effective, and allows me more days back home with my friends and family."
McKenzie says she sees an importance in traveling and strongly suggests that other Tribal members try their best to make it part of their lifestyle.
"The experiences I have undergone from living abroad have allowed me to learn about myself and the world," she says. "Through curiosity and willingness to try new things, I have learned about different cultural surroundings, teaching me about people and real happiness. I have pushed myself to incredible limits that have made me a stronger and more self-aware individual. Every day I feel more complete and in tune with my potential. I thank the Tribe for giving me the opportunity to create a better life for myself."
(Next issue: Two Tribal members live on the Emerald Isle of Ireland.)