Tribal Government & News
Tribal Council OKs seeking state grant to expand West Valley Veterans Memorial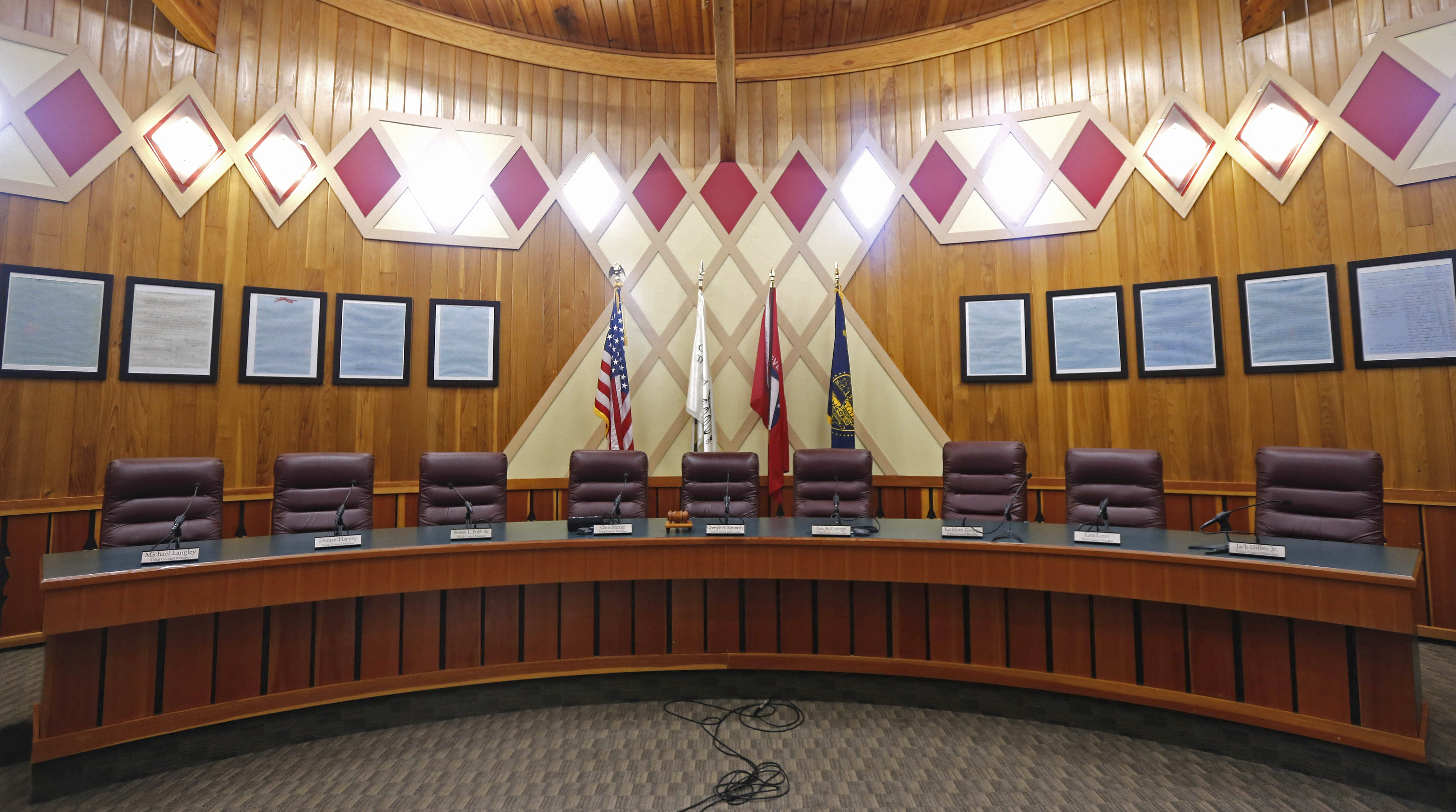 By Dean Rhodes
Smoke Signals editor
After 17 years of adding names to the West Valley Veterans Memorial, two of the four pillars are running out of room.
The black granite pillars for Navy and Army veterans are filling up and Tribal Council approved applying for a $44,900 grant from the Oregon Parks and Recreation Department's Veterans & War Memorial Grant program to add two pillars to the local memorial.
If received, the Tribe would match the state grant dollar for dollar out of next year's budget.
Planning & Grants Manager Kim Rogers said during the Tuesday, Feb. 4, Legislative Action Committee meeting that the new pillars probably would be placed in the current landscaping that surrounds the memorial.
The West Valley Veterans Memorial was dedicated in 2003. It was designed by Tribal Council member Steve Bobb Sr., who is a Vietnam War-era Marine Corps veteran.
The memorial, which is the centerpiece of the annual Memorial Day ceremony in Grand Ronde, features a man and woman dressed in traditional Native clothing standing side-by-side reaching for the sky. The four black granite pillars – one for each military branch – feature the names of Tribal and community veterans from Grand Ronde, Willamina and Sheridan, and a few notable Oregonians, such as former Gov. Ted Kulongoski.
According to Smoke Signals' running tally, the Army pillar contains 1,140 names while the Navy pillar has 691 names. Two new pillars should last awhile since the Air Force and Marine Corps pillars still have plenty of room with 316 and 188 names, respectively.
In other action, Tribal Council:
Approved the Tribal Lands Department's pursuit of two Grand Ronde-area forestland properties currently owned by Stimson Lumber. Tribal Lands Manager Jan Reibach said the Tribe still has to verify the properties' boundaries before it can close on the sales;
Approved a correction to the minimum bid rate for Douglas fir and other softwood species logs in the previously approved Fawn Thin Logging Unit;
Approved the 2020 Right-of-Way timber sale that will bring the Tribe almost $30,000 in revenue. In addition, some of the harvested logs will be donated to this summer's Willamina Logging Show and then returned to the Tribe afterward to be used as firewood for Elders;
And approved the enrollment of five infants into the Tribe because they meet the enrollment requirements outlined in the Enrollment Ordinance and Tribal Constitution.
Also included in the Feb. 5 Tribal Council packet were approved authorizations to proceed that transferred $625 from general contingency to pay for a Bob Mercier Logging Unit sign, approved a preliminary site plan for the proposed Creekside Elder Housing development on the southwest corner of Grand Ronde and Hebo roads and OK'd staff incorporating the Grand Ronde 2033-Our Future population growth scenario into the Community Development Plan.
To watch the entire Tribal Council meeting, visit the Tribal government's website at www.grandronde.org and click on the Government tab and then Videos.