Health & Education
Gehrke joins clinic to lead medication-assisted treatment program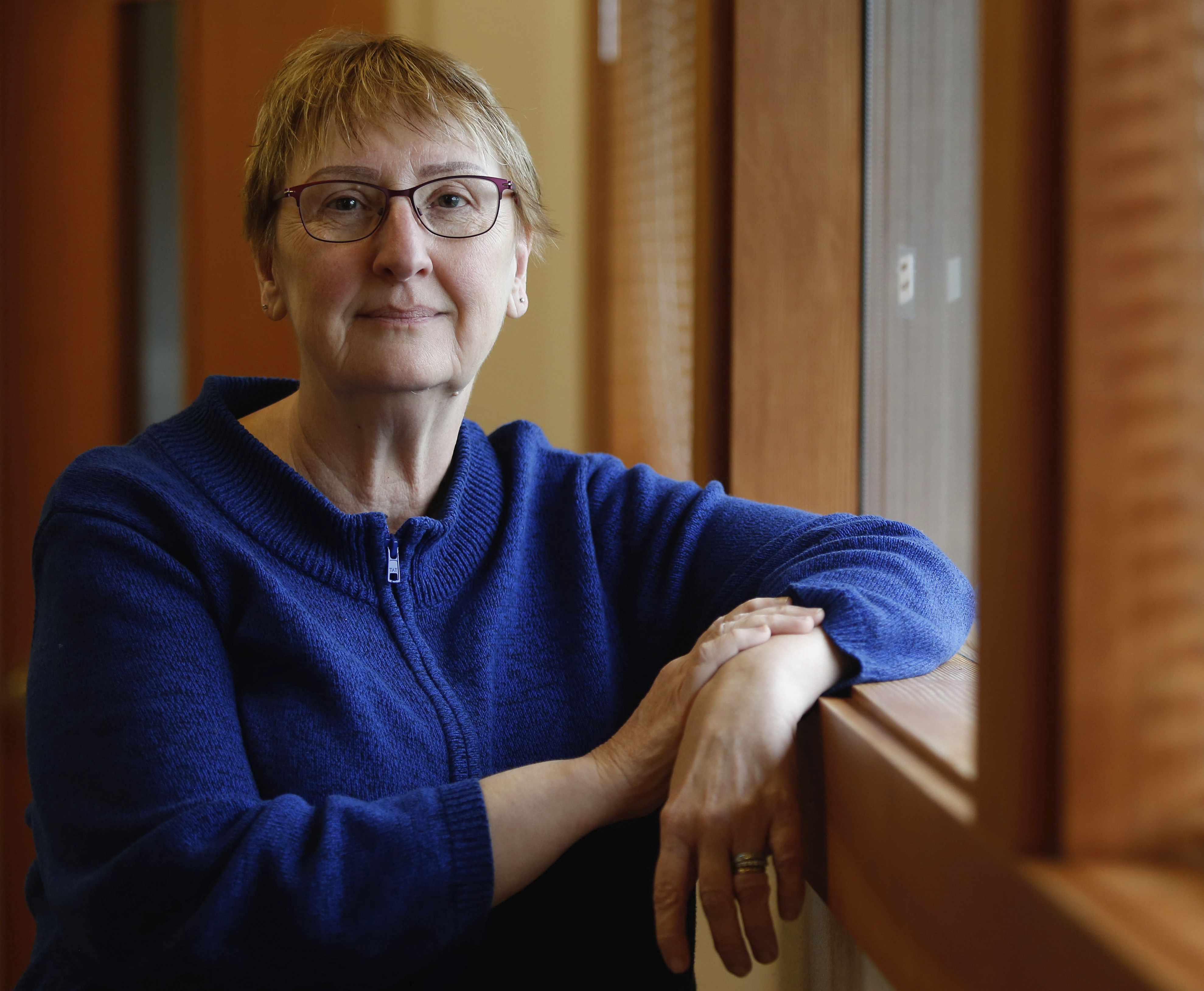 By Dean Rhodes
Smoke Signals editor
Linda Gehrke joined the staff of the Grand Ronde Health & Wellness Center on Sept. 24 to supervise the new medication-assisted treatment program designed to help those suffering from opioid dependence.
In less than two months, her caseload has reached 17 patients, most of whom became addicted to opioids through illicit use of heroin.
As the new medication-assisted treatment coordinator, Gehrke meets prospective patients where they are in their dependency. After patients undergo an induction assessment to determine their level of addiction and if they are currently using, they also are seen by Tribal physicians and Behavioral Health staff members before beginning a daily regimen of Suboxone treatment.
"Basically, Day Zero is me doing an assessment and Day One is the day they will be given a dose," Gehrke says. "So many people have not been to a doctor in years and we are picking up the pieces of their health."
The treatment drug is dispensed as a film strip that is placed under a patient's tongue and each dose is good for 24 hours. The drug works to reduce a patient's craving.
"Suboxone helps with the symptoms of detox," Gehrke says. "It's got a little bit of an opioid antagonist in it so it blocks the receptors to get high, which reduces the craving. It is very rapid acting."
In addition to medication, patients receive Native American-themed counseling, including the burning of sage, praying, making dreamcatchers and working with Native American counselors in the Behavioral Health Department.
"I give the education to the patients and coordinate with the Behavioral Health and Medical departments and help them get the care they need," Gehrke says. "Patients come in at all different levels (of addiction) and we meet them where they are at."
Gehrke, 59, hails from Buffalo, N.Y. She moved to Montana in her late 20s and obtained a nursing degree from Montana State University. She worked for 23 years in corrections health care, most of that time in the Idaho prison system. She also worked for a private firm that contracted health care services to nine county jails in the Pacific Northwest.
She and her husband, Lyle, moved to Willamina to be closer to two of their three grown daughters. The youngest, Charlene Brewer, also works at the Tribal health clinic as a licensed practical nurse.
It was while picking up prescriptions at the Tribal Pharmacy after Lyle became employed by Spirit Mountain Casino as a valet that Gehrke began thinking about offering her nursing experience to the Tribe because she liked the friendly atmosphere. Soon thereafter, the medication-assisted treatment coordinator position was advertised.
"As we brought on medication-assisted treatment programming at the clinic, we knew it was important to have an experienced staff member help coordinate care and resources for our patients seeking these services," says Health Services Executive Director Kelly Rowe. "Linda is very compassionate and her knowledge and skills are a great fit for us. She is helping us develop our medication-assisted treatment program and also has been able to facilitate our relationship with the local jail system to support program adherence for our clients."
Medication-assisted treatment is an alternative to making opioid addicts go "cold turkey," which research has found is not successful.
Although medication-assisted treatment is not new, Gehrke says it has gained renewed attention because of the opioid addiction epidemic and high-profile lawsuits filed against opioid medication companies that have occurred in recent years.
"Opioid addiction is now being recognized as an illness," Gehrke says. "The word 'addict' is going away and now it's more of a mental health diagnosis and we help people with their dependency."
Gehrke says tell-tale signs of addiction include buying drugs illegally or taking a larger dosage than a doctor has prescribed.
Gehrke says the treatment has been very successful so far despite a few patients dropping out because they weren't ready to seriously tackle their addiction. "It's holistic. We bring in the Tribal ways, Behavioral Health and the medical piece, so it's well-rounded program. The resources for Tribal members are really beneficial."
Anyone interested in contacting Gehrke can call her at 503-879-2032.
"It's confidential," Gehrke says. "When somebody comes in, I don't even walk out in the clinic to get someone. My face is known as the medication-assisted treatment coordinator. I have someone else do it. It's a confidential, safe environment."
PODCAST: MAT program; understanding the treatment-seekers experience better