Tribal Government & News
Tribal member Anthony Hudson channels alter ego into full-length play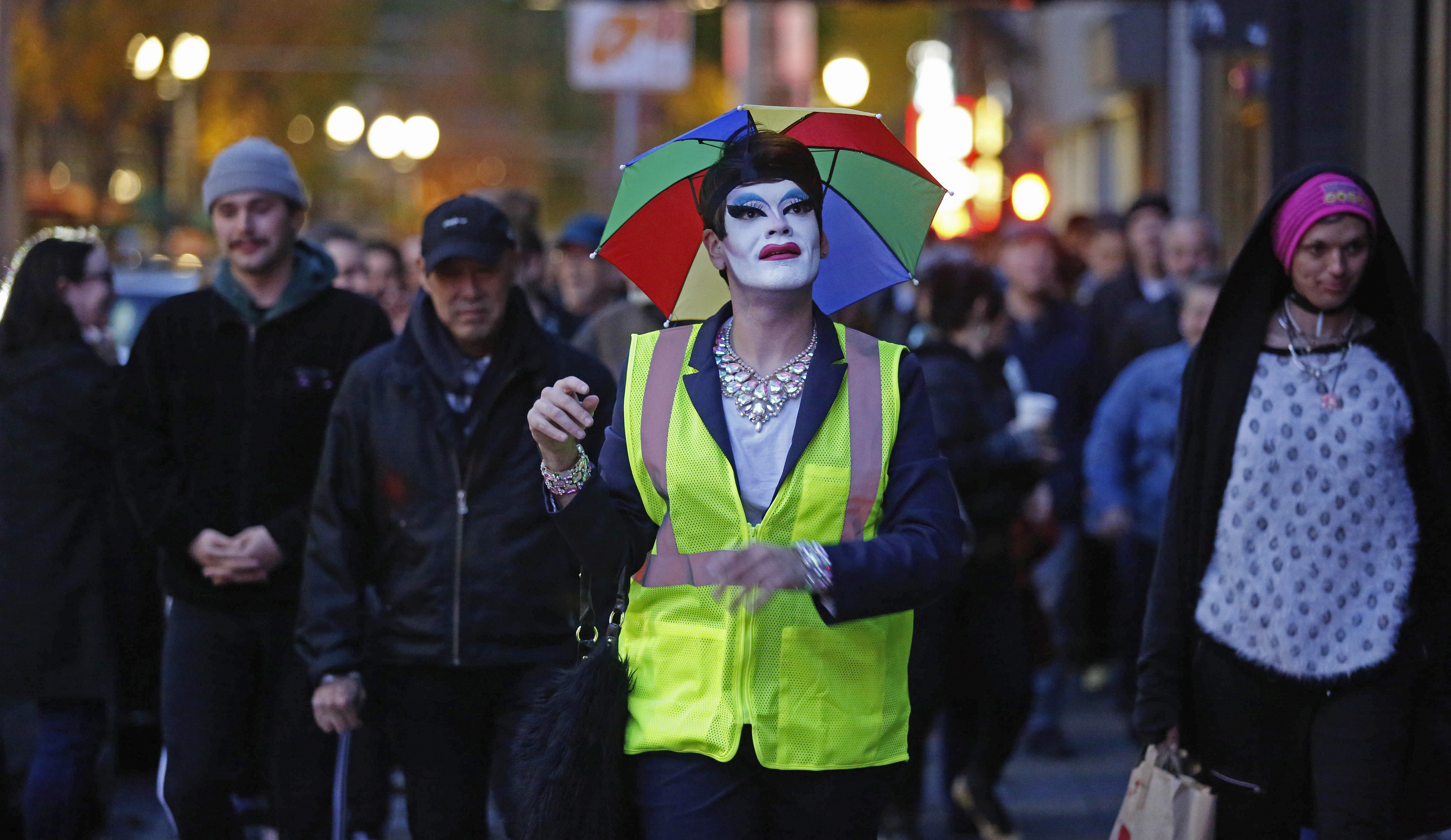 By Danielle Frost
Smoke Signals staff writer
PORTLAND -- Confronting complacency and the confusion of mixed identities is a difficult undertaking, but Grand Ronde Tribal member Anthony Hudson has turned his own struggle of living in between the lines sexually and racially into a full-length play.
Hudson, 33, is a multidisciplinary artist, writer, performer and filmmaker who lives in Portland "among lush greenery, sprawling gentrification, and a not-mutually-exclusive fear of bridges and earthquakes."
In 2010, in the midst of a difficult breakup, Hudson began dressing in drag and performing at parties as a way to heal. Professors at the Pacific Northwest College of Art noticed when he would arrive late to class with traces of white makeup, but after learning more encouraged him to pursue drag as an art form. After graduating with a Bachelor of Fine Arts degree in intermedia, Hudson continued to hone his craft though drag, performance, video and theater.
From this came the character of Carla Rossi, who has evolved into Portland's premier drag clown hosting nightlife events that include everything from neighborhood gentrification tours to queer horror film screening nights, always with a smattering of humor.
This coming May, Hudson and Rossi will take the stage at the world premiere of Hudson's first full-length play, "Looking for Tiger Lily," produced by Portland's Artists Repertory Theatre.
The storyline is that Rossi has taken over Hudson's life and he is trying to get it back. With an identity including a mix of Indigenous/white/queer, Hudson grew up looking to the Indian princess Tiger Lily from "Peter Pan" for cultural guidance.
"As a kid, I saw this mythical, invented image of our culture," he says.
The play's story follows this quest to find validation as a Native artist and be at peace with a confused identity.
"Carla Rossi is my way of confronting whiteness within myself," Hudson says. "She's the intersection of my half-Native, half-German mixed heritage. … As a queer performer, Carla is also an avenue for publicly and politically negotiating gender in a heterosexist binary."
Hudson and Rossi have been featured at Seattle PrideFest, the Risk/Reward Festival and the Cascade AIDS Project Auction, among other events across the United States and abroad. They also host and program the film series "Queer Horror" bimonthly at Portland's Hollywood Theatre, where Hudson also serves as community programmer.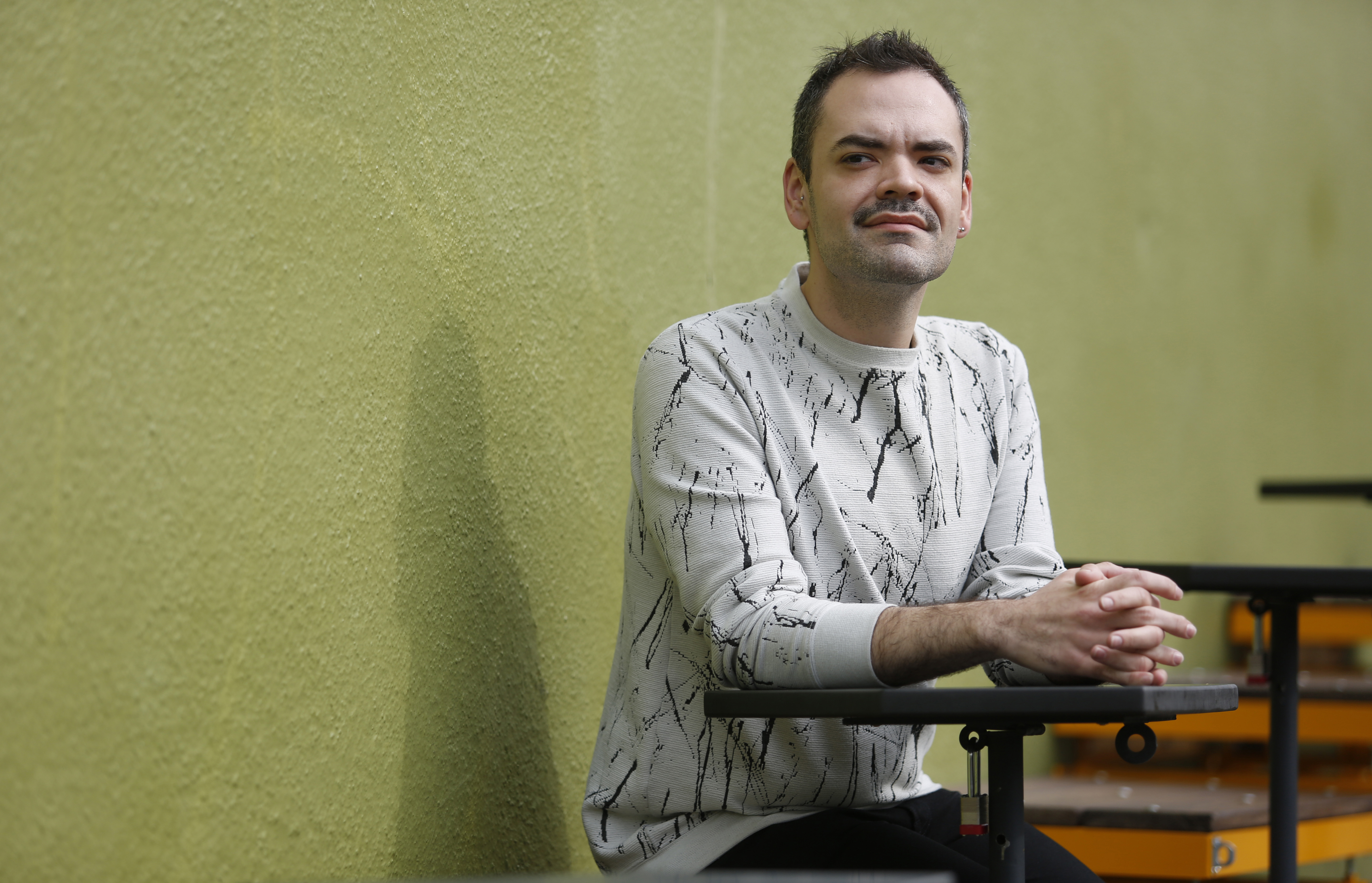 Tribal member Anthony Hudson performs as Carla Rossi, a drag clown, in Portland. He has written a full-length play, 'Looking for Tiger Lily,' that will premiere May 2 at Portland Artist Repertory Theatre. (Photo by Timothy J. Gonzalez/Smoke Signals)
'Looking for Tiger Lily'
"Looking for Tiger Lily," which will premiere on May 2, is Artists Repertory's second commissioned work by an Indigenous playwright.
The play began as a solo show in 2016 that Hudson performed at Hollywood Theater with support from the Regional Arts & Culture Council. At one of those performances he caught the attention of Artists Repertory's Luan Schooler, director of new play development.
Marketing Director Kisha Jarrett got to know Hudson after reading a first draft of the play. She calls Hudson's progress remarkable.
"The show is so crazy, but it works," Jarrett says. "It's almost like a tripped-out 'Sesame Street.' Then you throw in Carla's personality and it's really funny. I'm glad Luan believed in Anthony and put this play in our new world premiere."
Since the Arts & Culture Council grant, Hudson has received Western Arts Alliance's Native Launchpad program grant, was named Native Arts & Culture Foundation's National Artist Fellow in Artistic Innovation, received a Creative Highways Award from the Oregon Community Foundation and an individual artist fellowship from the Oregon Arts Commission.
The solo show made its New England premiere in April 2018 at the Hopkins Center for the Arts at Dartmouth College in Hanover, N.H., and toured internationally to Vancouver, B.C.'s Talking Stick Festival in February 2019 and Melbourne's Yirramboi Festival in Victoria, Australia, in May 2019.
Hudson views the evolution of "Looking for Tiger Lily" from a solo show into a full-length play as a mirror of his own journey.
"I think of these as two distinct performances," Hudson says. "The solo one is me growing up and coming into my own consciousness. The play is about what comes next. How I come to terms with self-doubt as an artist and self-doubt from the identities people put on those around them. It's my first experience writing a full-length play with multiple actors, voices and screen changes. I let my imagination go crazy."
The development from "do-it-yourself" drag clown to a supported cast at an A-level theater sometimes leaves Hudson feeling like the whole thing is a dream.
"This has been a journey through self-doubt, but also validation," he says. "I think the world and society puts on us that we have to commit to one thing or another."
Why drag?
"Doing drag" as a part of artistic expression isn't a recent phenomenon. Drag had its beginnings in late 1800s British theater, where male actors wore dresses to perform in female roles, according to an article on the website, Them. The actors' petticoats would drag on the floor and so they referred to dressing up as women as "putting on their drags."
By the 1920s, the term "drag" was being used by gay people. One theory is that the term was used as part of a secret code necessary due to the criminalization of homosexuality.
Hudson says he feels that dressing in drag can sometimes reinforce stereotypes of what makes someone a "woman." However, he adds that it can also expose the cracks in sexist views by blurring gender lines.
"Queer drag exposes gender as a performed historical construction – a set of appropriated cues, images or gestures that culturally signify masculine and feminine – rather than as a biological reality."
He prefers the term "drag clown" to "drag queen."
"I'm not trying to mock womanhood or emulate women," Hudson says. "I'm more interested in tearing down gender boxes. The more we can tear those things apart, the more we are able to see people as themselves."
Hudson refers to Rossi as "his coyote" after the stories grandmother Gladys Bolton (Siletz) used to tell, which he says are similar to the clown's objective: saying one thing while doing another.
Hudson also credits his father Ron Hudson (Grand Ronde) as crucial to the understanding of culture and traditions, and encouraging him to be a storyteller as well.
"My dad was a social worker at the Grand Ronde Tribe and I learned how to talk to an audience from him," Hudson says. "I would sit and watch him use PowerPoint slides and he would always make the audience laugh before getting into anything serious. … My dad is my hero."
Hudson says that he feels that Rossi is more a faceless entity than a particular gender.
"She is like Mr. Potato Head, but trying to be a person," he says. "My foray into drag was a messy fantasy."
In 2015, Hudson decided to take the plunge and perform as himself without makeup.
"I decided I wanted to face my fear," he says. "Carla could be there as an entry point to the story, but mostly it was me performing without my makeup."
Although Hudson was a self-described "drama geek" at McNary High School in Keizer, he says he never imagined being in theater as a career.
"Drama saved my life in high school," he says. "You sometimes have that one teacher. … Mine was Ms. (Linda) Baker. I was acting and directing in high school. She came to my first production of 'Tiger Lily' and was beaming."
Baker says she is "honored" to have been even a small part of Hudson's success.
"My job was to create a safe space where students could do what they wanted to (creatively) and be able to enjoy it," she says. "High school is a hard place. You can't be creative enthusiastically without someone slamming you. I wanted my students to leave with a voice."
During high school, Hudson was known in drama circles for his quick wit.
"One time, we had a situation where the school was concerned about us 'flying' kids across the stage, even though we were very careful about it," Baker recalls. "Anthony wrote a satire piece about having to perform 'Richard III' with pompoms instead of swords because of safety concerns. I still have it. … He cracked me up."
Bakers says Hudson was a dream come true for a drama teacher.
"High school can be really tough," she says. "He left and bought into who he was and learned to use his voice. Seeing him perform made my heart sing."
The future
Hudson says he is hoping to reach a broad audience with the play, but what matters most to him is involving youth in the message.
He plans to continue conducting workshops with youth, especially those in Indigenous communities.
"I love doing workshops with kids," Hudson says. "My message is to be open to change and sometimes you can just be. Youth needs to be the focus of my work. I think hope is something hard to find these days and these kids give me so much hope. It's a very thoughtful generation."
Hudson has organized workshops at Dartmouth College, Las Vegas and Portland, and also attended Native American Youth and Family Center's Two Spirit Prom as Rossi.
"It was so much fun," he says. "I love the willingness of youth to engage."
Artists Repertory Theatre representatives hope to include youth workshops as a part of the "Tiger Lily" premiere and bring in other drag artists from Portland and Seattle.
"This play has some heavy stuff in it, especially for confused people, but it's also an acceptance of who you are and that you don't need to have it all figured out," Hudson says. "Kids are smarter than we give them credit for. We coddle kids, but they are already having discussions like this."
For more information about "Looking for Tiger Lily," visit www.artistsrep.org. For more information about Anthony Hudson/Carla Rossi, visit www.thecarlarossi.com.