Tribal Government & News
Klamath Tribal member Cholena Wright named newest Hatfield Fellow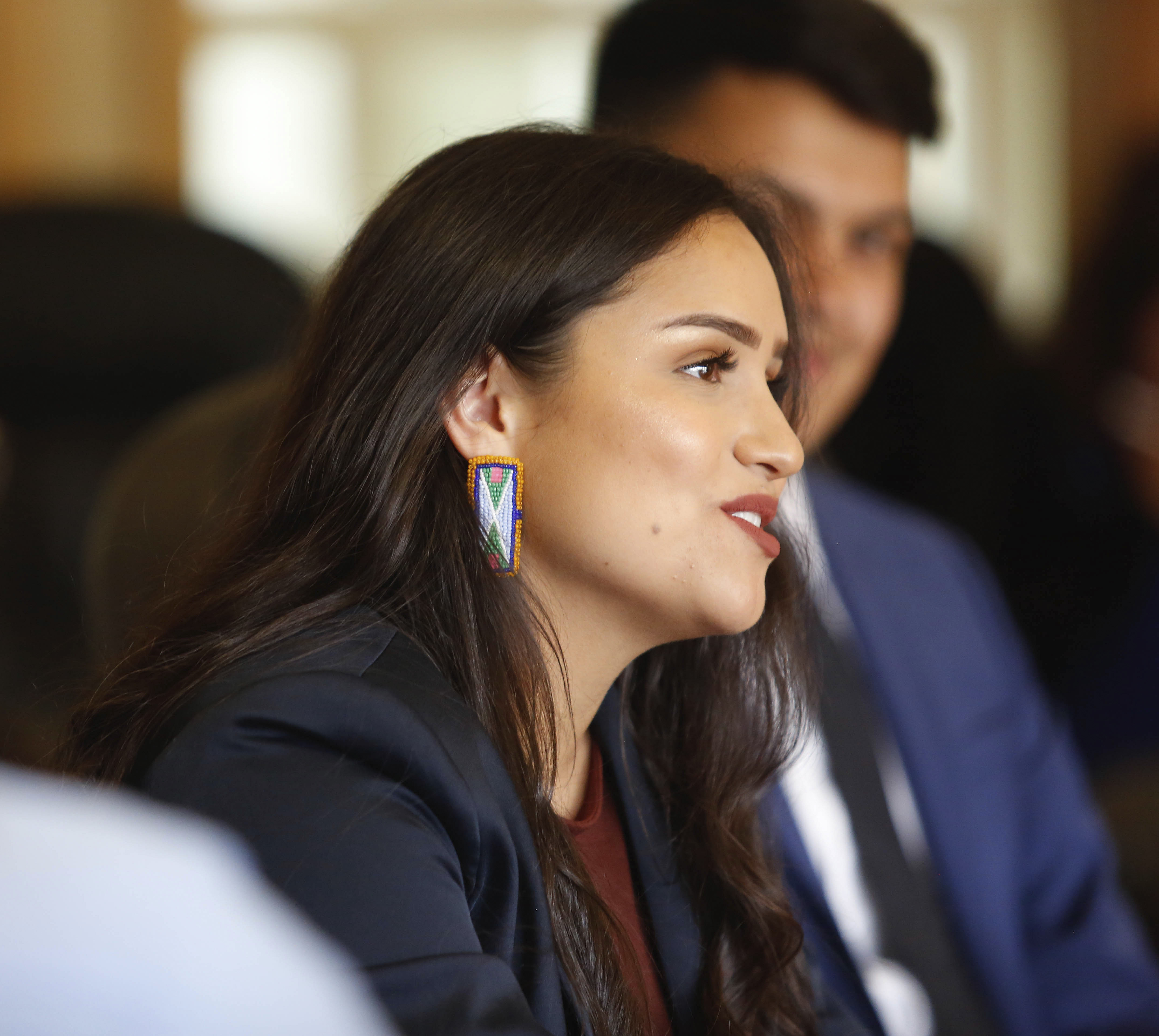 Past Hatfield Fellows
1998: Pete Wakeland (Grand Ronde)
1999: Direlle Calica (Warm Springs)
2000: Alyssa Macy (Warm Springs)
2001: Bodie Shaw (Warm Springs)
2002: Kevin Simmons (Grand Ronde)
2003: Bryan Mercier (Grand Ronde)
2004: Joseph Hostler (Grand Ronde)
2006: Dennis Worden (Coeur d'Alene)
2007: Rebecca Knight (Grand Ronde)
2008: Francene Ambrose (Grand Ronde)
2009: Stacia Martin (Grand Ronde)
2010: Shana Radford (Nez Perce)
2011-12: Darrel L. Lawrence (Grand Ronde)
2013-14: Rudy Soto (Sho-Ban)
2014-15: Mary Bodine (Warm Springs)
2015-16: Maria Givens (Coeur d'Alene)
2016-17: Robert Ahern (Warm Springs)
2017-18: Karlen Yallup (Warm Springs)
2018-19: Traven Joseph (Koyokan Athabascan/Gros-Ventre)
Angela Sears
Community Fund program coordinator
The Confederated Tribes of Grand Ronde and Spirit Mountain Community Fund have selected Cholena Wright, 25, as the new Hatfield Fellow.
Wright is from Chiloquin in southern Oregon and is a member of the Klamath Tribes.
She is a graduate of the University of Oregon, where she earned a bachelor of arts degree in political science with a minor in Native studies. She has a passion for education, Indigenous studies and building Tribal nations.
Wright is active in Indian Country with past work as the Native American Recruitment Coordinator and Native American Student Union Director at the University of Oregon, as well as serving on the board of the Oregon Indian Education Association.
Wright also interned in U.S. Rep. Peter DeFazio's district office in Eugene as the veterans' affairs staff assistant in 2015-16.  
The Confederated Tribes of Grand Ronde established the Mark O. Hatfield Fellowship in 1998 as a "living tribute" to honor his accomplishments, both as Oregon governor and U.S. senator.
Every year, Spirit Mountain Community Fund sponsors a Native American to serve as the Hatfield Fellow, who interns in a congressional office for an eight-month term. Placement of the Fellow traditionally rotates through the Oregon congressional delegation to enhance mutual understanding between leadership in Washington, D.C., and Indian Country.  
Wright will begin her fellowship in November with a month-long orientation at the American Political Science Association in Washington, D.C.
This is DeFazio's second Hatfield Fellow.
"Congratulations to Cholena Wright," he said. "We're excited to welcome CC back to the team. (She) is a proven leader as demonstrated through her work in her community, as a student at the University of Oregon and most recently coordinator of Native American Recruitment. She was an asset to my veterans' affairs casework team during her time in my Eugene office several years ago, and I'm glad she's coming back to learn more about the legislative process in our D.C. office.
"Her passion for public service, law and public policy will serve her well in this fellowship and will benefit the Fourth Congressional District as she works with us to respond to the needs of my constituents. … Spirit Mountain Community Fund's Hatfield Fellowship is a distinguished program that has brought mutual benefit for years to fellows, Pacific Northwest Tribes and Oregonians."
Wright said she looks forward to being a part of DeFazio's team again to gain a deeper understanding of the government-to-government relationship between Tribal, state and federal governments, and to learn the practical experience needed to navigate Tribal politics and policies.
"I am excited by the prospect of working in a bipartisan environment and experiencing the challenges of working with those with whom I may disagree," Wright said. "This experience will make me a more resilient leader. Adversity and struggle are some of the most effective teachers. I would love the opportunity to embrace political differences and advocate on behalf of the interests of the Confederated Tribes of Grand Ronde and Indian Country in general."
Wright's plans include potentially earning a joint doctorate degree in Indigenous studies with a research emphasis on Indigenous governance and Klamath feminism, and American Indian law. She said she would like to work as a professor or policy analyst, with hopes to someday move back to her Tribal community and serve the Klamath people directly.
For more information, visit www.thecommunityfund.com.
Grand Ronde visit
On Tuesday, Sept. 10, Wright and 2018-19 fellow Traven Joseph, 24, visited Grand Ronde, where they spent time with Community Fund staff, ate lunch at Spirit Mountain Casino and met with Tribal Council for an afternoon briefing.
Joseph spent his internship working in U.S. Rep. Suzanne Bonamici's office.
"Looking back over my experience, I have to say everything was incredible," he said. "Bonamici and her staff were positive and helpful, and provided the opportunity to help me be successful."
Wright said it will be interesting to see what the Capitol is like during an election year.
"I'm excited to learn by doing and really hit the ground running," she said. "I'm especially excited to work for my home district."
Wright is the 20th Hatfield Fellow since the program began in 1998.
"I believe these are life-changing opportunities," Tribal Council Chairwoman Cheryle A. Kennedy said. "We're very pleased to be able to offer this."
Contains information gathered by Smoke Signals staff writer Danielle Frost.