Tribal Government & News
Incumbents sweep 2019 Tribal Council election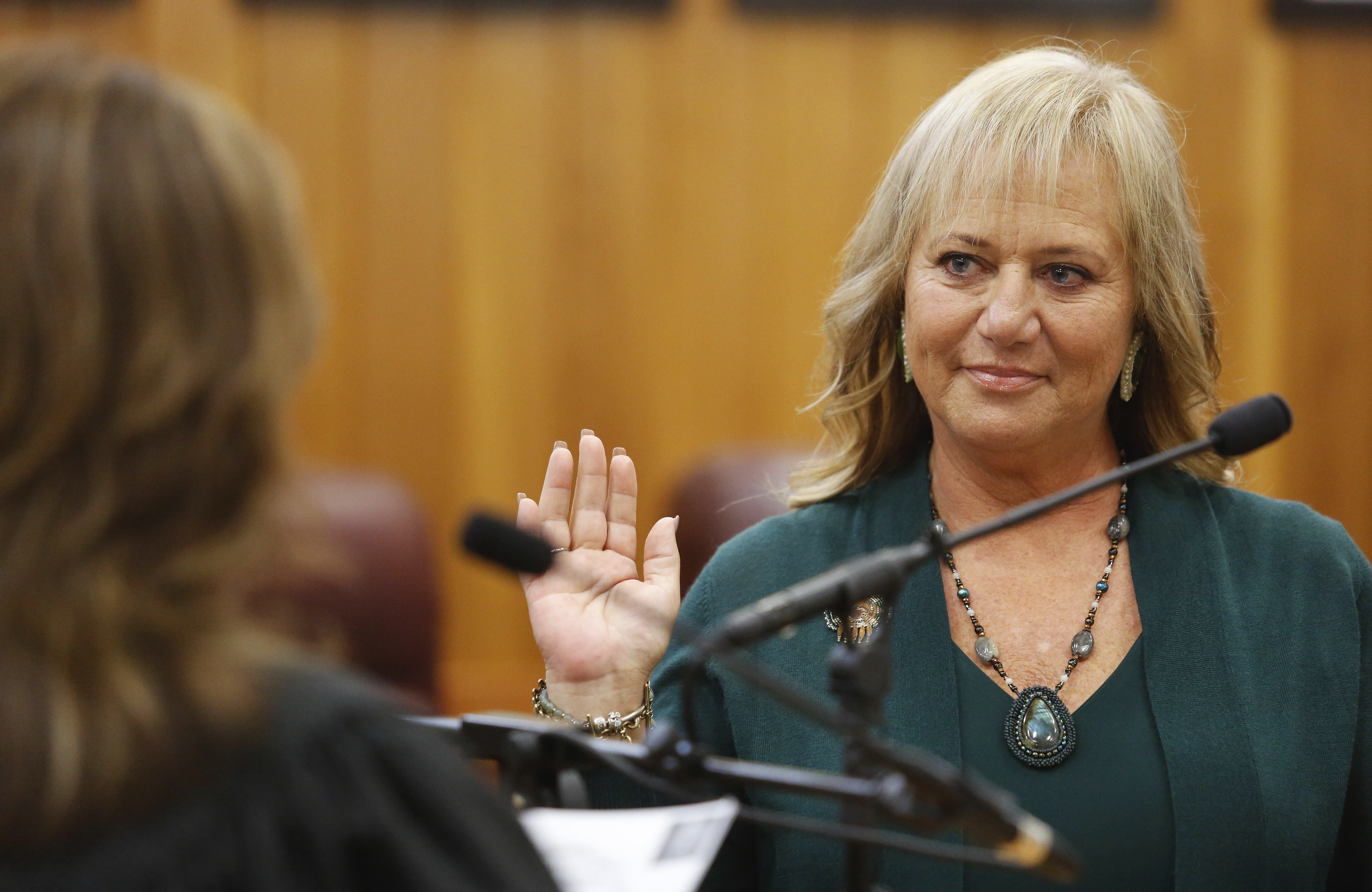 By Dean Rhodes
Smoke Signals editor
Incumbents reigned during the 2019 Tribal Council election.
Tribal voters returned incumbents Denise Harvey, Kathleen George and Jack Giffen Jr. to Tribal Council, according to official election results released on Saturday, Sept. 7.
Harvey received 696 votes and was elected to her third consecutive term. She received the most votes in 2013 and finished third in 2016.
Harvey finished four votes shy of joining the "700 Club," which includes Tribal Council Chairwoman Cheryle A. Kennedy and Tribal Council member Michael Langley as the only Tribal Council candidates ever to receive 700 or more votes in an election.
"I was pleasantly pleased to see the results," Harvey said on Sunday, Sept. 8, before the first General Council meeting of the new cycle. "I was kind of hoping I would make the '700 Club,' but that's OK. I was happy with the results."
Harvey said she thought her message of not going backward and stressing how well the current Tribal Council works together reached the membership.
"I think the message is that they (the membership) are recognizing the work that the council is doing," she said. "My message in my campaign was to keep us moving forward and I think that the membership spoke on that. We want to keep moving forward in the direction we're going."
George received 685 votes and returned to Tribal Council for her second consecutive term. She was the top vote-getter in 2016 with 624 votes.
"I was so happy," George said before the General Council meeting about seeing the election results. "I was just so pleased. I thought it was wonderful to hear the Tribal members say they want the work of this Tribal Council to keep going.
"I think this Tribal Council has faced a lot of hard issues in the last year and we've also created some amazing new opportunities for our people, so I think I was really just waiting to see what the response would be. Is this where they want their Tribal Council to be going or not? If there is anything that we can conclude, I think we've seen that they want this Tribal Council to keep going."
Giffen, who ran on a slate with former Tribal Council Chairman Reyn Leno and Peter "Boon" Grout, was the only one successful with 634 votes. He will start serving his sixth term on Tribal Council on Wednesday, Sept. 11.
"I was very humbled and grateful that the membership re-elected me for a sixth term," Giffen said outside of the Tribal Community Center on Sunday, Sept. 8. "There's not many Tribal members who have been on Tribal Council for six terms. It's just very humbling to me."
Giffen said that he was surprised that his fellow candidates on the slate, particularly Leno, did not fare as well.
"I thought that Reyn would be more competitive in the election process," Giffen said. "It's the membership's voice and you have to go with what they agree on and vote on."
As in 2016, Giffen said this will be his last term on Tribal Council.
"It is definitely going to be my last term," he said. "I still have that heartfelt feeling for the membership. That will always be there, but I'm willing to go one more term and work hard for the membership."
Leno, who previously served seven consecutive terms and was trying to return to Tribal Council after a two-year retirement, finished fourth with 619 votes.
Other challengers were Grout, who received 394 votes; Lewis Younger, who also received 394 votes; and Victor Cureton, who received 382 votes.
Turnout of adult Tribal members eligible to vote was 31.9 percent with 1,350 ballots cast out of a potential 4,233 voters. Turnout was on par with recent years in the low 30-percent range.
In addition, the number of ballots mailed – 2,659 – was the lowest number since 2016.
Election Board Vice Chair Michael Mercier said during the Sept. 8 General Council meeting that two new ballot drop boxes garnered a cumulative use of 84 ballots.
Tribal Council members were sworn in Wednesday, Sept. 11, in Tribal Council Chambers in the Governance Center by Tribal Court Chief Judge Cynthia Kaufman Noble and their terms run through September 2022.
Advisory questions
Tribal voters were asked seven nonbinding advisory questions on the ballot. Results were:
About 30 percent of voters supported amending the Tribal Constitution to remove the Bureau of Indian Affairs from the Tribe's election process. In 2015, a similar constitutional amendment proposal lost by a similar margin of 381-230.
About 65 percent of voters supported the Tribe developing a program to provide small loans to Tribal members;
Fifty-four percent of voters supported the Tribal evaluating a possible charter/private school for Grand Ronde youth;
Almost 67 percent of voters supported the Tribe examining housing options for Tribal members outside of Grand Ronde, such as in Portland or Salem;
More than 73 percent of voters supported the Tribe evaluating a partnership with other Oregon Tribes to establish a trade school, vocational school or Tribal college;
Fifty-two percent of voters supported calling a constitutional amendment election that would ban disenrollments with the exception of fraud;
And 49 percent of voters supported distributing minor trust payments in installments to Tribal youth when they reach 21 years of age.
To amend the Tribal Constitution, two-thirds of those voting must approved of an amendment. In 2018, 69.7 of those who responded to an advisory vote regarding resolving the split-sibling issue supported the idea. However, when the amendment was put up for an official constitutional vote earlier this year, only 63.5 percent of those voting favored the proposal.