Culture
Tribal Elder Ann Lewis experiences an artistic awakening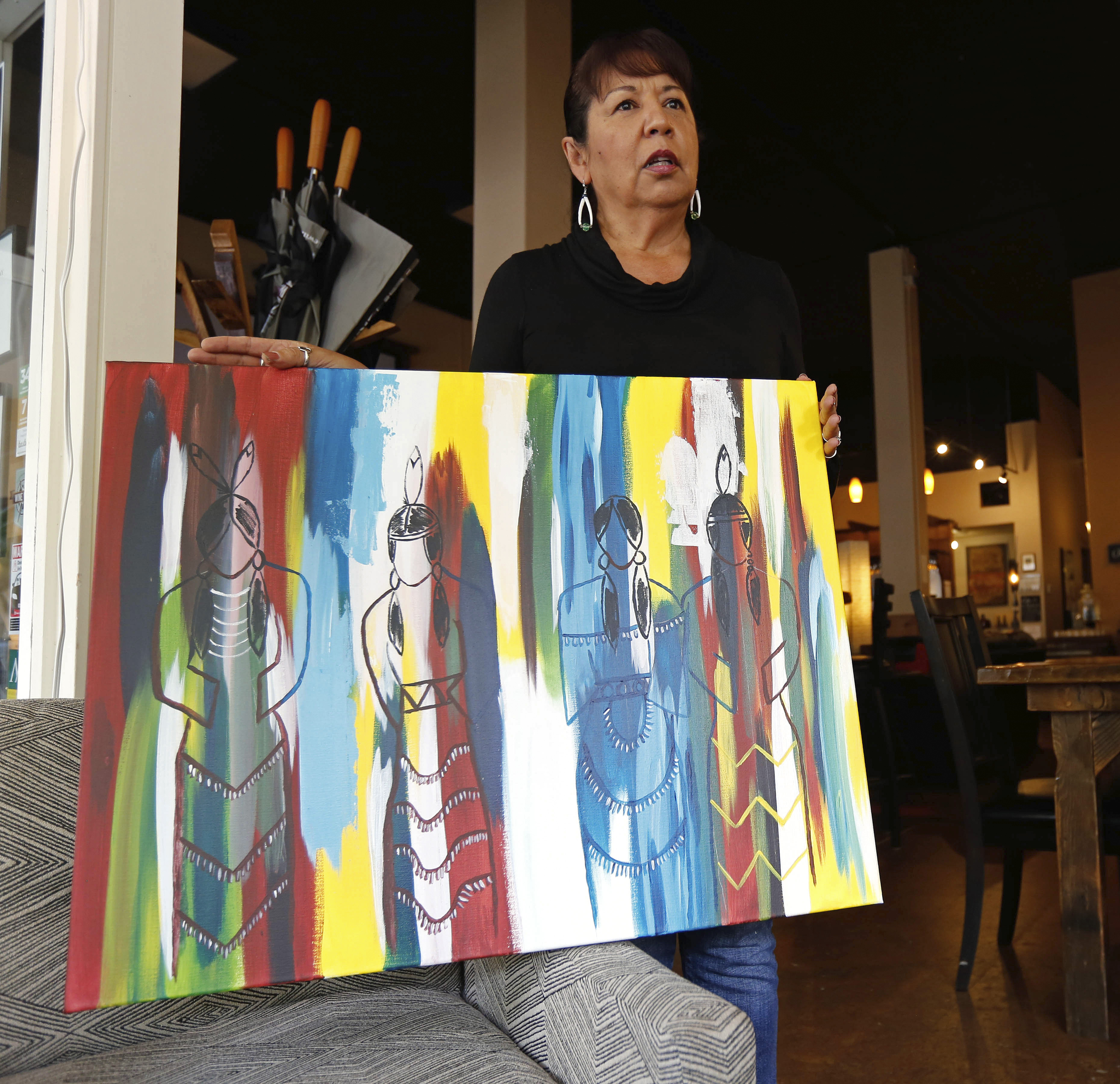 If you go
"This IS Kalapuyan Land"
When: Noon to 4 p.m. Wednesday through Friday and 10 a.m. to 4 p.m. Saturday through July 2020.
Where: Washington County Museum, 17677 N.W. Springville Road, Portland.
Cost: Children through age 12, free; $3 youth ages 13 to 17; $5 for adults.
More information: E-mail info@washingtoncountymuseum.org or call 503-645-5353.
Willamette Valley Vineyards
tasting room exhibit
When: Noon to 6 p.m. Sunday, 11 a.m. to 6 p.m. Monday to Wednesday, 11 a.m. to 8:30 p.m. Thursday, and 11 a.m. to 7 p.m. Friday and Saturday through Aug. 31.
Where: 300 N.E. Third St., McMinnville
Cost: Free
More information: 503-883-9013.
By Danielle Frost
Smoke Signals staff writer
McMINNVILLE -- Ann Lewis has been an art lover and collector for decades, but never an artist herself.
But last winter, she picked up a paintbrush for the first time during a "wine and art" class, and was hooked. From there, the Grand Ronde Tribal Elder created her first few abstract works using acrylics. Then, she posted the images to her Facebook page to share with family and friends. 
One of her works, "As My Guitar Gently Weeps," caught the eye of Jonathan Oliveira, winery ambassador at downtown McMinville's Willamette Valley Vineyards tasting room. 
"He asked me if I wanted to do an exhibit at the tasting room for the month of August," Lewis, 60, says. "I like a challenge, so I said, 'Sure.' I've been at it since January and created 20 paintings. This show is inspired by my love of music and I feel really blessed to have this opportunity. It is special to me." 
Lewis recalls that although she didn't paint until recently, as a child drawing was a frequent activity.  
"Back in the day, when you went out with your parents, you didn't have smartphones or tablets," she says. "They gave you a pencil and paper to entertain yourself. As the youngest of eight kids, I was with my mom a lot and she used to tell me, 'Your drawings are really good, you should be an artist.' " 
Lewis says perhaps her artistic abilities are a family talent as first cousin is Steve Bobb Sr., a self-taught artist who created both the West Valley Veterans Memorial and the recently installed "Visionaries" sculpture in front of the Tribal Governance Center. 
Lewis paints under her Native name "Nestucca," which she was given in a traditional ceremony a few months ago. It is a family name from her great-great-grandfather, Nestucca Bobb, Tillamook Tribal chief. She signs all of her work with this name out of respect for her ancestor and Tribal leader. 
Her Tribal roots come from mother Edna Bobb and grandfather Wilson Bobb Sr. 
Although she enjoyed art as a young child, "life happened" and Lewis had three children and an ensuing 30-year career working in real estate. She has worked for the Tribe's Economic Development Department managing commercial real estate and has twice run for Tribal Council.
Now, she's enjoying the opportunity to connect more with her Tribal roots. In addition to the show in McMinnville, two of Lewis' paintings will be featured in a year-long exhibit, "This IS Kalapuyan Land," at the Washington County Museum in Portland. 
Lewis was contacted by the museum's Indigenous Guest Curator and Grand Ronde Tribal member Stephanie Littlebird Fogel and asked to submit her work. 
"She was very excited and told me she wanted me in the exhibition," Lewis says. 
The new exhibit honors the history of the Kalapuya Tribes and celebrates contemporary indigenous culture by allowing visitors to consider the differences between Native and non-Native accounts of Oregon history.
"Ultimately, I want to challenge the way we recall our shared histories and examine how biased narratives can be perpetuated through archeology and academic institutions like museums and universities," Littlebird Fogel told The Cedar Mill News. 
The exhibit includes the work of 15 Indigenous artists, including Lewis, and will run through July. It is a revamp of the museum's primary historical display, "This Kalapuya Land," created more than 10 years ago with the Grand Ronde Tribe.
"That partnership was a great step for the museum at the time, but the new version makes the Native perspective even more visible," states a museum press release.
Other Grand Ronde artists include Carol and Nicole Haskins.
As visitors walk through the revamped exhibit, they will see handwritten edits made by Littlebird Fogel to note previous errors, update language and highlight important parts of the original exhibit. 
Lewis' featured works are "Walk a Mile," based on the Native American poem, and "Without a Trace," which honors missing and murdered Indigenous women and girls. 
Lewis says she hopes to eventually sell that painting at a fundraiser to help families of the missing and murdered. 
She says she never imagined a year ago that life would take this turn, but is grateful for the decision to attend that first painting class.
"I don't know how to explain this all," Lewis says. "I feel incredibly blessed to have this opportunity. It is something special to me. I have many friends in town who own galleries and tell me that they've never been in a museum. I feel very fortunate." 
In the meantime, Lewis will continue her painting, but with more of a focus on her Tillamook Tribal roots by working on a series of Northwest Native American pieces using a neo-modern art technique, which combines her love of historic coastal Tribal works and current abstract styles. 
"I'm really loving doing this," she says.
During it all, she has the support of children Rayon Torres, 42, Felicia Torres, 41, and Kenneth Lewis, 29, and her husband, Ken Lewis. 
"They're excited for me," she says. "This is something I have always wanted to do and it's great to have reinvented myself."