Culture
Walking On -- Lindsey Lyle Llaneza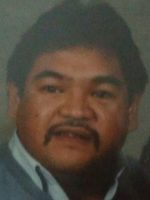 Lindsey Lyle Llaneza
April 13, 1954 – July 15, 2019
Grand Ronde Tribal Elder Lindsey Lyle Llaneza was born in Oregon and grew up in the Richmond area of southeast Portland with his parents, Eddy and Flora.
He loved fishing, camping and just being outdoors with family and friends, but most of all he loved spending time with his children.
He is survived by his daughter, Breonna; son, Gabe; granddaughter, Lynnea; brother, Lowell; and two sisters, Deannie and Beejee; as well as lifelong best friend and favorite fishing buddy Mike, who he met as a young boy in his neighborhood.
Lindsey was truly an amazing father, brother and friend. He will be greatly missed.
A memorial service will be held 2 p.m. Saturday, July 27, at Holman's Funeral Home, 2610 S.W. Hawthorne Blvd., Portland. A reception will directly follow at the Native American Youth and Family Center, 5125 N.E. Columbia Blvd., Portland.