Tribal Government & News
Seven vying for Tribal Council seats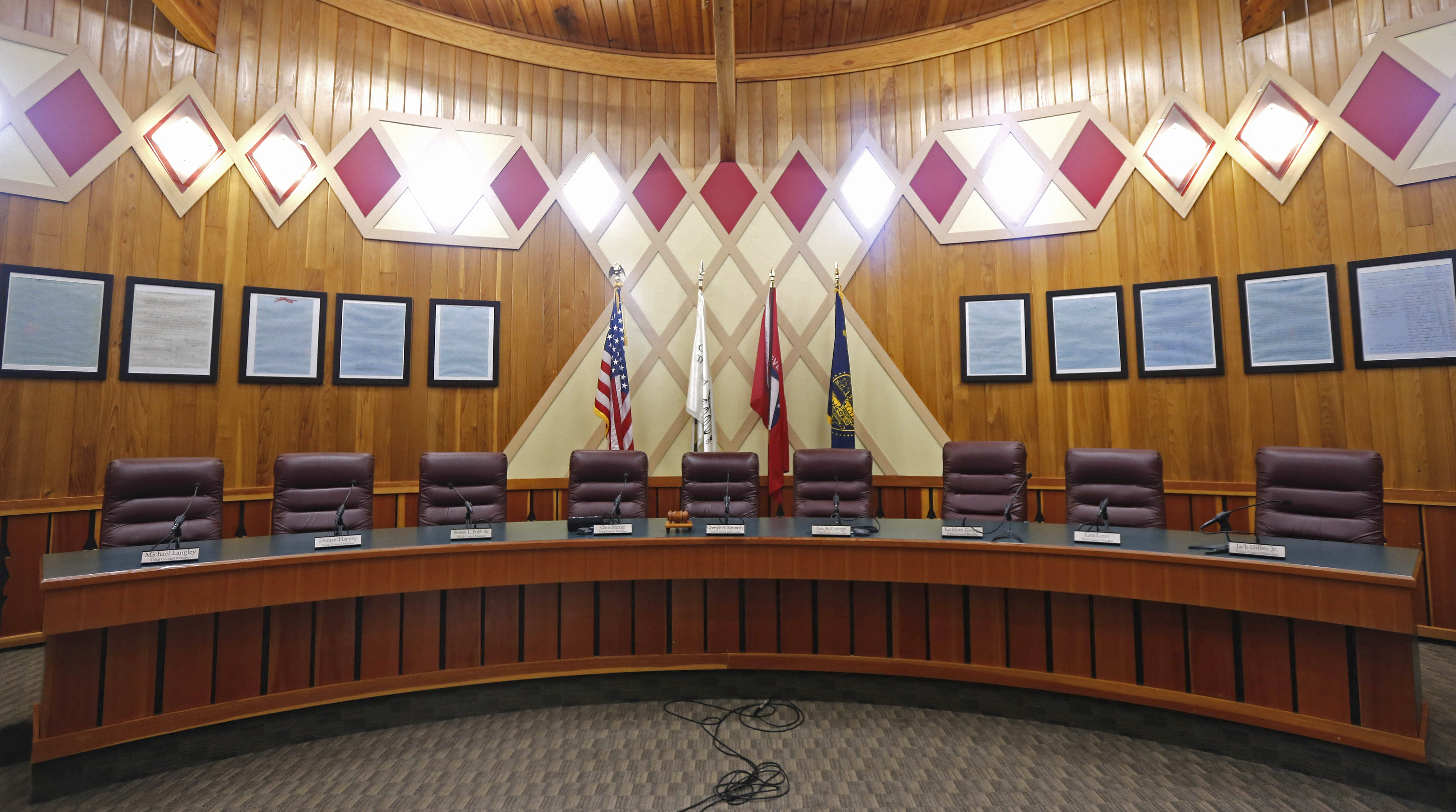 By Dean Rhodes
Smoke Signals editor
Three incumbents and four challengers were nominated to run for Tribal Council during the General Council meeting held Sunday, June 30, in the Tribal Community Center.
Incumbents Kathleen George, Denise Harvey and Jack Giffen Jr. are running to retain their seats while former Tribal Council Chairman Reyn Leno is seeking to rejoin council after a two-year break in service.
Tribal members Peter Grout, Lewis Younger and Victor Cureton are all seeking their first terms on Tribal Council.
George, 47, is running for her second term after leading the pack in 2016 with 624 votes. She was nominated by fellow Tribal Council member Michael Langley.
Harvey, 57, is seeking her third term on Tribal Council. In 2013, she was the top vote-getter with 444 votes and was re-elected in 2016 with 557 votes. She was nominated by Tribal Council Chairwoman Cheryle A. Kennedy.
Giffen, 67, is seeking his sixth term on Tribal Council, having served from 2003 to '09 and then from 2010 to present. During his last run for office, he received 565 votes, finishing second behind George. He was nominated by Les Houck.
Leno, 68, retired from Tribal Council service in 2017 after serving 21 consecutive years. Five of those years he was Tribal Council chair. He currently is a member of the Tribe's Timber Committee. He was nominated by Lonnie Leno.
Grout, 44, ran for Tribal Council in 2018, but dropped out of the race before the annual Candidates Forum was held. He works as a surveillance technician at Spirit Mountain Casino. He was nominated by Giffen.
Cureton, 67, also ran for Tribal Council in 2018, finishing fifth out of eight candidates with 383 votes. He works for the Tribe as a Community Health driver and serves on the Tribe's Election Board. He will be replaced by an alternate during the election season. He was nominated by Ed Larsen.
Younger, 66, is making his first "and only" run for elected Tribal office. He has worked as the maintenance supervisor at Spirit Mountain Casino, as well as Public Works director for the Tribe. He also has served on the Board of Directors for Spirit Mountain Gaming Inc. and on the Tribal Employment Rights Office Commission. He was nominated by Cassandra Scott.
Election office opens July 22
The Election Board office has a new schedule for 2019. It will be open every Monday, Tuesday, Thursday and Friday from July 22 through Aug. 30. Office hours are from 10 a.m. to 3:30 p.m. with lunch from noon to 12:30 p.m.
The Election Office is located in the Tribal Community Center, 9615 Grand Ronde Road, and the phone number is 503-879-2271.
For convenience, blank signature verification forms will be placed in a hanging basket outside the Elections office door. Completed forms with a notarized signature or legible copy of ID, including your signature - (driver's license, member ID card, passport, etc.) attached - need to be mailed to the Election Board for processing. The form will not be processed unless it has been notarized or includes a legible copy of ID and your signature attached.
Ballots will be mailed to voters with verified signatures on July 24. Tribal members may submit a verified signature card at any time up to and including Election Day on Saturday, Sept. 7. The Grand Ronde post office is no longer open to accept ballots on Saturday, Sept. 7.
For members' convenience, there will be a ballot box in the Governance Center during the election season and also on Election Day there will be a ballot box in the Community Center where completed ballots can be dropped. Ballots will be available, as has been the practice in the past, for those members who want to come in and vote in person.
It is the voters' responsibility to ensure the ballot is received by the Election Board on Election Day – be sure to allow adequate time for the ballot to reach the Election Board by Sept. 7.
Candidate statements are due to the Publications office by 5 p.m. Friday, July 12, and will be featured in the next edition of Tilixam Wawa, scheduled to be mailed out the following week.
Candidates are limited to 600-word statements and candidates must submit their statements via e-mail to dean.rhodes@grandronde.org or on a compact disk or memory drive. Hand-written statements are not allowed to avoid transcription errors. Late statements will not be accepted for any reason.
Candidate statements run "as is," meaning the Tribe's Publications staff will not edit the submissions in any way other than to ensure they do not exceed 600 words in length.
Candidates also can contact Smoke Signals photojournalist Timothy J. Gonzalez at 503-879-1961 or timothy.gonzalez@grandronde.org to schedule a time to have a portrait taken for Tilixam Wawa, or candidates can submit their own photo. Deadline for photos is also 5 p.m. Friday, July 12.
2019 also marks the third year in a row that political ads will be allowed in Smoke Signals. Candidates can buy up to a cumulative full page of advertising in the July 15 through Sept. 1 editions of the Tribe's independent newspaper with the largest permissible ad restricted to a half-page in any one issue.
A Candidates Forum is scheduled for 6 p.m. Wednesday, July 31, in the Tribal Community Center in Grand Ronde. Questions for Tribal Council candidates may be e-mailed to candidatequestion@grandronde.org. Please include your name and roll number.
Ballots will be counted at the Community Center on Saturday, Sept. 7, and election results will be posted that evening on the Community Center's front doors.
At the end of the special General Council meeting, Maxine Rock, Earnest Norton and Barbara Feehan won $100 door prizes and Bud White, Rick George, Laura Gleason, Cassandra Scott and Lewis Younger won the $50 door prizes.