Culture
The graduate: Steve Bobb Sr. receives his high school diploma at age 69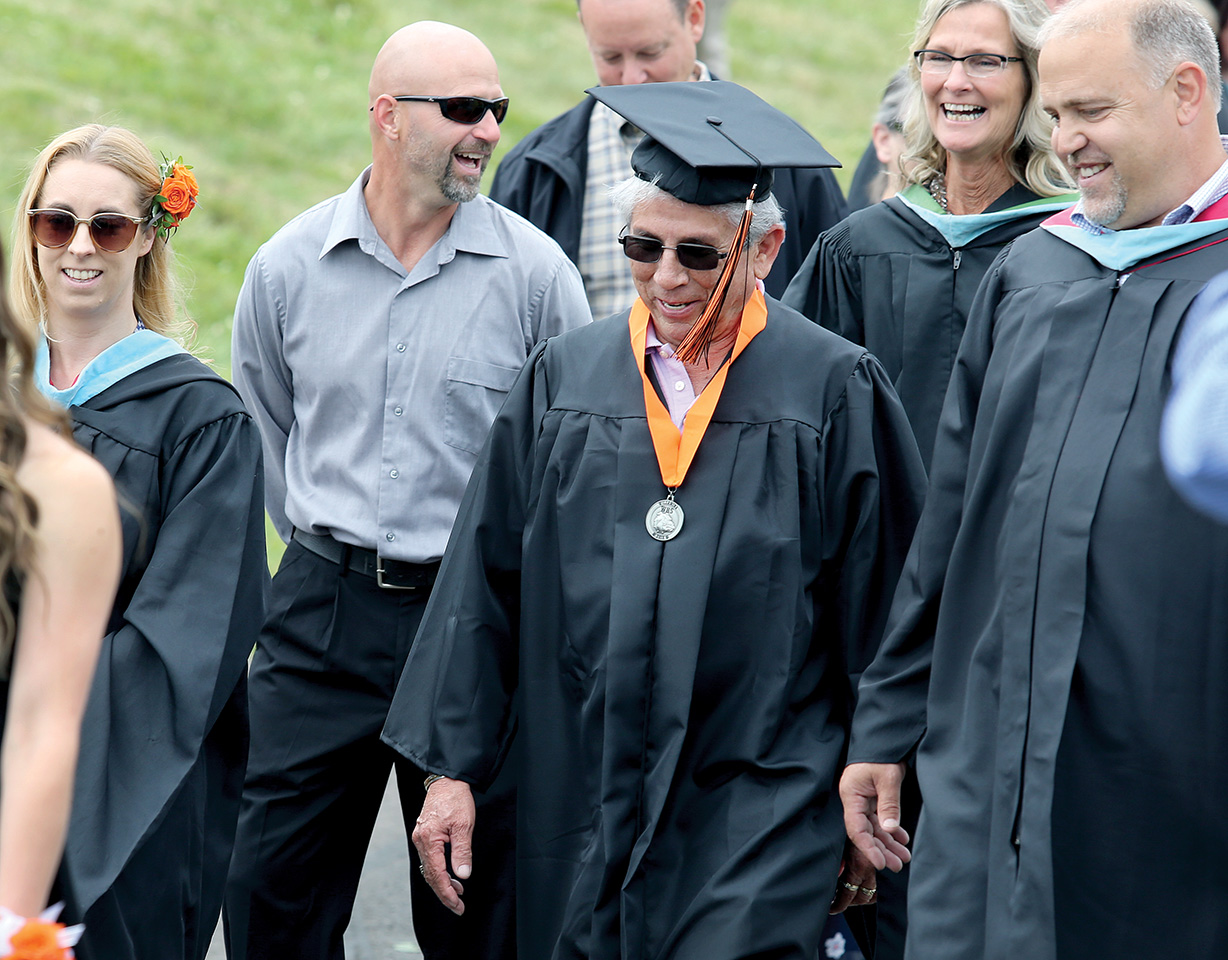 Smoke Signals staff report
WILLAMINA -- Tribal Elder Steve Bobb Sr., 69, finally received a Willamina High School diploma on Saturday, May 26, during its Class of 2018 graduation ceremony.
Bobb was on track to graduate 51 years ago with the Class of 1967. However, he dropped out three months shy of earning his diploma after he and two friends were suspended for tampering with a fire alarm.
One of his friends returned to high school and graduated. Bobb and the other friend did not.
Bobb went on through life without a high school diploma, serving in the Marine Corps during the Vietnam War and starting his own custom auto painting business. He also is a longtime chairman of the Tribe's Veterans Special Event Board, a two-term Tribal Council member and designer of the West Valley Veterans Memorial that greets visitors to the Tribal campus in Grand Ronde.
In early March. Bobb was being interviewed for a feature story by Smoke Signals staff writer Danielle Frost, who asked him to reveal something about himself that very few, if any, people know about him.
Bobb related the fire alarm story and the fact that he never officially graduated from high school.
"It hasn't affected anything I wanted to do in my life," he said, "but I don't know that you could do that today. You really can't get away with stuff like that."
During the editing of Frost's story, Smoke Signals Editor Dean Rhodes sent an e-mail to Willamina School District Superintendent Carrie Zimbrick, informing her that Bobb had never received a high school diploma despite being a longtime member of the community and performing community service for the district. He recently repainted the Bulldog logo in the high school gym, for instance.
"I did not know that," Zimbrick replied via e-mail. "We could present him with a high school diploma at graduation. It would be an honor! As a veteran, it is allowable."
"Thank you, Carrie. Working out just as I hoped," Rhodes replied.
Since that mid-March e-mail exchange, Willamina High School staff worked with Bobb's wife of more than 50 years, Connie, to surprise him.
At Willamina High's graduation ceremony held on the football field on the Oaken Hills Drive campus, High School Principal Tim France surprised Bobb with a black cap and gown just before the 65 seniors were ready to march in during the processional.
Bobb joined France and English teacher Amy Korst, the graduation exercise's guest speaker, in leading the Class of 2018 on to the football field.
France announced that Bobb had just been informed that he was joining the graduating class. "He has done so much for our school and community," France said.
Bobb stood for the national anthem and sat through a welcoming address and three speeches before Zimbrick called him to receive his belated diploma.
"It is a distinct privilege to include Steve Bobb in the graduating Class of 2018," Zimbrick said. "Steve, a lifelong member of the Grand Ronde-Willamina community, cut his high school career just short of graduating in 1967. … He identifies himself as a 'lucky man.' We know better, and consider ourselves lucky to know him.
"We are honored to have Steve join us today to receive his Willamina High School diploma and ask that you join us in congratulating him."
Bobb received a standing ovation from the audience.
Bobb said that he "squandered" his high school education, concentrating too much on cars and girls, but that he was truly lucky to live in Willamina.
"To live in this community is a blessing," he said, adding that his wife does not send him on errands to the store because he will be gone for two hours, waylaid by conversations with people he knows.
"I never thought that I would be wearing a cap and gown after 50 years," Bobb said, adding that he was wondering why his wife was so insistent that he attend the graduation ceremony. "I'm glad I didn't miss it."
Editor's note: In the interest of full disclosure, Editor Dean Rhodes' wife is a teacher at the Willamina School District.