Culture
Salmon success: Tribal fishermen net first fish at Willamette Fals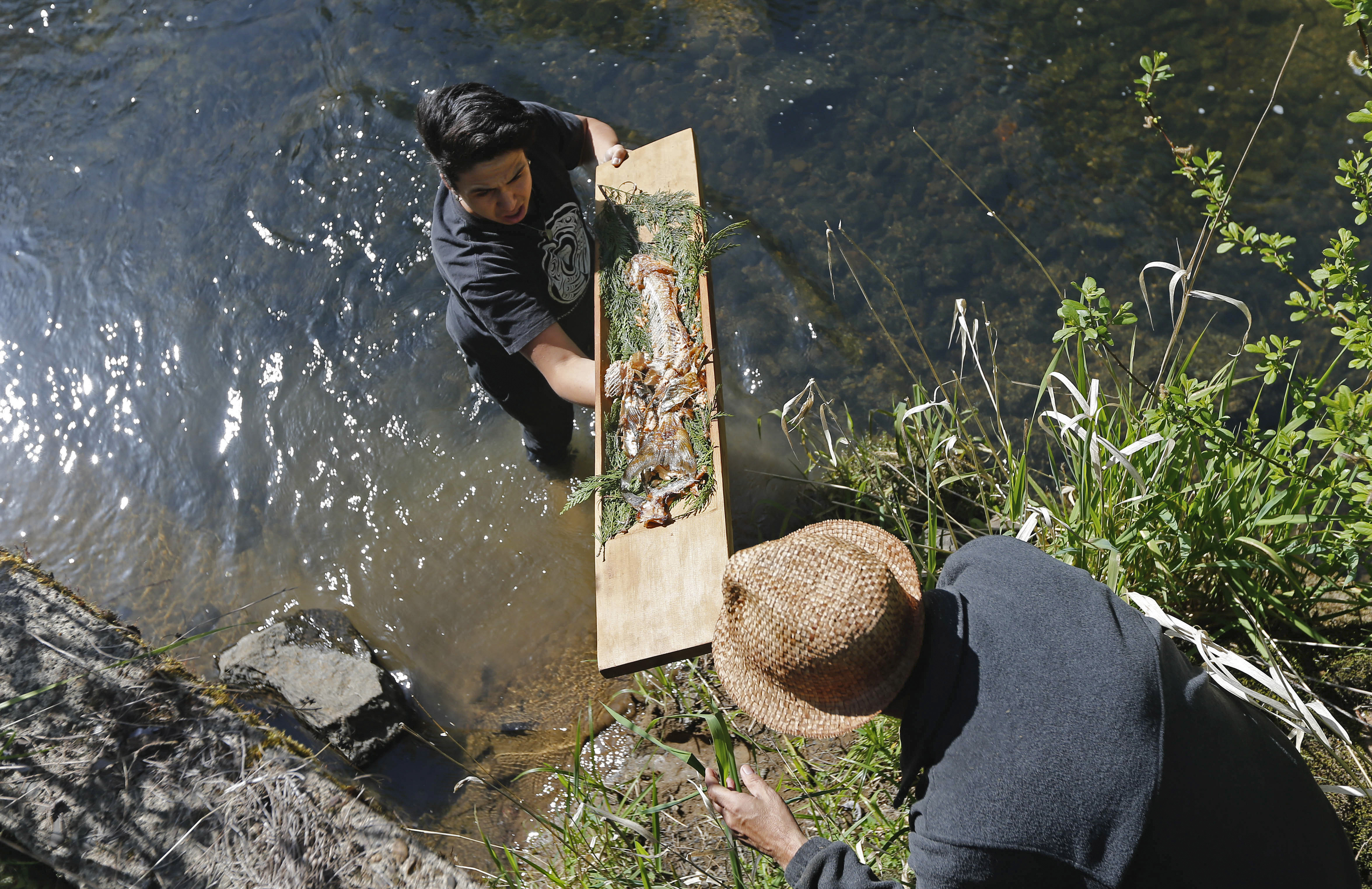 By Danielle Frost
Smoke Signals staff writer
OREGON CITY -- Anyone who fishes will tell you it's an activity that requires time, patience and a little luck.
This was especially true for the Tribal fishermen at Willamette Falls, who extend a long-poled dipnet while standing on a 30-foot-high platform above the dark, swirling waters instead of sitting leisurely on a boat with a fishing pole.
This year, it only took two days to catch the first fish, which was cooked the following day on Thursday, May 2, during a ceremony held at the covered cooking area behind achaf-hammi, the Tribal plankhouse. There were about 50 Tribal members and staff in attendance.
The Tribe is allotted 15 hatchery spring chinook per year for ceremonial purposes. The 12-pound Chinook salmon was cooked by Tribal Elder Greg Archuleta, Cultural Advisor Bobby Mercier, and Tribal members Chris Rempel and Brian Krehbiel.
Mercier caught the first fish and called the experience of dipnetting from the rocks a "back killer" as Tribal fishermen had to handle the long-poled dipnet and battle the rushing flow of water.
Fish & Wildlife Program Manager Kelly Dirksen joked "it's kind of nice not to be in a rubber bag," referring to the drysuit that all Tribal fishermen and employees must don when heading to the slippery rocks at Willamette Falls.
Mercier deflected taking credit for netting the salmon, saying all of the volunteer fishermen did it.
Dirksen said fishing can continue through the end of July or until the Tribe catches its allotment of 15. Chinook salmon should run through the end of July and summer steelhead runs will start in June and July.
Tribal Council members who attended the First Fish Ceremony were Tribal Council Chairwoman Cheryle A. Kennedy, Vice Chair Chris Mercier, Kathleen George and Jack Giffen Jr. Staff who attended included General Manager David Fullerton and Tribal Attorney Rob Greene.
Kennedy gave the prayer, thanking the blue herons for calling the fish back to the falls.
Bobby Mercier led a prayer song and also asked attendees not to dispose of the bones so that the remains could be taken to the Agency Creek fish weir and eventually returned to the Willamette River.
"It's important to bring the fish back to share with the community and tie it back to the river," he said. "We need to honor that fish, that ancestor who has fed us since the beginning of time. That's why we're doing this here today."
Platform process
Before fishing could begin this year, Tribal staff first had to reattach a platform, built last fall, to a rock outcropping at Willamette Falls. This involved the challenging task of carting the structure across rushing water from the Oregon City side of the river to the West Linn side on Monday, April 29.
Due to high water levels, the platform had to be reattached to its three permanent anchors on the rocks by floating it over instead of employees standing on the rocks below.
The structure was designed in consultation with the Tribe's Cultural Resources Department staff and Tribal fishermen. Having a removable platform allows the Tribe to take fish at the culturally appropriate time of year instead of later in the season when water levels are low and rocks for fishing are exposed.
"The water levels made assembly tricky," Dirksen said. "Normally we would be able to stand underneath it, but we had to float it in with barrels."
Tribal staff who assisted with the 3.5-hour platform assembly included Biologist Brandon Weems, Public Works Manager Jesse White and Aquatic Biologist Torey Wakeland, all under the watchful eye of Dirksen.
"My primary goal is to keep everyone safe," Dirksen said. "I wanted to get people there and back safely. We want everyone to be able to finish what they came here to do and go home safe."
Tuesday's fishermen were Silviculture & Fire Protection Manager Colby Drake, Wildlife Technician Matthew Zimbrick and Maintenance Supervisor Andrew Freeman.
Before any Tribal member can fish at the platform, they must complete a swimming test and undergo swift water rescue training, which involves plunging into a fast-moving, chilly river fully clothed in a drysuit, lifejacket and helmet to simulate a real-life scenario.
While on the platform, fishermen wear a harness with a climbing rope attached to it, and keep their lifejackets on at all times.
"I really enjoy just being out on the water and at the falls," Drake said. "It's an opportunity to participate in cultural practices and this is my first time up on the platform. Last year we caught off the rocks. To catch a fish on the platform would be an exciting day. Being an employee and a Tribal member, this is a cool opportunity."
Fullerton also was on hand to drive the boat out to the falls and help keep the Tribal fishermen safe.
"We've got good weather and good people out here today," he said. "I want them to go catch some fish and get experienced with this."
Tribal Council Secretary Jon A. George said a prayer and performed a drum song and smudged the docks before employees went out Monday to assemble the platform.
"I thought of the men's safety and their teamwork that would complete their task that day and to let them know that the spirit of our ancestors were with them," he said. "Also, for them to hear what they were doing that day is something that instills what is to come for generations."
George said he looks forward to a day when Tribal children won't know anything different, a day when the only question is when they will go to fish at the falls.
"This is the most meaningful aspect of returning to the falls," he said. "Today we have direct lineage of the great chiefs who oversaw Willamette Falls in the past in our Tribe today. We are so blessed to see the tradition of gathering eels and dipnetting at Willamette Falls continued for time immemorial."