Health & Education
Native students honored for attendance, academic success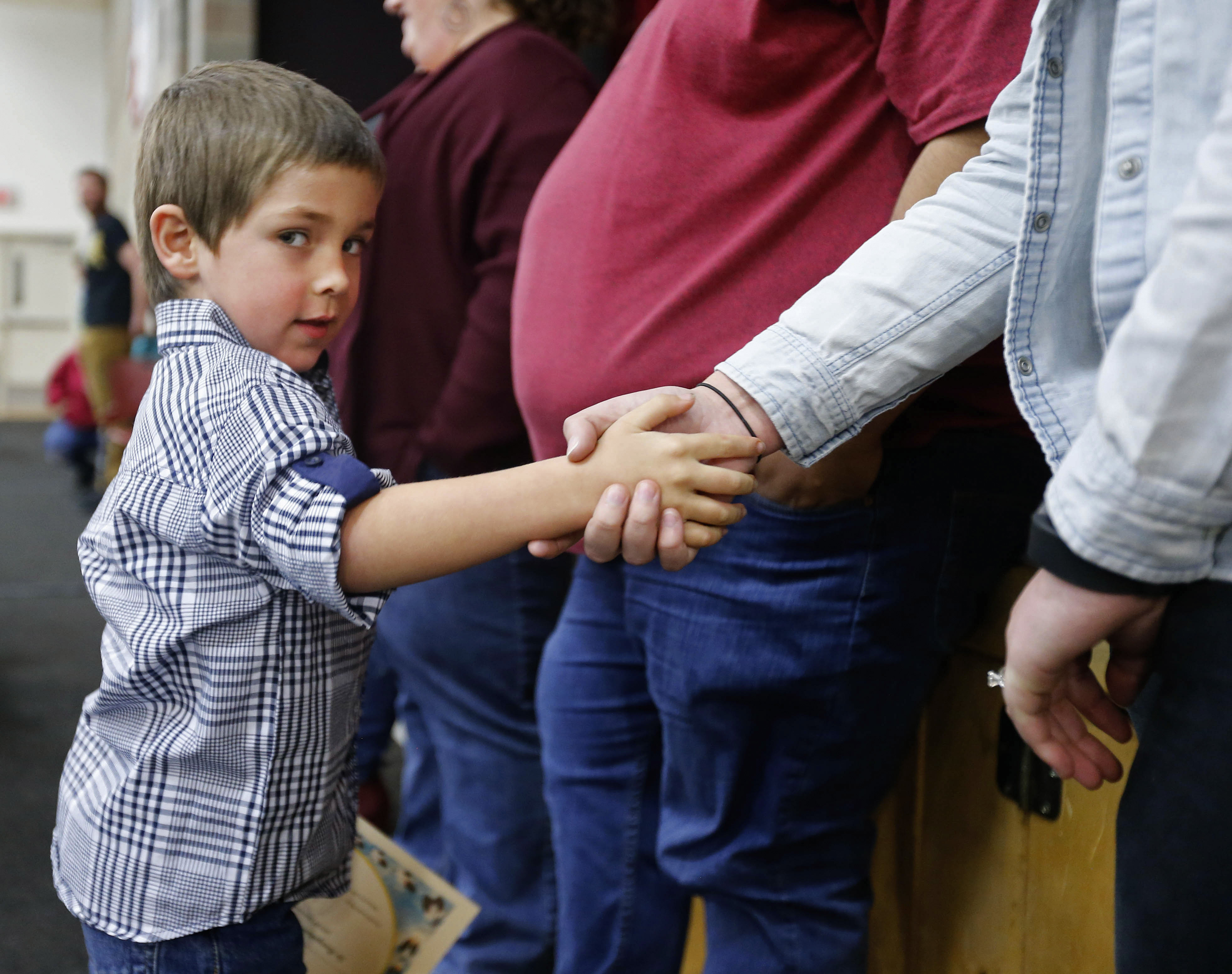 By Danielle Frost
Smoke Signals staff writer
More than 100 Native students from the Willamina and Sheridan school districts were honored for their academic performance and attendance during the Student Success Night event held at the Tribal gym on Thursday, Jan. 21.
"Many of our Native students have worked hard over the past several months, achieving high academic grades in core subjects in their first semester of school and many of our younger elementary students are meeting or exceeding already at grade testing levels," Youth Education Program Manager Tim Barry said. "We are so proud of all our students we work with."
The evening began with an invocation, followed by a buffet dinner served by the Grand Ronde Youth Council members.
After dinner, Willamina School District Superintendent Carrie Zimbrick spoke briefly to congratulate the students on their success.
Following a short video presentation, students were recognized for being leaders in academic achievement and attendance.
"There are students who have made great gains in their academics from the beginning of the year and we want to recognize them for their determination and hard work," Barry said. "With high academic achievements, students need to be in school on a regular basis, so we will also be recognizing many of our youth that have committed to coming to school at 95 percent or more during the first semester."
During the first semester of the 2018-19 school year, 66 kindergarten through fifth-graders and 32 sixth- through 12th-graders were honored for having 95 percent or better attendance, which means no more than four absences, four late arrivals and four early pick-ups. There were seven honorable mentions at the kindergarten through fifth-grade level and nine at the sixth- through 12th grade level.
Students honored for attendance in the Willamina School District include the following:
Kindergarten: Agency Anderson, Brantley Bishop, Urijah Freeman, James Hyatt, Hadley Kimsey, Makalee King, Reed Kyllonen (100 percent) and Zendaya Many Hides.
First grade: Aubrey Campbell, Haven Conklin, Riley Freeman, Kalai'la Grefsrud-Norwest, Fischer Horgan, Hudson Hubbell, Gabreil Langley, Jack Mercier, Leeloo Quenelle and Malachi Savage.
Second grade: Ti Bailey (100 percent), Sam Hedrick, Cohlman Hubbell, Logan Kneeland, Brody Lux, Auburn Mercier, Kaywah Norwest and Paisley Risseeuw (100 percent).
Third grade: Satara Blanchard, Micah Bruckner (100 percent), Owen Campbell, Libby Ellingson, Antonio Emery, Mali'la Grefsrud-Norwest, Brayden Hibdon, Esten Kimsey, Summer LaBonte, Bailey Murphy, Kaiden Norwest-Culps and Marie Quenelle.
Fourth grade: Ezri Bailey, Haylee Barker (100 percent), Rylee Bishop, Nya Galloway, Makenzy Hoopingarner, Wyatt Hubbell, Konner Hyatt, Natilynn Mercier, Benjamin Moore, Jaden Moschetti, Landon Risseeuw (100 percent), Ekias Sabin, Tidus Sabin, Nicholas Thayer and Kayden Zimmer.
Fifth grade: Gracee Allen, Paige Baker, Lily Bigelow (100 percent), Chenoa Freeman, Amaya George, Corben Hibdon, Bobby Larsen, John Marrufo, Hunter Mendenhall, Trey Norton, Lyliana Rideout, Aurora Scoyne and Dominic Shaw.
Sixth grade: Makyajay Grefsrud-Norwest, Austin Langley, Haley Maerz, Gracie Mercier, Kaikanim Mercier, Sadie Risseeuw, Landon Shrabel, Michael Smith and Hawk Squetimkin.
Seventh grade: Kazsia Connelly, Jaylynn Hibdon, Jacob Holmes, Rihanna Many Hides, Ethan Sabin, Jolene Shipley and Summer Townsend.
Eighth grade: Brooklyn Bailey, Gage Bishop, Kai Connelly, Chris Ellingson, Austin Johnson, Hattie Mercier, Mason Mercier and Aryana Murphy-LaChance.
Ninth grade: Dameon Foster, Grace France, Talia Marrufo, Nakai Rock and Nicholas Ventriglia.
10th grade: Moses Mercier.
11th grade: Keeton Walker.
12th grade: Jordan Reyes.
Sheridan School District honorees include the following:
Sheridan Japanese School: Mikayal Mercier, Macie Ayala, Risa Plummer, Gayla Burnside, Noah Gerbrandt and Sean Gerbrandt.
Faulconer-Chapman School: Mia Montano, Meleena Montano, Bently Fetchner, Adahy LaBonte, Nick Leno, Ashley Leno, Cheyenne Haller, Robert Haller, Imaraianah Vanscoyk, Jaidyn Bolen, Aramondo Contreras and Danilo Contreras.  
Attendance honorable mentions include the following:
Kindergarten through fifth grade: Grace Macon, Ira Ware, Aurora Ware, Riah Carr, Garet Siewell, Brayden Fox and Spencer Shaw.
Sixth through 12th grade: Sammy Bishop, Cohen Haller, Haley Klass, Aaliyah Limon, Mae Townsend, Joshua Henry, Matthew Leno, Zorien Klass and Emma Shrabel.
Students in Sheridan and Willamina honored for having a 3.5 to 4.0 semester GPA include the following:
Kindergarten through fifth grade: Urijah Freeman, Naomi Haller, Leeloo Quenelle and Paisley Risseeuw.
Middle and high school: Madison Aaron, Aryana Murphy LaChance, Corina Limon, Aaliyah Limon, Rihanna Many Hides, Mikayla Mercier, Moses Mercier, Gracie Mercier, Hattie Mercier, Amaryssa Mooney, Aleah Patterson, Ben Powley, Jordan Reyes, Michael Smith, Trinity Sherwood and Mae Townsend.
Students honored for earning a 3.0 to 3.49 GPA include the following:
Middle school and high school: Makenzie Aaron, Samantha Bishop, Ava Fagundes, Darien Leno, Mason Mercier, Madalyn Montano, Ezra Pacheco, Kaleb Reid, Keylie Runningbird, Kaleigha Simi, Kady Smith, Kylie Smith and Summer Townsend.
Students honored for testing at grade level include the following:
Kindergarten through fifth grade: Maddox Ayala, Kai Barton, Brantley Bishop Evey Bishop, Gunner Bishop, Micah Bruckner,                           Rylie Bishop, Aiden Campbell, Redsky Clawson, Cheyenne Haller, Trey Norton Danforth, Emir Garcia, Sophia Grout, Onayliyah Hostler, Devin Doar, Izel Garcia, Cloey Freeman, Riley Freeman, Madiyln Hicinbothum, Makennzie Hoopingarner, James Hyatt, Hadley Kimsey, Tyee Knight, Carter LaBonte, Robert Larsen, Aleena Leno, Natilynn Mercier, Michaeli Mercier, Grace Macon, Zendaya Many Hides, Angel Mathews, Meleena Montano, Camron Morris, Bailey Murphy, Leo Pond, Marie Quenelle, Orrin Reid, Lyliana Rideout, Kisor Savage, Malachi Savage, Aurora Scoyne and Ira Ware.
Honorable mentions: Dyshani Eastman, Ava Fagundes, Tessa Gilbert, Annabelle Guardiola, Josh Henry, Kailiyah Krehbiel, Rihanna Many Hides, Zander Marmon, Haley Maerz, Ben Powley, Michael Smith, Kaileighann Taylor and Aspen Wilson.
Student Success Night is organized by the Tribe's Youth Education Program, with support from other departments including Prevention and Nutrition.