Culture
Contest Powwow eclipses 2017's attendance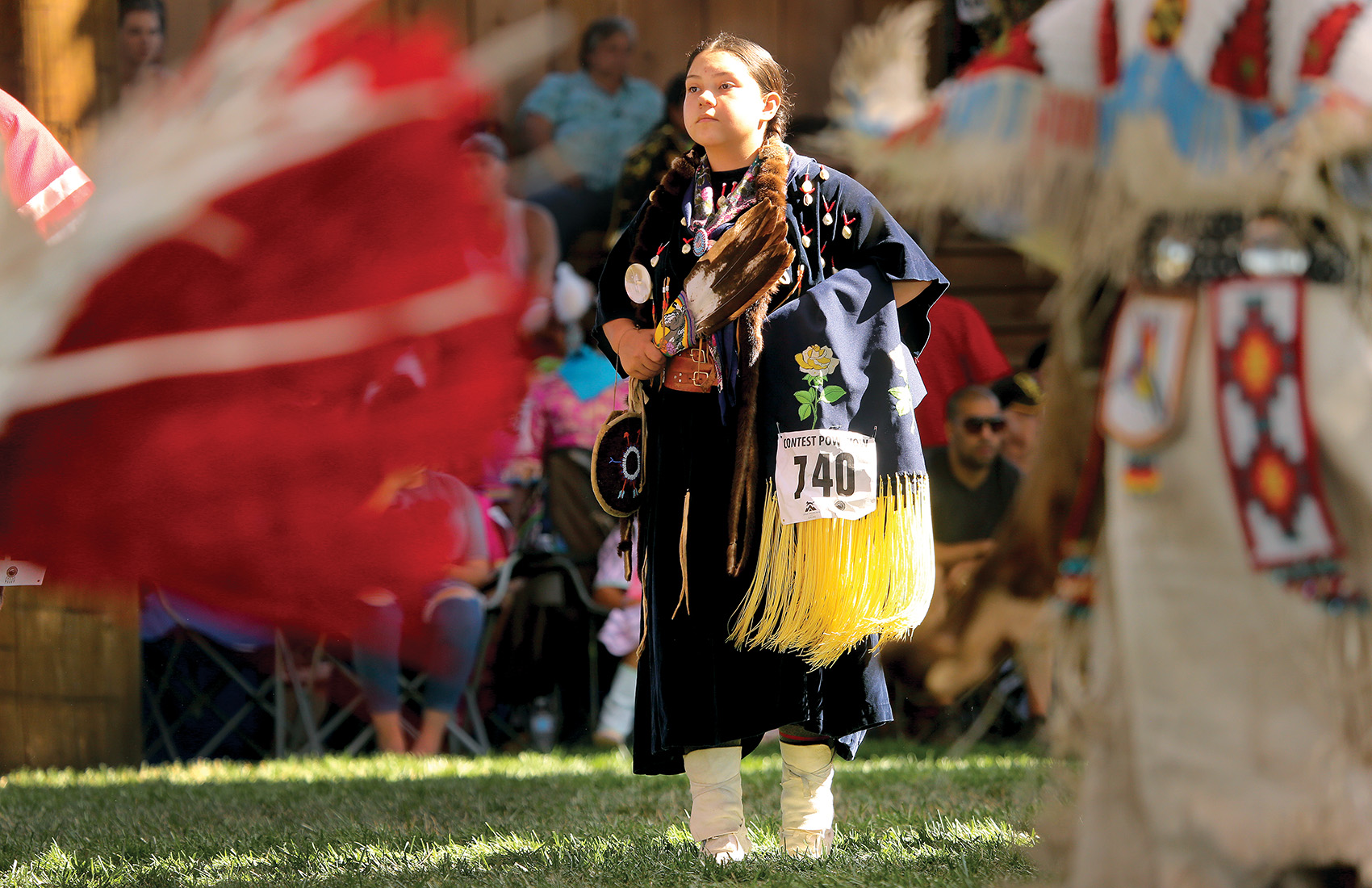 By Danielle Frost
Building on the popularity of last year, the 2018 Grand Ronde Contest Powwow attracted 337 registered dancers during the weekend of Friday through Sunday, Aug. 17-19.
Attendance marked an increase of 62 dancers over last year's 275, even without the added bonus of a total solar eclipse that occurred in 2017.
Powwow Special Event Board Chair Dana Ainam said that several new dancers had registered to compete in the 28 categories ranging in age from 6 to more than 65.
"The weather for this weekend is absolutely perfect," Ainam said. "We have had a lot of new people register and also have lots of returning dancers. Generally, people love this and want to come back."
Key to having people return year after year is making them feel welcome, Ainam added.
"The most important thing we can do is take care of people when they are here," she said. "No matter what happens, we need to be good hosts so our guests can remember this community positively."
It seemed as if Ainam's mantra had the intended effect, with Friday evening's 7 p.m. grand entry taking 17 minutes to complete as dancers filled the Uyxat Powwow Grounds Arbor.
Grand Ronde dancers won four prizes, led by Leah Villa who took second place in the Junior Adult Women's Traditional and Nacoma Liebelt who took second place in the Junior Boys Traditional. Kaleigha Simi captured fifth place in the Junior Girls Jingle and Leevi Johnson took fifth in the Junior Teen Boys Traditional.
A total of $55,800 was awarded for the dance categories.
Royalty Pageant
Contest Powwow activities began at 10 a.m. Friday, Aug. 17, with the Royalty Pageant and Queen's Brunch Raffle held in the Atrium at the Governance Center.
Tribal Council Secretary Jon A. George was the master of ceremonies and Tribal Council Chairwoman Cheryle A. Kennedy gave the invocation.
This year's Royalty Pageant judges were Tribal Elder Leonette Galligher, Spirit Mountain Casino Marketing Director Shawna Ridgebear and Youth Prevention Coordinator Cristina Lara.
The only contested position on Royalty was for Little Miss Grand Ronde with Grace Allen and Sophia Grout vying for the title.
Senior Miss Grand Ronde Isabelle Grout and Junior Miss Grand Ronde Kaleigha Simi were unopposed. Tiny Tot, an honorary position, had four participants: Jameson Turner, Aubrey Campbell, Gracie Macon and Kalea Liebelt.
That evening, Sophia Grout was crowned Little Miss Grand Ronde at Uyxat Powwow Grounds after outgoing Royalty for 2017-18 gave speeches and held giveaways in appreciation for those who had helped them during the past year. Outgoing Royalty were Senior Miss Grand Ronde Isabelle Grout, Junior Miss Grand Ronde Kaleigha Simi, Little Miss Grand Ronde Sophia Grout, Junior Warrior Nacoma Liebelt and Tiny Tot Jameson Turner. Grace Allen also was crowned Little Miss Princess.
It was the right night to have the last name Grout, as past Tribal Council member and grandmother Val Grout won several of the raffle prizes.
Outgoing Royalty members, led by Cultural Resources Cultural Advisor Bobby Mercier, did one last dance around the arbor. Incoming Royalty did the same following the coronation.
Friday Grand Entry
Powwow began with the various contest drum groups – Southern Express, 4 Bands, Buffalo Hill, Bad Soul and 4 Horses – each taking a turn before grand entry. Drummers were competing for a combined $19,000 in prize money.
Friday's grand entry was led by Tribal Elder Alton Butler and Wayne Chulik (Tlingit) carrying in eagle staffs.
As host drum Cree Confederation pounded out an honor song, Tribal Elder Steve Bobb Sr. carried in the U.S. flag, Tribal Elder Raymond Petite carried in the Grand Ronde flag, Tribal spouse Richard VanAtta carried in the MIA/POW flag and Al Miller carried in the Oregon flag. They were followed by other veterans, including past Tribal Council Chair Reyn Leno. Next came Tribal Council members, Tribal Royalty from various Tribes and Contest Powwow contestants.
All nine Tribal Council members marched in Friday night: Kennedy, Vice Chair Chris Mercier, George, Denise Harvey, Jack Giffen Jr., Brenda Tuomi, Kathleen George, Michael Langley and Lisa Leno.
Kennedy offered the invocation and welcomed attendees who packed the bleachers and filled many of the chairs set up around the arbor, while the smell of sage wafted through the air.
"This is a powwow that has been going on before Restoration," she said. "Our maintenance people did a good job locating the bees' nests, but please be careful because we want you to enjoy this weekend."
Grand entry closed with Royalty members of various Tribes introducing themselves to the crowd and shaking hands with other Royalty members. Then, it was interTribal time, where dancers of all ages and styles came together in the arbor.
Afterward, an honoring and giveaways were held by the Contreras-Langley family in memory of Beryle Langley Contreras and Kateri Atanacio, who both passed away recently.
Afterward, the "School Is Cool," dance contest was held for all kindergarten through 12th-graders, whether or not they wore regalia, followed by a junior and teen girls special in all dance categories sponsored by the 2017-18 outgoing Royalty.
Saturday grand entry and contest dancing
Saturday afternoon's grand entry attendance filled the arbor stands to capacity, as well as rows of extra chairs and bleachers that had been set up.
Following the previous evening's protocol, the Grand Ronde Honor Guard posted the colors. They were followed by veterans, Tribal Council members, Royalty from various Tribes and contest dancers.
Grand entry took approximately 20 minutes to complete. Dancers frequently stepped into the crowd to hug friends and family, and some attendees used their phone's video chat function to live stream the action for those unable to attend.
Tribal Council Secretary Jon A. George led the invocation, first in Chinuk Wawa and then English.
Cree Confederation played the "Canadian Flag Song," which master of ceremonies Bart Powaukee said was similar to America's national anthem.
Tribal Council Vice Chair Chris Mercier welcomed Saturday contestants and attendees.
"We're grateful you are here and want to express our gratitude," he said. "We'd also like to thank our ancestors. Without them, we wouldn't be where we are today. I would also like to thank our veterans for their service and each and every one of you who chose to spend your afternoon with us. Our goal is for this powwow to be on your calendar each year."
Mercier also acknowledged past Tribal Council members Reyn Leno, Steve Bobb Sr. and Tonya Gleason-Shepek for their attendance, noting that there likely others in the audience he hadn't seen yet.
"This is a chance to reconnect and come together and just be Native," he said.
During grand entry, veterans also were acknowledged and introduced themselves.
After interTribal dances were held, the contest portion of the powwow was in full swing. First up were the Tiny Tots, followed by Senior Golden Age Women, Senior Golden Age Men, Junior Golden Age Women and Junior Golden Age Men. Also held were the Junior Girls Finals in Traditional, Jingle and Fancy, followed by Junior Boys, Teen Girls and Teens Boys finals, all in the same categories.
Powaukee asked audience members to stand and recognize the Senior Golden Age Women, all 65 years of age and older.
"I have a lot of respect for these ladies," he said. "They are our caregivers and the backbone of our people."
Grand Ronde Tribal member and Veterans Royalty Senior Queen Mabel Brisbois competed in the Traditional Teen Girls dance category.
"I have been dancing since I was little," Brisbois said. "I enjoy dancing with all of the other girls, especially when you get to dance with the Golden Age women."
Galligher, who helped judge the Royalty Contest on Friday, competed in the Senior Golden Age Women's category.
"I have been doing this several years and just enjoy the whole powwow experience and the dancing," Galligher said. "There are a lot of great dancers here and several new people in the Elders categories."
Kathleen George said standing inside the arbor as dancers fill the floor gets her "fired up."
"Seeing these powerful, beautiful Indian people is very elevating," she said. "I couldn't be happier or prouder today."
Powwow attendees had plenty of food and beverage choices to keep them going in Saturday's 86-degree heat, including Indian tacos, yakisoba noodles, fry bread, Mexican food, fresh fruit cups, curly fries, smoothies, hot dogs and kettle corn. Dutch Brothers returned and was one of the most popular spots, judging from the lines Saturday afternoon.
Other vendors sold jewelry, purses, backpacks, garden art, shirts and jerky.
Laurie Hostler, whose husband is a Tribal member, offered a variety of handmade earrings and necklaces. She has been attending powwow for 10 years.
"It's a lot of work, but also a lot of fun," she said. "I just love all of the good energy here. There are so many dancers from all over the place. It is amazing."
Contest Powwow staff included Powaukee, Arena Director Fred Ike Jr., Head Dance Judge Charles Tailfeathers and Head Drum Judge Chase Sawyer.
In addition to the regular prizes, special contests included Old Style Jingle for $1,000, sponsored by the Native Wellness Institute of Gresham; Round Bustle/Chicken Dance for $800 and four consolation prizes; Old Style Grass for $800 and four consolation prizes; and a Junior and Teens Team Dance sponsored by the Grand Ronde Youth Council, with prizes ranging from $30 to $75.
Audio Visual Network Technician Wendell Olson was on hand throughout the event to ensure the sound system worked properly during the four grand entries.
Saturday's activities also featured the annual Powwow Parade, which began at Fort Yamhill State Park to the Uyxat Powwow Grounds. Newly crowded Grand Ronde Royalty and Veterans Royalty waved to crowds from festively decorated vehicles.
3-on-3 basketball tournament
The Contest Powwow included the Recreation Department's 3-on-3 Basketball Tournament, which returned after no signups last year resulted in its temporary suspension.
"(We) had a great turnout for the basketball tournament," Recreation Specialist Harris Reibach said. "There were a total of five teams in the high school bracket and five teams in the middle school bracket. Teams from Warm Springs, Yakama, Klamath, Grand Ronde and Willamina were all present."
Approximately 100 people, including teams, coaches and spectators, attended the event, held in the parking lot next to the powwow grounds.
The winners of the middle school bracket were a team from Warm Springs. They faced off against a Grand Ronde team in the semifinals and won 20-17.
The high school bracket was won by a team named "Chiletz," which stood for Chiloquin and Siletz. Team members are local youth Izaiah Fisher, Isaiah Holmes, Grave Gibbons and Justin Gonzalez.
The Contest Powwow continued with grand entries at 7 p.m. Saturday and 1 p.m. Sunday.