Culture
Memorial Day ceremony set for Monday, May 28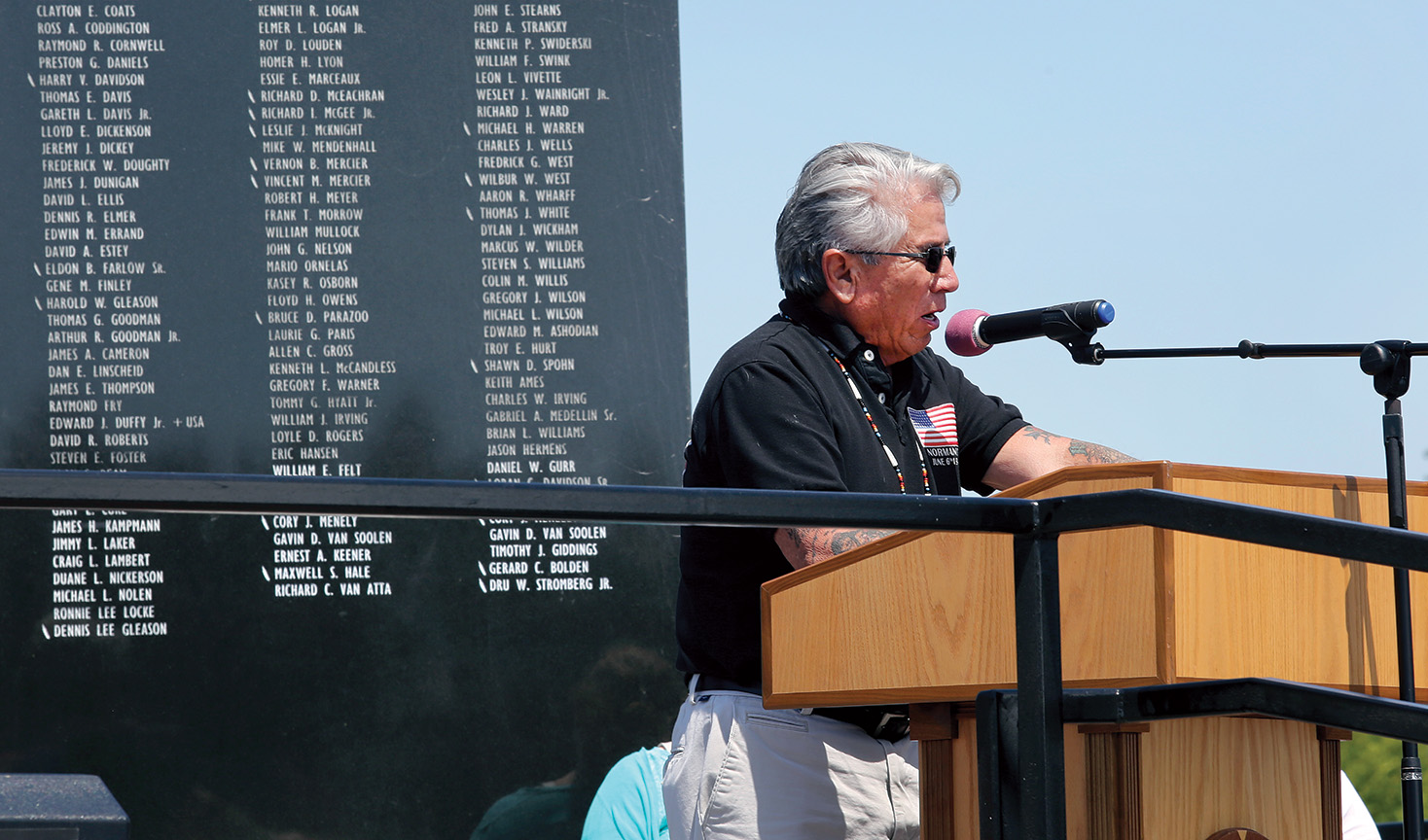 If you go
16th Memorial Day Ceremony
When: Noon Monday, May 28
Where: Tribal Community Center & West Valley Veterans Memorial, 9615 Grand Ronde Road
More info: 503-876-3118
By Dean Rhodes
The annual Memorial Day event at the West Valley Veterans Memorial on the Grand Ronde Tribal campus will be highlighted by 12 names being added to the four black granite pillars that represent the major branches of the U.S. armed forces.
The event begins at noon with a meal served in the nearby Tribal Community Center.
The outdoors ceremony begins at 1 p.m. with Steve Bobb Sr., chairman of the Tribe's Veterans Special Event Board and a Marine Corps veteran from the Vietnam War era, giving the invocation and serving as master of ceremonies.
Grand Ronde drummers will play a memorial song, Tribal youth JC Rogers will sing the national anthem as she did in 2016 and '17 and Grand Ronde Royalty and Veterans Royalty will perform "The Lord's Prayer."
The Grand Ronde Honor Guard will post the colors and speakers will include Mitch Sparks, acting director of the Oregon Department of Veterans' Affairs, and Wayne Crowder of Polk County Battle Buddies, a group that meets to help counsel veterans.
Names being added to the West Valley Veterans Memorial this year are Navy veteran and Tribal member Dana D. Stephens; Air Force veterans Maurice C. Yoder, Alton B. Weiss and William L. McMahon; Army veterans Roy H. Tucker, Raymond H. Tucker, Johnny Morales, William F. Barrett and Dustin L. Conde; and Marine Corps veterans and Tribal member James E. Turner, Daniel W. Helfrich and Troy J. Harris.
Former Tribal Council Chairman Reyn Leno, a Vietnam War-era Marine Corps veteran, will read the names.
The addition of 12 names brings the number of veterans honored on the pillars to 2,347.
The ceremony will close with Bud Abbott reciting his traditional poem "Remember Me, America" and Robert Thornburg performing taps on the trumpet.
The West Valley Veterans Memorial, which was dedicated in 2003, was designed by Bobb and features a man and a woman dressed in traditional Native clothing standing side by side reaching to the sky. Surrounding them are four black granite pillars, which feature the names of Tribal and community veterans from Grand Ronde, Willamina and Sheridan.