Culture
Tribe celebrates 34th anniversary of Restoration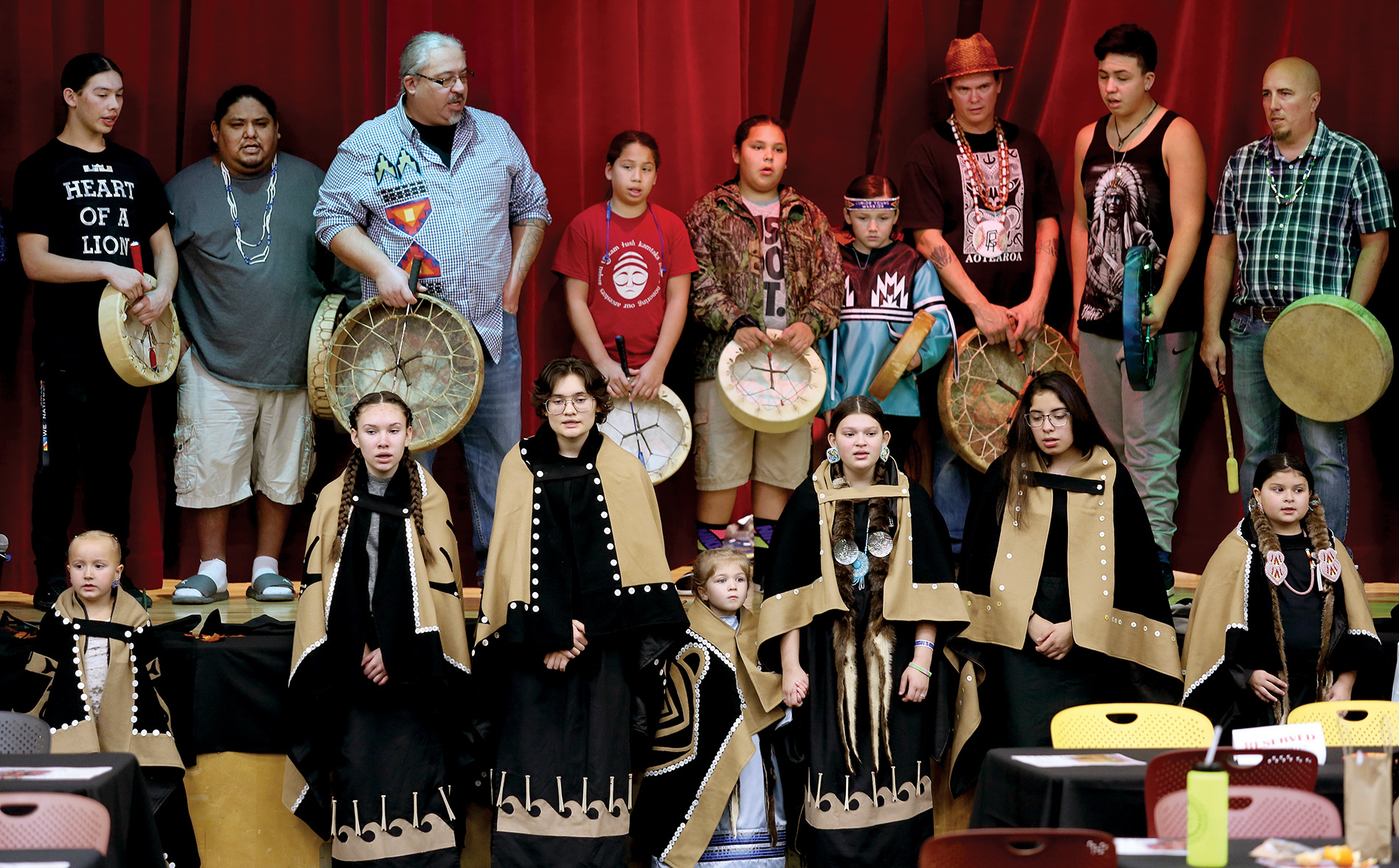 By Danielle Frost
From recognition of aging Restoration Elders to a powwow featuring the youngest Tribal members, the Grand Ronde Tribe's 34th Restoration Celebration of regaining federal recognition was feted with respect, reverence and joy on Wednesday, Nov. 22.
Despite being the day before Thanksgiving, almost 300 Tribal members, community members, employees and others joined together in the Tribal gym to recognize a people coming together.
"Thirty-four years ago today, President Reagan signed our Restoration Bill into law because of those who worked on it," Tribal Council Chairwoman Cheryle A. Kennedy said during an afternoon speech that honored key Restoration figures Marvin Kimsey, Margaret Provost and the late Merle Holmes.
"Thank you for putting people together and to our young ones, remember what Restoration is," Kennedy said. "To know what it is to have what we do today. Before Restoration, the cemetery was the only place we had. Today, we have many things because of Restoration."
Provost, one of the key figures in early Restoration efforts, which began in the 1970s, recalled her experiences.
"After Termination in 1954, we had nothing and were stripped of our identity," Provost said. "But some families stayed in contact and every Memorial Day, we met at the cemetery."
After moving to Lebanon for work, Provost learned about Restoration efforts occurring regionally and across the country. She, Kimsey and Holmes attended a meeting held by the Association of Urban Indians in Lebanon and were inspired by other Tribal restoration efforts, such as the Menominees in Wisconsin, who became the first restored Tribe in the nation in 1973.
"As time went on, people kept bugging me to do something," Provost said with a smile.
Although Provost had no experience with Restoration, government or politics, she acted on faith and hard work to bring people, some with very different ideas, together. Thankfully, with the help of other Tribal members, including former Tribal Council Chairwoman Kathryn Harrison, who had previously assisted the Siletz Tribe in regaining federal recognition, they began to navigate through the numerous federal requirements to once again become a federally recognized Tribe.
"There were a lot of meetings," Provost said. "Some people turned their backs on us."
After a meeting held at the Grand Ronde Library that was standing room only, Provost said she realized the tide was starting to turn.
"They wanted to be recognized as a Tribe again … It was a good thing," she said.
After countless hours and years of work, the group garnered the support of local, state and federal officials, as well as various organizations.
"When our bill was passed (by Congress), 400 went in and 12 passed," Provost said. "Ours was one of them."
Restoration celebration
The Restoration Celebration began at 8 a.m. with a sacred ceremony at the atudship rock mound adjacent to the Tribal Cemetery and included prayers and singing.
Afterward, a Canoe Family procession kicked off festivities at the Tribal gym with cultural drumming and singing by Cultural Education Coordinator Jordan Mercier, Tribal Cultural Adviser Bobby Mercier, Tribal Artisan Brian Krehbiel, Tribal Council Vice Chair Chris Mercier and Tribal Council Secretary Jon A. George among many others. Tribal Youth Prevention Coordinator Cristina Lara and Public Affairs Administrative Assistant Chelsea Clark also participated.
Canoe Family songs included "Traveling With Our Ancestors," "Salmon Song and Dance" and "New Beginnings."
"It doesn't matter what happened before," Bobby Mercier said. "When we wake up, it's an opportunity to start things the right way. It doesn't matter what happened yesterday."
Morning festivities focused on Restoration-era Elders, the pre-Restoration Tribal Council, past Tribal Council members and recognition of oldest Elders.
All current Tribal Council members attended the event.
Tribal Elder and former Tribal Council member Steve Bobb Sr. and Jon A. George served as program emcees.
"We have come a long way and need to be very thankful for those who helped us get to where we are today," Bobb said. "What an appropriate day this is to have Restoration, on the day before Thanksgiving."
Chris Mercier recalled growing up in Grand Ronde and told those in attendance that when he was 15 he used to buck hay in a field that is now the Tribal gym.
"We are so lucky to be Tribal members and have what we do today," he said. "It is hard to believe it has been 34 years."
When Mercier thanked key Restoration figure, Tribal Elder and longtime Tribal Council Chair Kathryn Harrison for her efforts, loud applause erupted across the gym.
"Her name is well known in Indian Country," he said.
Harrison also was honored later for being the eldest female Elder in attendance at 93 years of age. William "Wink" Soderberg was the eldest male Elder at 83.
Chris Mercier recognized former Tribal Council members in attendance, which included Bobb, Tonya Gleason-Shepek, Harrison, Provost, Reyn Leno, June Sherer and Ed Larsen.
"It's a fun job (being on Tribal Council), but not always an easy job," he said.
Bobb gave the lunch invocation and thanked the many blessings given to the Grand Ronde Tribe. Then, Restoration Committee and Youth Council members served a lunch of salmon, ceremonial stew, salad, roasted potatoes, buttered pasta, corn, green beans with bacon, and cookies.
Fabian Quenelle served as afternoon master of ceremonies and Gary and Leah Villa were head man and head woman of the afternoon powwow.
The afternoon Grand Entry was led by Veterans Honor Guard members Al Miller, Dennis Kleffner, Tribal Elder Alton Butler, Bobb and Rich VanAtta. Current and former Tribal Council members, as well as Royalty members Senior Miss Grand Ronde Isabelle Grout, Junior Miss Grand Ronde Kaleigha Simi, Little Miss Grand Ronde Sophia Grout, honorary Tiny Tot Jameson Turner, Grand Ronde Warrior Nacoma Liebelt, Senior Veterans Queen Hailey Lewis-Little, Junior Veterans Queen Tasina Bluehorse and Veterans Princesses Mabel Brisbois and Camas Gibbon participated.
Jon A. George gave the invocation before the powwow began and said that the Tribe is "grateful and thankful" for 34 years of building a strong people, government and community, and rising above hardships and struggles.
Marine Corps and Vietnam War veteran Reyn Leno thanked veterans for their service. "We fought for the United States, the community and our Tribes," he said.
Veterans princesses and other Royalty were recognized as well.
"I want to thank the veterans for opening up this powwow in a good way," Kennedy said. "I am very pleased to see all the little ones who have come to dance today. We dance for joy … for our people so that they become strong."
After the Tiny Tots, Women's Golden Age and Men's Golden Age dances, Tribal Elder Betty Bly was honored for her work with the Culture Committee and on many First Foods celebrations
Bly, flanked by family members, received a Grand Ronde Pendleton blanket.
"I am very humbled," Bly said. "I think most people think of me as an activist, but I wasn't. I am just someone who cares a great deal. I am very surprised by this. Thank you."
There also an honoring held for Saige Selwyn, a Grand Ronde Tribal youth who passed away in September 2015 from injuries sustained in a bicycle-and-auto accident on Grand Ronde Road.
An evening meal was served to attendees by the Culture Committee, with assistance from Royalty and Youth Council members.
The Restoration Planning Committee included Darlene Aaron, Francene Ambrose, Lisa Archuleta, Eric Bernando, Steve Bobb Sr., Joanna Brisbois, Julie Brown, Chelsea Clark, Jon A. George, Kathleen George, Marcus Gibbons, Stacia Hernandez, Toni Mercier, Tracie Meyer, Shayla Murphy, Margaret Provost, Shannon Simi and Faye Smith.
Tribal Council sponsored the junior powwow category with baskets as prizes for male and female. The Culture Committee sponsored the teen category with blankets for male and female winners.
Tribal Council has already decided that the 35th Restoration Celebration will be held on Sunday, Nov. 18, at Spirit Mountain Casino since the 22nd also will be Thanksgiving Day in 2018.