Culture
Health & Wellness Center celebrates 20th anniversary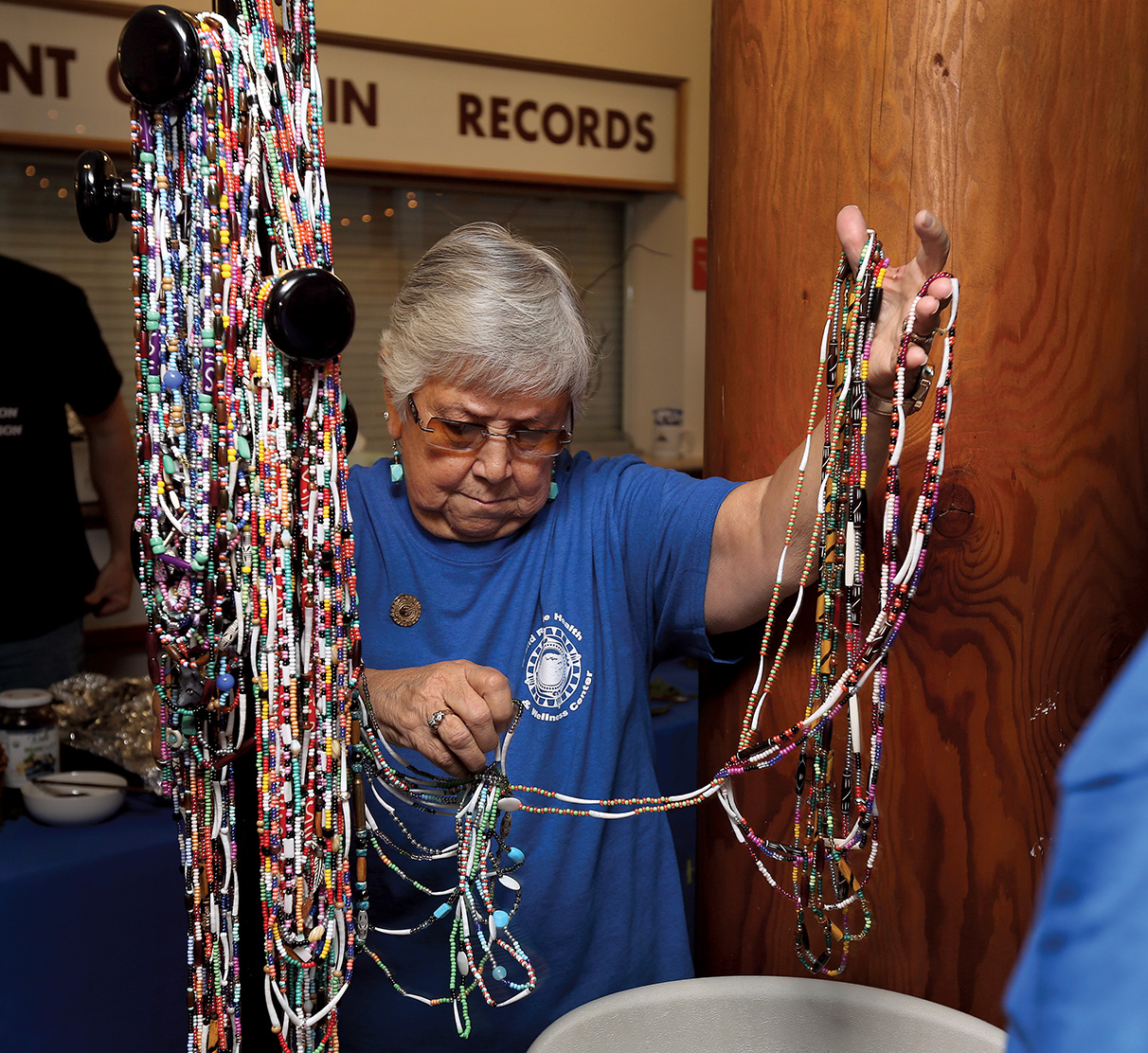 By Danielle Frost
Anticipation from the more than 100 people in attendance filled the air at the Grand Ronde Health & Wellness Center as the Veterans Color Guard brought in the colors, accompanied by cultural drumming and singing, to fete the building's 20th anniversary on Friday, Oct. 6.
As attendees entered the building, they were greeted by current Health Committee members Alan Ham, Gladys Hobbs, Bernadine Shriver and Claudia Leno, who presented beaded necklaces to those who signed the guest book.
Health & Wellness Center staff handed out reusable grocery bags that contained lip balm, a memo pad and dental care items.
Tribal Council Secretary Jon A. George led the invocation to start the event. He said that for 20 years the building has been improving the community's health and serves as a cultural reminder to Tribal members of who they are.
The Color Guard included Tribal Elder Raymond Petite, community members Dennis Kleffner and Al Miller, and Tribal spouse Richard VanAtta. Drummers included Cultural Resources Department employees David Harrelson, Brian Krehbiel, Bobby Mercier and Jordan Mercier, as well as Tribal members Nicolas Atanacio, Izabella Atanacio, Jade Unger, Chelsea Clark, Lisa Archuleta and Kailiyah Krehbiel.
Other Tribal Council members in attendance included Chairwoman Cheryle A. Kennedy, Vice Chair Chris Mercier and Tribal Council member Denise Harvey, in addition to past Tribal Council members Wesley "Buddy" West, Steve Bobb Sr. and Bob Mercier.
Grand Ronde Health Services Executive Director Kelly Rowe said it was "an honor" to serve her Tribe and that the last two decades have been an amazing time of growth and opportunity.
"Tribal member health and wellness has always been a priority," Rowe said. "Today, we are celebrating a structure that was a result of the Tribe's priority. It was brought to life by the foresight and persistence of a visionary, dedicated to elevating the health status of the Tribe and Indian people across the state of Oregon and the nation. … This visionary is Cheryle A. Kennedy."
Kennedy, who was one of the Tribe's first three employees after 1983's Restoration and a former Health & Human Services director for the Tribe, received applause as she approached the podium.
"It's a pleasure to stand before you today and welcome you to this facility of healing," Kennedy said. "I just want to say it really is a privilege and an honor to have been part of the Tribe's development. I sat on the first Tribal Council after we were restored, and there was a needs assessment. The return rate was around 97 percent … all of the thoughts went into creating what was needed here at Grand Ronde for health services. Using that information, we started moving forward."
Kennedy said that due to the long-term effects of Termination before Tribal Restoration, it was very important that health and healing be implemented at all levels.
"The foundation was laid that healing is a center part of the building for our community," she said. "There was a healing that needed to occur in us."
Kennedy also reflected on how far health care has improved since its beginnings in modular buildings with only a sheet to separate an exam room from the waiting area.
"Grand Ronde didn't have any of these facilities here, there were none. … It took many years to get here. With these humble beginnings, we started working and started planning things … we put all of our heart, soul and energy into this," Kennedy said. "We cleaned the buildings, took care of the office and served as assistants to the general manager … this involved a huge community effort. It is what you told us you wanted, and we listened."
Kennedy also pointed out various artistic features on the interior, such as the bronze masks, created by Northwest sculptor and mixed media artist Lillian Pitt, a member of the Warm Springs Tribe.
George created both the original and 20th anniversary Health and Wellness logos. Spirit Mountain is at the center and the four figures surrounding it with hands intertwined represent Elders, adults, youth and children. The feathers on the figures represent the five main Tribes and the triangles on the outer ring represent the number of programs offered in 1997. Lines on the inner ring represent the number of employees when the clinic opened.
"Lots of effort went into this," Kennedy said. "Everything had meaning behind it. We wanted to make sure this building was a place of healing, a safe place. … I also want to also acknowledge Tribal Council. If they didn't share the vision, this would have been very difficult to achieve."
Other speakers at the celebration included state Sen. Arnie Roblan, Interim Tribal Employment Rights Office Director John Mercier and Tribal artisan Brian Krehbiel.
"It is an honor to be with a group of people who are determined, persistent and willing to do the hard work to keep yourselves together," Roblan said. "For the sake of all the young people who are here, your Tribal Elders and leaders have given you an example from their heart of what it meant to be a part of Grand Ronde. Now, you have the opportunity to move forward.
"Twenty years ago, your Tribe came to the conclusion that you needed a home and a place where health care was the number one thing. … They looked at the past and looked to the future, and they decided to build something that will last, an amazing building. They brought the outside in, making this a place people want to come and spend the time that they need to."
The center was one of the first buildings constructed by the Tribe after the 1995 opening of Spirit Mountain Casino.
The Health & Wellness Center began with 20 programs and 61 employees. According to past articles in Smoke Signals, a major change after the building opened was that Tribal members who lived out of the area were willing to travel to Grand Ronde to receive their health care.
John Mercier served as the facility's project manager.
"We did have a lot of help on this," he said. "Teamwork is what made the whole thing successful. … The building is 20 years old, but the effort to bring it here is 30 years old. … There were a lot of challenges that came about, but with all that, here you are. I thank you all so much for what you do in this building."
Krehbiel spoke briefly about the carving he helped create for the anniversary celebration with Jordan Mercier and Bobby Mercier. It is representative of a traditional Chinook burl wood bowl, which were considered wealth items, usually owned by important people of a village and passed down as family heirlooms. The wood used for the carving is western red cedar, taken from planks left over after the construction of achaf-hammi, the Grand Ronde plankhouse.
"When you look at it … it's really whatever you want to see," he said.
In addition to the speakers, present and past Health Committee members were thanked for their support and contribution to the construction and promotion of the Grand Ronde Health & Wellness Center. They include Ham, Hobbs, Shriver, Claudia Leno, Allison Empey, Anna Hannan, Annabelle Hamm, Bonnie Mercier, Camille Mercier, Diane Lane, Dorothy Greene, Faye Smith, Janet Phillips, Merle Leno, Nancy Renfrow and Patti Tom-Martin.
The Health & Wellness Center was originally designed to house the medical and dental staff, support services and wellness, and counseling, which included drug, mental health services and vocational rehabilitation. New services made possible with a larger building were optometry, pharmacy, medical lab and radiology.
Since its opening, the Health & Wellness Center has seen planned expansions. The most recent one was in December 2010, when a 4,000-square-foot addition was opened that added six more work stations to the Dental Clinic and 2,000 square feet to the Medical Clinic, in addition to a Native-themed flooring.
The Tribe also recently received a $500,000 federal grant to help expand the Behavioral Health wing to meet increased demand for services.
"It is amazing to be able to work with the membership, and it is important for me to know what we do here is meaningful," Rowe said.
After the speakers, attendees took facility tours and sampled plenty of food, which included salmon, cheese, crackers, fruit, vegetables, fry bread and three commemorative cakes.