Culture
Canoe Journey to Campbell River went well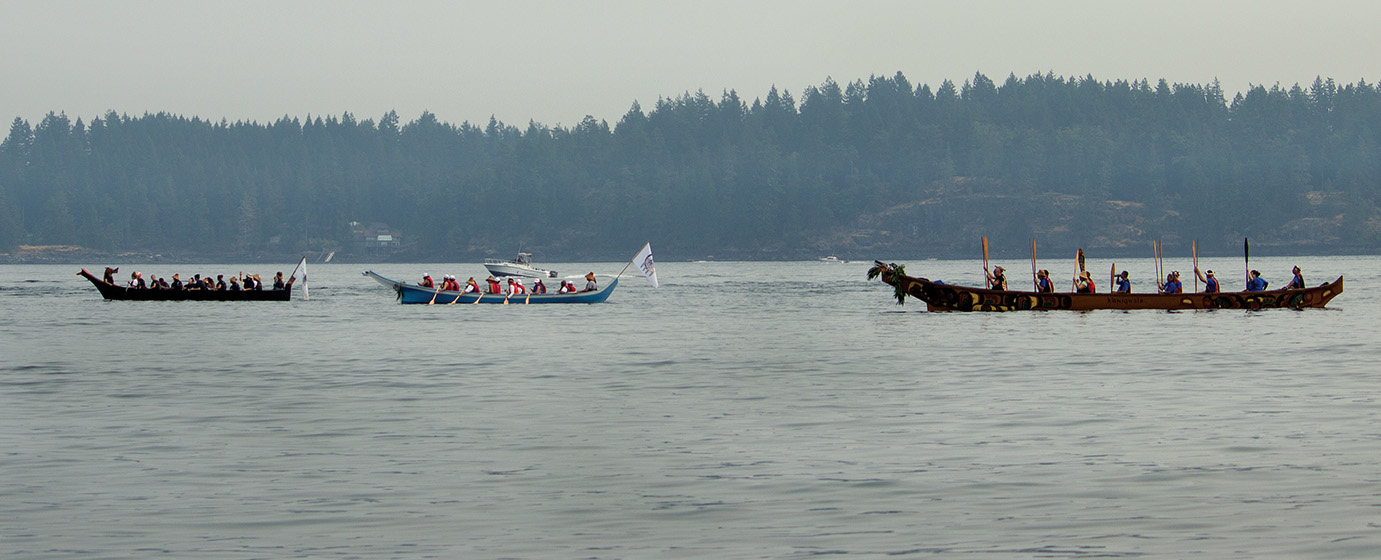 One advantage to the 2017 Canoe Journey being held in Campbell River, British Columbia, was that the Grand Ronde Canoe Family was among the first Tribes to participate in protocol on Sunday, Aug. 6.
Portland Area Office Tribal Services Representative Lisa Archuleta, who went as a cook as part of the ground crew support staff, said the Canoe Family was one of the first Tribes on the floor because the protocol order is determined by which Tribe traveled the farthest to the event. Farthest away goes first.
The 2017 Canoe Journey was hosted by the We Wai Kai and Wei Wai Kum First Nations located at the northern end of the Strait of Georgia, which is the body of water between Vancouver Island and mainland Canada.
General Manager David Fullerton said this was the third Canoe Journey in Canada that the Grand Ronde Tribe has participated in and that experience helped make logistics for the trip easier to manage.
"I think it went well," Fullerton said. "We put a feasible schedule together. We weren't on the water as much as we typically are on some trips, but I would say that we know that when we go to Canada we're going to have a reduced crew."
Fullerton and Emergency Operations Coordinator Steve Warden staffed the support boat that shadowed the paddlers in Stankiya.
The Grand Ronde Canoe Family left Grand Ronde on July 29 and drove to a campsite in Blaine, Wash., just south of the U.S.-Canadian border. The next day, they crossed the border and took a ferry to Duke Point on the eastern shore of Vancouver Island. The Canoe Family spent two nights in Nanaimo, hosted by Vicki and Herman Johnny, before paddling northward.
Tribal pullers stopped in Nanoose Bay, Qualicum Beach, Comox and Miracle Beach along the way, arriving in Campbell River on Saturday, Aug. 5, for Landing Day.
The Canoe Family had to pull Stankiya out of the water one day and did not paddle another because of high winds, Fullerton said. Cultural Resources Cultural Education Specialist Brian Krehbiel and Zoey Holsclaw skippered the canoe.
Tribal Council Secretary Jon A. George met up with the Canoe Family in Comox.
"What I am especially proud of about our people and youth is that the one message that we can say is how strong the word 'family' is in Canoe Family," George said during the Tuesday, Aug. 15, Legislative Action Committee meeting. "To see 20 tents torn down at 3:30 in the morning, gathering people together to get ready to get in the van and especially the paddlers to also end up on the water by 5 a.m. I am so proud of how that worked. They made it seem so seamless."
Tribal Council member Brenda Tuomi and her husband, Ron, also attended the Canoe Journey.
"It was pretty amazing," Tuomi said about attending her first Canoe Journey and seeing all of the canoes arriving for Landing Day. "Protocol on Sunday was another beautiful experience. I think all Tribal members would have been very proud of our Canoe Family when they came in for protocol. I was very proud of our youth."
Archuleta kept Canoe Family members fed with sandwiches, protein snacks, boiled eggs, peanut butter and jelly sandwiches and fruit.
Cultural Resources Manager David Harrelson supervised the support crew effort, which included Archuleta, Dependency Counselor Joe Martineau, Jade and Mirinda Unger, Prevention Coordinator Cristina Lara, and Cultural Education Coordinator Jordan Mercier and his wife, Amanda.
In all, about 50 Tribal members and staff traveled the approximately 500 miles from Grand Ronde to Campbell River for all or part of Canoe Journey.
Harrelson said one of his favorite memories of participating in his first Canoe Journey was learning a haka dance for protocol from the two Maoris who accompanied the Canoe Family on the journey. The Maoris were part of Toi Maori, an arts organization that has a longstanding relationship with the Grand Ronde Tribe.
He also remembers the Canoe Family singing, drumming and dancing on the top deck of the return ferry from Duke Point to Tsawwassen and attracting a pod of orcas.
"The people on the ferry said they never see whales on the crossing," he said. "They said, 'You brought these whales.' The whales know those old songs."
Overall, all involved said the journey was a success logistically, culturally and personally.
"The Canoe Journey went really well this year," Harrelson said. "We had a cohesive group of people."
"It was a good group of people," Archuleta said. "The kids were awesome and the Maoris who went along fit in well. I thought it was a really good journey."
"I am so thankful for everybody and how we worked together," George said. He said he was proud "to see our youth in the canoe at landing with 100 canoes lining the shore."
"Each community that we stayed in went above and beyond to make sure that all of our needs were met," Fullerton said.
Harrelson said the Cultural Resources Department plans to build between one and three new canoes this year and the department is looking to offer monthly canoe paddles to help with training and build endurance. In addition, he said canoe opportunities are occurring in September, including the races held in Coquille Sept. 9-10.
The 2018 Canoe Journey will be held in Puyallup, Wash.