Culture
Eighth-grade teacher embraces Tribal history curriculum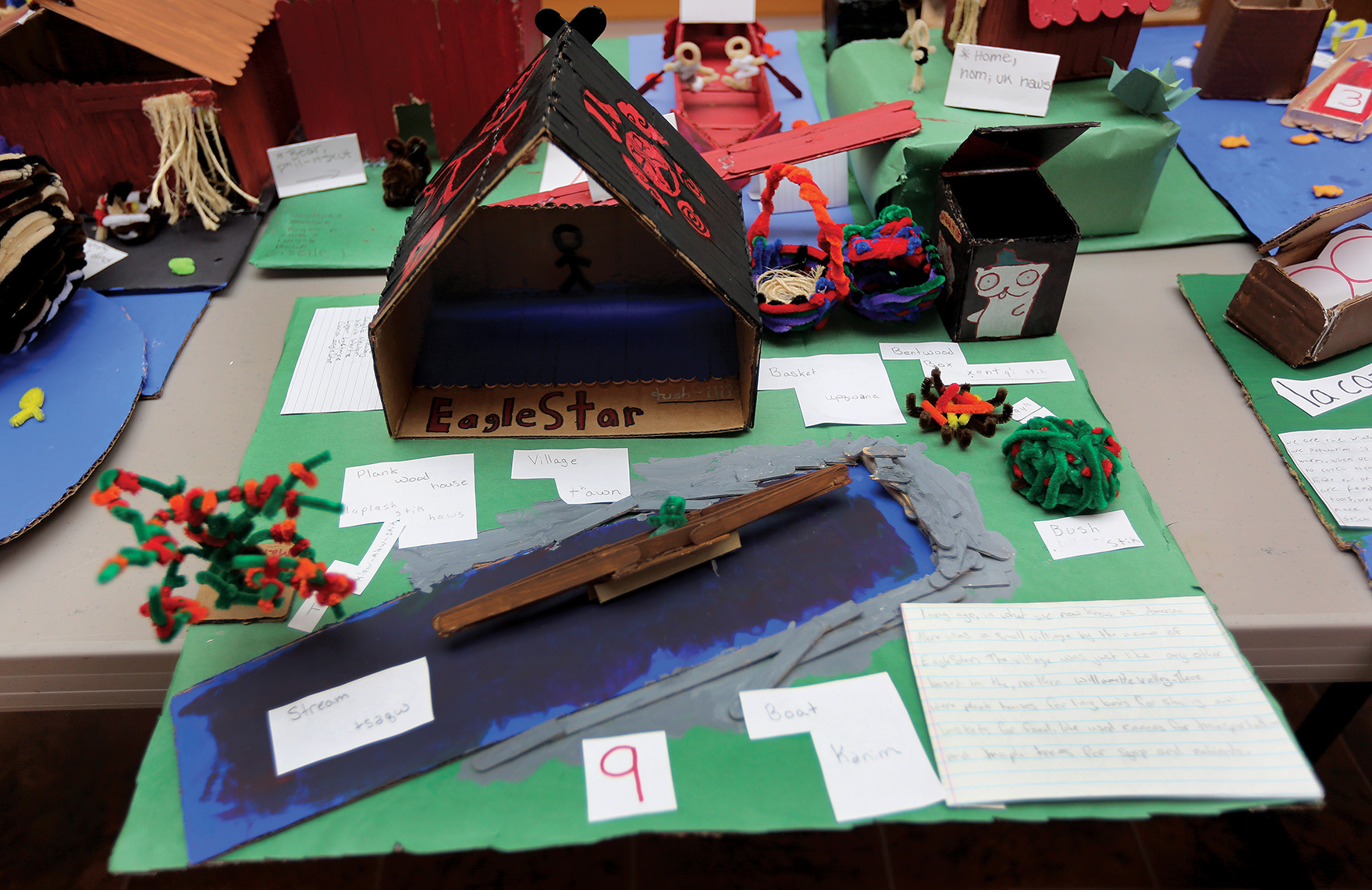 SHERIDAN – Eighth-grade students at Faulconer-Chapman School have a much more realistic view of local Native American history now that they are learning the Confederated Tribes of Grand Ronde's new history curriculum in their classroom.
Grand Ronde Tribal member and Curriculum/Academic Adviser Mercedes Reeves has been working with Faulconer-Chapman eighth-grade teacher Tim Hart on introducing the Tribal curriculum into local schools.
"Please take a moment to stop by the governance building within the next two weeks to see the projects on display that were made by the eighth-grade students at Faulconer-Chapman School," said Reeves in an all-employee e-mail on Jan. 13 that notified the Tribal community of the students' efforts to build Tribal village dioramas. "The eighth-grade class spent a great deal of time learning about the Confederated Tribes of Grand Ronde using the Tribe's eighth-grade curriculum.
"During that time they became highly interested in the Tribe's language, Chinuk Wawa; plankhouses; bentwood boxes; and weaving. The student projects represent the way Tribes in the Pacific Northwest lived and the students took great pride in bringing authenticity to their projects while portraying the Tribes in an appropriate manner. We hope the membership enjoys the student projects and can see the hard work and effort they put forth."
Reeves said she was not only impressed with the accomplishments of the students, but she also was pleased with Hart and his willingness to incorporate the Tribe's curriculum into his classroom.
"He did an absolutely amazing job teaching the material and adapting the curriculum to fit his students and his students work completely reflected it," said Reeves. "They are pretty incredible. There are no tipis or buffalo, but instead longhouses, bentwood boxes, wood sheds, canoes and baskets. The intention of the curriculum was to challenge the stereotypes of Natives and that is exactly what it did."
Reeves said she was impressed with students' desire to learn about Chinuk Wawa.
"We gifted them a Chinuk dictionary and they labeled their structures in Chinuk, which was so awesome," said Reeves.
Reeves said she sought and received permission from Tribal Council Chief of Staff Stacia Martin to display the dioramas in the Tribal Governance Center Atrium.
Hart said that he grew up playing lacrosse for St. John's Preparatory School when he lived in Danvers, Mass. He started as goalie for one year of varsity lacrosse for Syracuse University before transferring to Linfield College in McMinnville to finish his playing career.
Hart said his interest in lacrosse – a sport invented and played by the indigenous population of North America – helped spawn his interest in Native culture and history.
"There has always been an appreciation of Native culture and I grew up in Massachusetts so obviously it's a big part there still," said Hart. "It's always been interesting."
Hart said another factor for him being interested in local Tribal culture on behalf of his students was that as vice president of the Oregon Council for the Social Studies, where he is one of 12 board members, he works to ensure that every unit covered in the classroom needs to be taught in context to what was happening in Oregon at the time it occurred.
"Even if we cover World War II, for example, we need to cover what does that mean for Oregon," said Hart. "In looking at Native cultures we really decided to go deeper into Northwest Native culture and what is it really about and what does it really mean for what was going on in Oregon and the history of Oregon. The Tribal curriculum definitely allowed us a great stepping stone to start putting things together and what we wanted to cover and how we wanted to include it in what we do in the classroom."
Reeves said she was impressed by the dioramas created by the students.
"They put so much work into these things," said Reeves. "I was so blown away. It completely reflected the Tribes here in the Willamette Valley. These were longhouses with wood sheds in the back and that had canoes."
Tribal Council Secretary Jon A. George said he thought the student dioramas on display in Grand Ronde until Friday, Feb., 3, were well done and reflective of students who had been taught well.
"When looking over the display it shows me today that our Native curriculum is working," said George. "I'm amazed at the detail and structure of the plankhouses, canoes and especially the basket work. These kids should be very proud of themselves."
Tribal Council member Chris Mercier agreed.
"The dioramas indicate to me that the students are well-informed in terms of how local and regional Tribes lived. Not a teepee in the bunch," said Mercier. "I thought it was really cool that they attempted to recreate some of the Pacific Northwest-style art into their creations. At a glance you could tell they've been taught more accurately about how Tribes here differed from elsewhere – they weren't just generic-type pieces."
Reeves said Hart did exactly what the Tribal curriculum calls for with his students – he made the curriculum fit his class.
"I always tell teachers to do that every training I do," said Reeves. "He totally did that. He did a phenomenal job with it. He's one of those teachers you want your kid to have."
Reeves visited the classroom at Faulconer-Chapman School when the students were studying the language component of the curriculum and brought fluent Chinuk speaker Elaine Lane with her to the classroom.
"She did a presentation teaching them some words and talking about the history of it and the kids … they loved it," said Reeves.
Hart said many of his students now want to know if they can take Chinuk language classes to satisfy their language requirements in school.
"They've been really intrigued by that and they want to learn more about it," said Hart.
Hart said he also was proud that the copy of the Chinuk dictionary gifted to his class is already showing signs of wear after just a few weeks.
"The kids are in it all the time," said Hart. "There is a major interest. The more we incorporate this into our classrooms the more people realize and appreciate what really the history of this valley is. Mercedes has been phenomenal to work with."
Hart said one of the best experiences he and his students have had during the school year so far occurred very naturally while working with the Tribal curriculum. He said it was as if the entire classroom had been transported back in time and he pointed it out to them when it happened.
Hart said the students were sitting in groups with authentic Native music playing in the background. One of the students was practicing on the drum while others chatted and laughed while weaving baskets and making bentwood boxes.
"We had a village atmosphere in the room while we were working which was a really cool element to bring that culture to life in that room," said Hart. "I said to them, 'Guys this is what would have really happened.' "
Reeves said she could tell the students loved what they were doing and that they were really learning.
"This curriculum really can change and empower students who actually get to experience it in a positive way," said Reeves. "I think it's that full circle."