Culture
Annual Contest Powwow a success despite hot days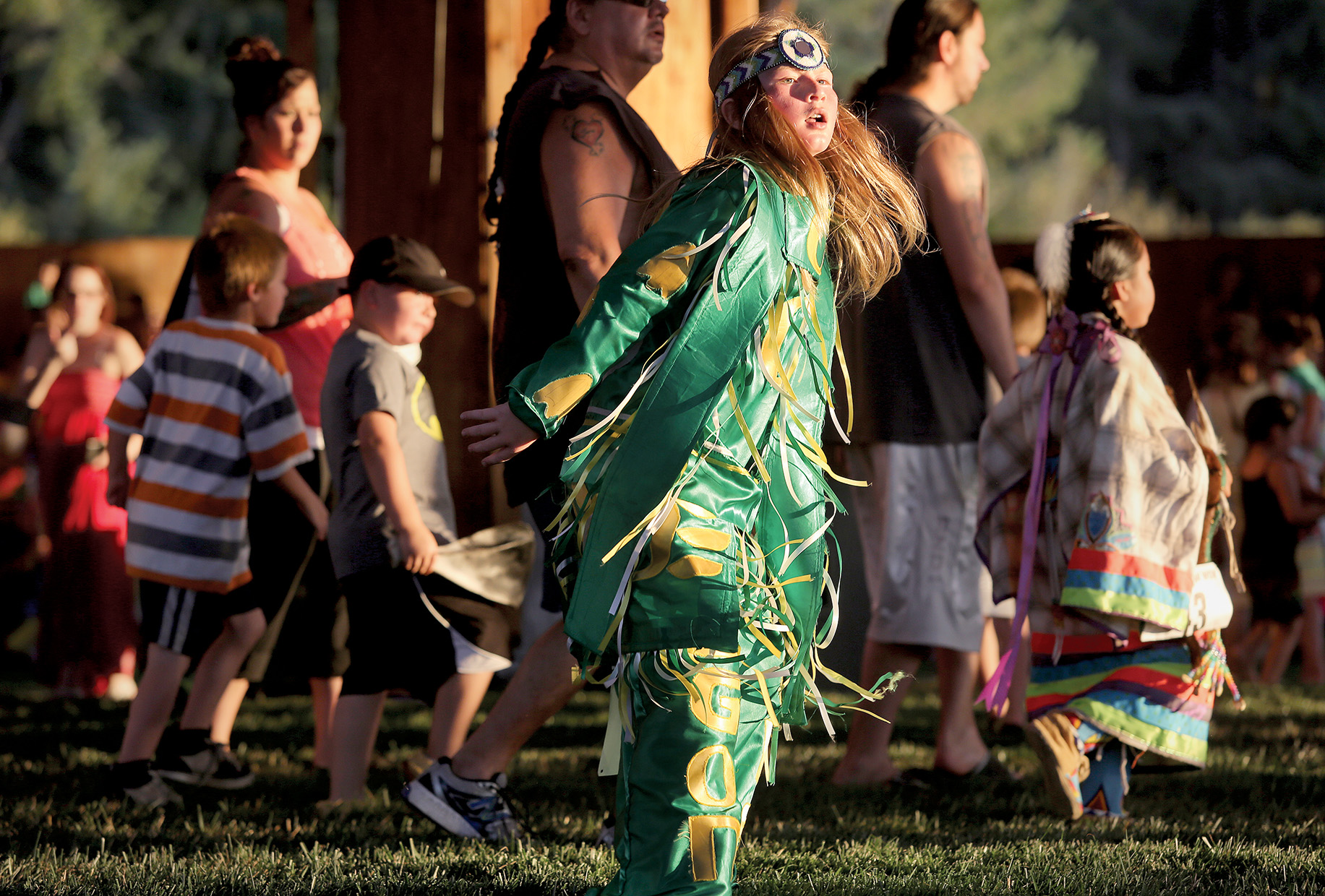 Two year-old Tribal member Ila Mercier stood in the center of the Canoe Family drum circle during the Confederated Tribes of Grand Ronde's 2016 Contest Powwow welcoming song on Friday, Aug. 19, looking up at the faces of her family … her Tribal family.
Ila, who stands about knee-high to most adults, studied the faces of her father, Jordan Mercier, and fellow Canoe Family members Nicholas and Santiago Atanacio, Nokoa and Kaikanim Mercier and Andrea Grijalva one by one. She took her time and examined each face before moving on to the next one.
"She has been coming to powwows since she was eight days old," said Jordan. "I think it's natural for her. It's her home. It's where she feels comfortable and that's kind of how I wanted it to be."
Canoe Family members gathered near the announcer's stand just before drum roll call kicked things off for the Tribe's annual contest powwow on Friday evening and sang three welcoming songs. Kyoni Mercier picked up young Ila and held her for the last of the three songs.
"That first song is called the Old Woman's Song," Bobby Mercier explained to the crowd. "The last song we did was a Warrior's Song and this next song that we are going to do is a Celebration Song as we are celebrating all of us coming here together. We're very happy that everybody is here."
Jordan said he and his wife, Amanda, bring Ila to every Tribal event they can and that they do it with a purpose.
"That is her family," said Jordan. "Those are the people that she has been around her whole life. I strive to get her to every single event that I can. She always has a really good time. She's just happy.
"The people at those events love her and she gets a lot of love from everybody. That's all I want for her – I want her to be happy and I want her to be loved. There are things that the community offers and that she gets at those events that we could never provide that. There are certain things that only being around this stuff (cultural events) will teach her."
Ila is named after one of the most beloved Tribal members in Grand Ronde history, Ila Dowd (Hudson), who walked on in 2001.
Jordan said that he was given Eula Petite's Chinuk dictionary when he was young as a gift from his grandfather Vincent Mercier. Ila was Eula's sister and Vincent's aunt.
"When I would go to family events I would always run up to her and say a few words to her in Chinuk," Jordan said. "She was just really loving and that was a big deal for me as a kid and it planted the seeds to bring me to where I am now. She was always doing things for other people and she would never say anything bad about anyone.
"I feel like putting that name on Ila would help bring some of that into her life and it has already. When people meet her and we introduce her by her name, people light up. It kind of brings her life back around. I wanted to put that name on her. I wanted her to be like that."
Ila and the Canoe Family welcomed a large crowd on Friday night, but not the type of crowds Grand Ronde has become accustomed to in recent years.
Tribal leaders said the hot weather and competition from a powwow at Muckleshoot in Washington state kept crowds from being at capacity, but that they were still pleased with the number of people and vendors who made the trip to Grand Ronde.
"I think it's a great turnout for the heat," said Tribal Council Chairman Reyn Leno.
"It's been great, but Friday was brutal," said Tribal Council member Chris Mercier. "I don't know if the heat scared people away, but overall it's been good. There were lots of food options this time (17 food vendors in all) and a lot of people made a special trip out here. There are a number of people that this is their only time of year we see them."
According to AccuWeather.com, the heat reached 102 degrees on Friday, the first day of the powwow, and almost hit 100 on Saturday with a 99-degree reading. Temperatures moderated on Sunday, only reaching the mid-80s.
Powwow Special Event Board Chair Dana Ainam said there were 171 dancers registered to compete this year, down from the usually more than 200 who attend. Of those dancers, 30 were Grand Ronde Tribal members and 10 Tribal members were winners this year.
Tribal Elder Wink Soderberg said it seemed like there were more vendors than ever before.
"There is a real assortment of stuff. It's really good," said Soderberg. "That's probably the best I've seen it."
Tribal General Manager Dave Fullerton said that Tribal administration and the Powwow Special Event Board started making preparations for the heat in advance of the powwow.
"We had two 20-by-20-foot cooling stations set up on the grounds," said Fullerton. "They had air conditioning pumped into them so people could go in there and relax. The other thing we did was we got 2,600 bottles of water from the casino."
Fullerton said he directed crews to set up the water bottles in shaded stations throughout the powwow grounds and he said they were ready to open up the Elders Activity Center as a cooling station if it had been necessary.
"Overall, I think it was great," said Fullerton of the powwow weekend. "The temperature cooperated by Saturday evening."
Fullerton commended the Powwow Special Event Board for putting on another great show and pointed to the Education Committee's "School Is Cool" dance special on Friday night and the fancy dance special held on Saturday night as reasons to praise their efforts.
Participants in the Education Committee dance special were awarded school supplies by committee members.
"We do a good job of getting school supplies to our kids in this community, but the Education Committee does that to benefit all the kids who show up there," said Fullerton. "Everyone walks away with something. With powwow being right before school starts, I think that's great."
Chris Mercier said he was happy to be one of the judges for the "School Is Cool" dance special this year.
"It's cool because you can see that some of these kids are on a path that they are going to start doing that (dancing at powwows) on a regular basis," said Chris Mercier. "You can tell that they put a lot of heart and soul into their regalia and everything. It's just great to see that at such a young age and to see them embrace their Tribal heritage."
Fullerton said he was happy with the way the Powwow Special Event Board used extra prize money they had from the drum prize pool to put on a Saturday night Men's and Women's Fancy Dance Special. The crowd showed its appreciation when the men's and women's winners then met on the arena dance floor for a dance-off showdown.
"They (the Powwow SEB) found a way to do some other things to show appreciation to all the drummers and dancers for coming to this community," said Fullerton. "I think it will become a mainstay so that was great."
Fire Protection Technician Logan Kneeland said the Tribal community and Reservation lands were at a level three fire threat from Wednesday, Aug. 17, through Monday, Aug. 22, and then transitioned back to a level two as cooler weather took hold.
He said the Tribe's Natural Resources Department had two engines on patrol Friday and Saturday and that there were no incidents during the powwow.
Tribal Police Chief Jake McKnight said his department had a slow powwow weekend and that is just how he likes it.
McKnight, who has been coming to the Tribal powwows since they were held in the field behind the grade school when he was a boy, said he is sometimes in awe of everything that has come about in the Tribal community in recent years. He said the growth of the powwow has amazed him.
"Everyone that comes here has nothing but good things to say about the powwow, how we take care of our grounds and how we respect our culture," he said.
Tribal Elder and former Tribal Council member Val Grout said she can't help but remember the powwow when it began and the people who made it happen.
"It's been great, but I miss the old days down at the school," said Grout. "Those were the good old days. This is great, but I miss the old days."
And as much as Grout and her memories represent powwow days gone by, her family – including newly crowned 2016-17 Junior Miss Grand Ronde Isabelle Grout, Val's granddaughter -- represent the future of the Tribe and the many powwows to come.
Isabelle was crowned on Friday, Aug. 19, at the powwow grounds before the first Grand Entry for the Contest Powwow. She competed in the 2016-17 Grand Ronde Royalty Pageant, along with Senior Miss Grand Ronde Iyana Holmes and Little Miss Grand Ronde Kaleigha Simi.
"I'm thankful for my struggle, because without it I wouldn't have stumbled across my strength," said Isabelle in a thank you to everyone who supported, encouraged and inspired her this year. "Hayu masi."