Culture
Tribe hosts fourth annual Veterans Summit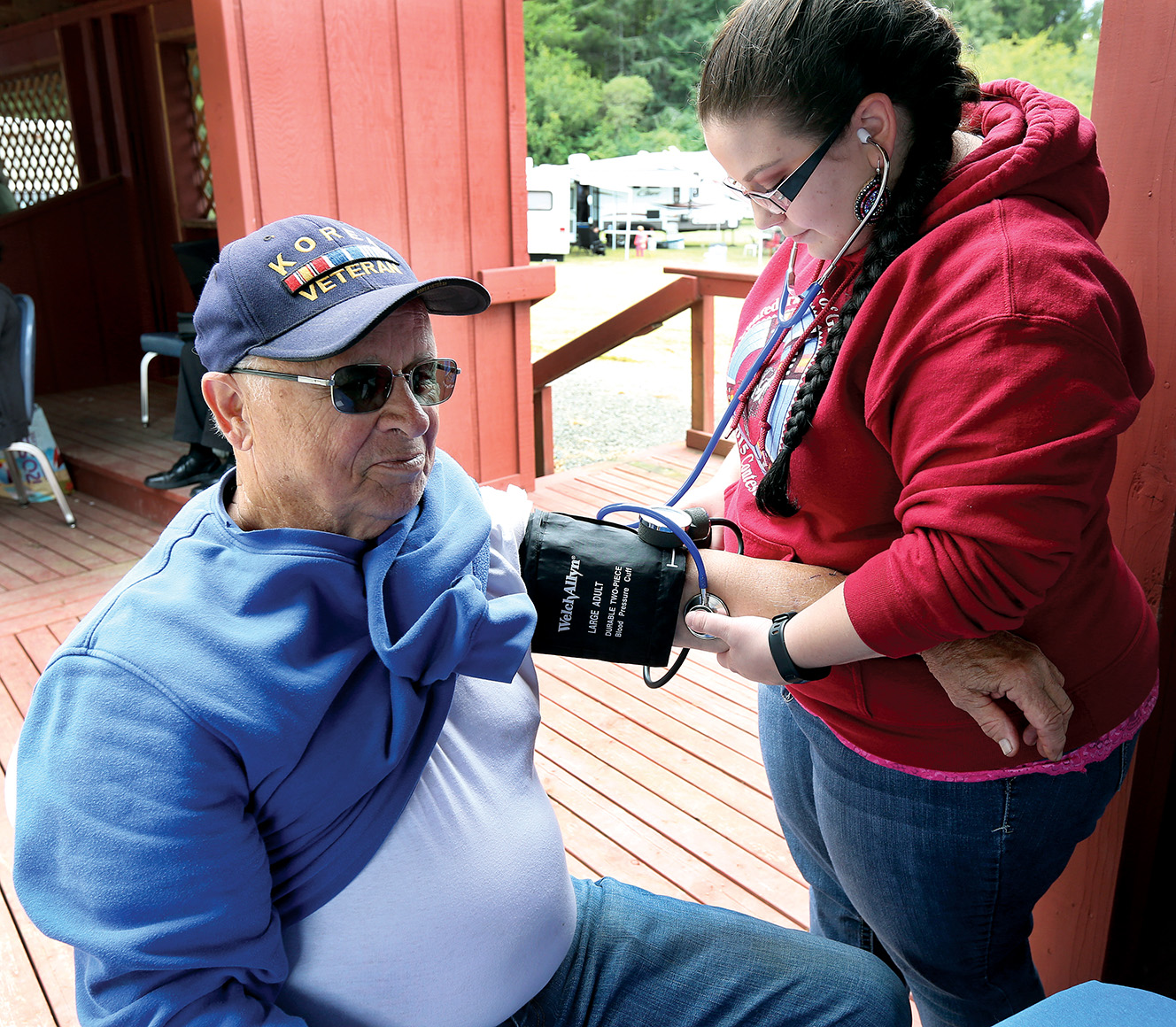 The day before the Grand Ronde Tribe hosted the fourth annual Veterans Summit: Gathering of Warriors at Uyxat Powwow Grounds, the Department of Veterans Affairs released sobering statistics regarding suicides among the country's men and women who have served in the military.
The first actual count found that 7,403 veterans killed themselves in 2014. That's 20 veterans a day.
The issue was discussed several times at the Veterans Summit, which also was sponsored by the Gresham-based Native Wellness Institute and the Department of Veterans Affairs' Office of Tribal Government Relations and has a goal of connecting veterans, especially Native American veterans, to the services they have earned through their military service.
During a pre-summit workshop held Thursday, July 7, Dr. Todd Burnett, acting director at the Portland Veterans Affairs Medical Center, told about 20 veterans in attendance that older veterans are at higher risk of taking their own lives.
However, Burnett said in reaction to the just released statistics, only five of the average 20 veterans who take their lives daily are using Veterans Affairs for their medical care and mental health needs.
"There is no number that we are OK with," Burnett said. "However, users of VA services are level or declining when it comes to suicide rates."
On Friday, July 8, Joe Bertagnolli, Suicide Prevention coordinator at the Portland VA Medical Center, talked for about an hour with summit attendees during the informal afternoon sessions.
He said that suicidality comes from the primal part of the brain that just wants out of a particularly stressful situation. "It overrides our survival instinct," he said.
Unfortunately, Bertagnolli said, suicide can run in families since those contemplating taking their own life might think back to how a parent, uncle, grandparent or older sibling handled a difficult situation. Attendees linked that observation to the historical trauma that affects Native families and is handed down from generation to generation.
"I've had many vets tell me that they made their peace with dying while in combat," Bertagnolli said. "However, what they can't go through is something like a divorce."
In response to a question about how rural mental health providers are supposed to handle suicidal veterans, Bertagnolli suggested providers display compassion and empathy and not try to problem solve.
"Tell them that you are going to have the courage and compassion to listen," he said. "Also tell them that care does exist and everyone deserves it. I can tell you that veterans engaged in mental health care at the VA are less likely to commit suicide. And the Department of Defense and VA are leading the world in research on suicide prevention."
During the summit, Bertagnolli handed out Veterans Crisis Line cards (800-273-8255). Among vendors staffing tables under the Powwow Grounds arbor was Military Helpline, a free, confidential resource for veterans contemplating suicide to call at 888-457-4838.
By Friday afternoon, approximately 130 veterans, family members and others had registered for the summit, which followed an agenda similar to the previous three events.
After the pre-summit workshop on Thursday, a dinner of salmon and elk stew was served by the Tribe's Nutrition Program staff members under a meal tent and cultural sharing was held in achaf-hammi, the Tribal plankhouse.
On Friday morning after a continental breakfast was served, the first general session started at about 9:30 a.m. with Navy veteran Nick Sixkiller reprising his role as master of ceremonies.
The Grand Ronde Honor Guard of Steve Bobb Sr., Raymond Petite, Al Miller, Dennis Kleffner and Rich VanAtta brought in the colors after Tribal teenager JC Rogers sang the national anthem. Tribal Council member Jon A. George gave the invocation. Outgoing Veterans Royalty in attendance included Iyana Holmes and Amaryssa Mooney.
Welcoming remarks were offered by Tribal Council Chairman Reyn Leno, a Vietnam War-era Marine Corps veteran; fellow Marine Corps veteran Cameron Smith, director of the Oregon Department of Veterans' Affairs; and Terry Bentley (Karuk), Tribal Government Relations specialist with the federal Department of Veterans Affairs.
"What an honor it is to have all of our veterans here and the people who support them, and their families," Leno said. "Here we are again to try and work on coming together on things that are happening for our veterans. I have to say that I was really inspired a couple of months ago when we actually had the head of the Department of Veterans Affairs right here on these grounds. We had a lot of conversations about the needs of veterans. I think he gets it. We're not numbers, we're people and they tend, especially for Vietnam vets, to have a list and if you don't make that list then they don't think Agent Orange impacts you. He said they need to do away with that list and start treating people for what is actually wrong with them."
Burnett also spoke during the welcoming remarks, promising that Portland VA Medical Center staff members will attend every Veterans Summit that is held just have they have done so far.
Veterans Summit regulars Linda Woods (Ojibwe) and Charlie TailFeathers (Cree/Blackfeet) conducted the somber MIA/POW ceremony and then Bobb, chair of the Tribe's Veterans Special Event Board, honored Marine Corps Gunnery Sgt. Gunny Brandon, who walked on in January, by gifting a "Heroic Chief" Pendleton blanket to Brandon's daughter, Jan, who lives in McMinnville.
TailFeathers, who sits on the board of directors of the Native Wellness Institute, said that although Vietnam veterans were the most hated veterans in the history of the country upon their return from combat, they have been leading the way in getting all veterans better benefits.
"Over the last four years, I've seen the most Tribal members file for benefits they deserve," he said. "It is getting better in leaps and bounds."
The morning session ended with Woods discussing her experiences of being a warrior woman in the Air Force during the 1960s and a commemoration of the 50th anniversary of the country's escalation of involvement in Vietnam.
After lunch, the summit became less structured as veterans were able to participate in offerings that interested them. Grand Ronde Health & Wellness Center employees were again on hand to offer free health and dental care and John Spence (Gros Ventre/Sioux) returned with horses to offer equine therapy for veterans and their family members.
Information booths surrounding the perimeter of the arbor included the U.S. Department of Veterans Affairs, Military Helpline, federal Bureau of Prisons, Oregon Employment Department, Social Security Administration and Yamhill County Veterans Service Center.
Tribal Council members who attended the summit included Leno, Vice Chair Jack Giffen Jr., Army veteran Brenda Tuomi, George and Denise Harvey.
Other speakers included Dr. Amy Light, co-clinical director of the Rehabilitation and Long-Term Care Division at the Portland VA Medical Center, and Army veteran Elizabeth Estabrooks, Women Veterans coordinator at the state Department of Veterans' Affairs, who discussed the "white male default" that so often rears its ugly chauvinistic head in the military.
The Friday session concluded with male and female sharing circles facilitated by TailFeathers and Woods, respectively, before segueing into the opening night of the Marcellus Norwest Memorial Veterans Powwow.
The Veterans Summit concluded Saturday morning with another general session that included a "Let Your Voice Be Heard" presentation and then honorings led by TailFeathers before the second day of the Veterans Powwow took over the powwow grounds.
"It's never about numbers for me," Leno said about the fourth summit. "I don't care if there is one veteran here or 100 veterans just as long as we can help a veteran."
"I am always humbled by the Grand Ronde," Bentley added. "Grand Ronde is the Tribe that I think really honors its warriors. They do so much for their people through their infrastructure and working to build their community. So my hat is off to the leadership of Grand Ronde for the work that they do."