Tribal Government & News
Secretary of Veterans Affairs visits Grand Ronde on June 1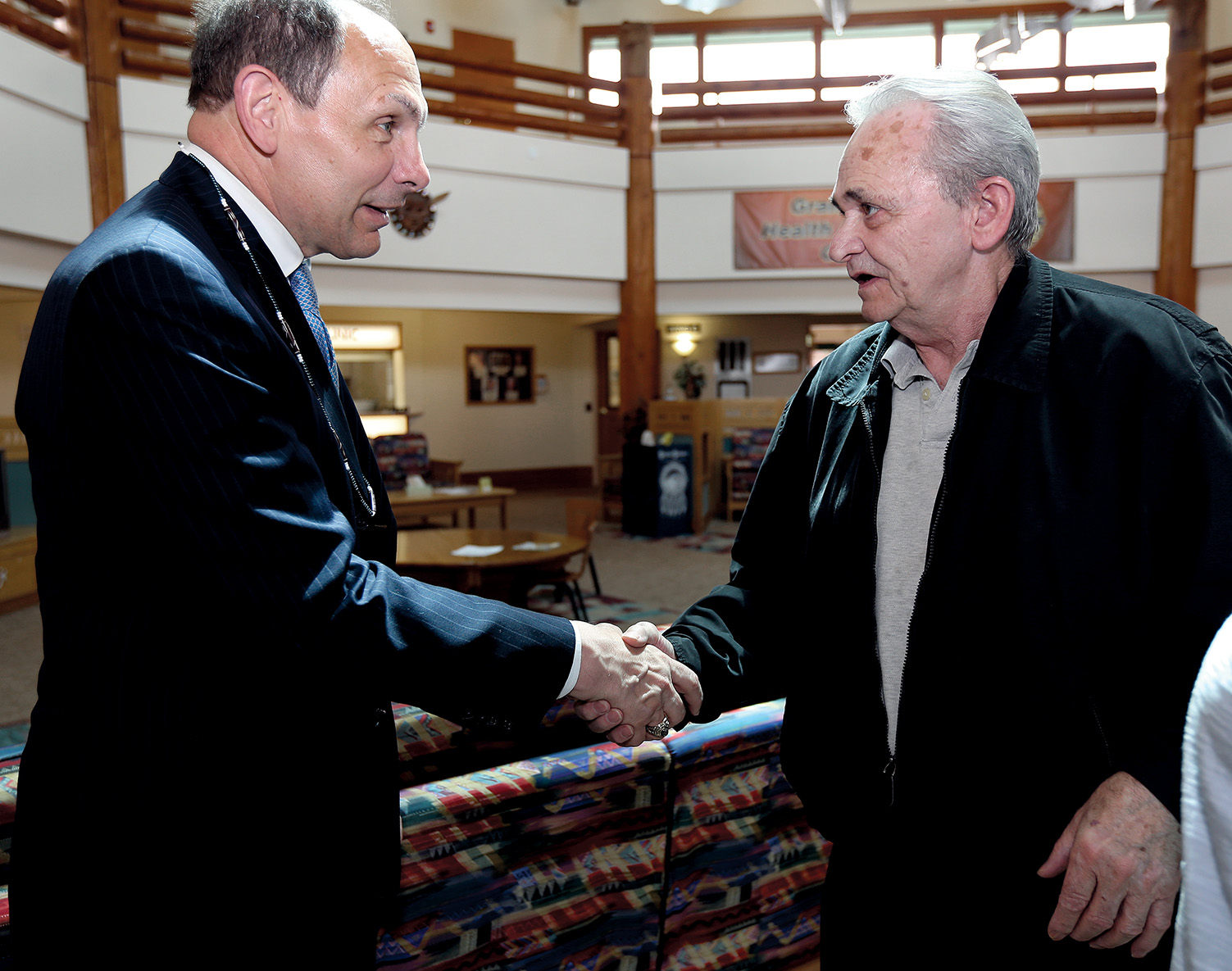 Secretary of Veterans Affairs Robert McDonald visited the Grand Ronde Tribe on Wednesday, June 1, in his pursuit of strategic partnerships with the Indian Health Service and sovereign Tribal governments to improve health care for veterans, particularly Native veterans.
Grand Ronde was chosen, in part, because the Tribe was one of the first in the Northwest to sign a direct care services reimbursement agreement with Veterans Affairs in June 2013 that allows the Tribe to request reimbursement for direct care provided to eligible Native American veterans.
After visiting Chemawa Indian School and the Indian Health Service's Western Oregon Service Unit in Salem in the morning, McDonald traveled to Spirit Mountain Casino for a luncheon with Grand Ronde Tribal Council members and invited Tribal leaders.
He was accompanied by his wife, Diane, Oregon Rep. Kurt Schrader and an entourage of Veterans Affairs employees including Assistant Deputy Under Secretary for Community Care Dr. Baligh Yehia, Portland Veterans Affairs Regional Office Acting Director Carol Roane and Deputy Director Tracye Davis, and Terry Bentley, a familiar face in Grand Ronde for her role as Western Region Tribal Government Relations specialist with Veterans Affairs.
Tribal Council Chairman Reyn Leno escorted McDonald on an afternoon tour of the Tribal campus with stops made at the Health & Wellness Clinic, the West Valley Veterans Memorial, the Tribal Community Center for a Town Hall meeting and a tour of Tribal housing and facilities, including Uyxat Powwow Grounds and achaf-hammi, the Tribal plankhouse.
"He's looking for ways to break down the silos and work with Tribal communities," Schrader said as McDonald listened to Leno explain the history of the West Valley Veterans Memorial and how it was designed by Tribal Elder and fellow Vietnam War veteran Steve Bobb Sr.
"He's on to something, trying to see if the VA can work with Tribal governments to service Tribal veterans," Schrader added. "As Reyn (Leno) said at lunch, why should he have to go to Salem for a checkup when he could do it right here."
McDonald received a briefing from Health Services Director Kelly Rowe at the Health & Wellness Center. "This is a gorgeous building," he said while admiring the Native-themed carpeting. "It feels like home."
During the visit at the clinic, Tribal Council member Tonya Gleason-Shepek introduced Tribal Elder and former Tribal Council member Wesley West to McDonald.
West told McDonald that he served three tours in Vietnam. In return, McDonald thanked West for his military service and gifted him a medallion that included the Department of Veterans Affairs' seal and McDonald's name and title embossed on the edge.
McDonald graduated from West Point in 1975 and served five years in the Army, primarily in the 82nd Airborne Division, attaining the rank of captain. Upon leaving the military, he received the Meritorious Service Medal.
He went on to be successful in civilian life, working for Proctor & Gamble from 1980 to 2013. He became president and chief executive of the company in 2009 and assumed chairmanship of its board of directors in 2010.
In July 2014, President Barack Obama nominated him to succeed Gen. Eric Shinseki as Secretary of Veterans Affairs and he was confirmed by the U.S. Senate in a 97-0 vote.
McDonald assumed the leadership of the Department of Veterans Affairs while it was dealing with a public relations crisis concerning veterans waiting long periods to obtain appointments at medical facilities across the country. Some veterans reportedly died while they waited for appointments.
It was a controversy he and Schrader addressed head-on during the Town Hall meeting held in the Community Center.
"I want to honor the Secretary for being out here," Schrader said. "It's not many communities that get the Secretary of Veterans Affairs to come out and visit. I think that speaks volumes about the Grand Ronde. The commitment you have to health care for Indian Country and, frankly, for the rest of the community. You have a broad reach out here and I think that is recognized by the folks in D.C.
"The Secretary is walking into a tough spot. As you know, the VA has been under siege. Some of it is resource based and that depends on Congress, to be frank with you. The Choice Act fills a hole, but I think we need to work on the VA in general. … With his private experience and with his service to our country like many of you here, he has a unique background to bring a problem-solving attitude toward this whole enterprise. He doesn't have to do this. He could have retired, but he is willing to serve his country one more time."
McDonald said that the Department of Veterans Affairs, the second largest federal agency after the Department of Defense, is going through the largest transformation in its history. If Veterans Affairs was a company, it would be the sixth largest in the United States with a $185 billion budget and 360,000 employees.
He said there are 23 million veterans in the United States of which 9 million are signed up with Veterans Affairs and 6 million get their health care daily.
"I loved my time in the service," McDonald said. "When I got the call from the White House to come back and serve again, I saw that there was no greater honor than to serve the brothers and sisters that I had served with. And when people ask me what is the greatest thrill I have today, it's being able to do something to help at least one veteran.
"What we're trying to do is get much more centered on the veteran. Making sure that every time you contact us that somebody on the other end of the phone will help you solve your problem, and that all of us are accessible."
McDonald said Veterans Affairs is currently concentrating on improving access to care by increasing the number of places where veterans can receive medical attention.
"That's why things like a strategic partnership with the Indian Health Service is so critical," he said.
McDonald said that Veterans Affairs has added 4 million square feet of space to its facilities nationwide, 1,200 new physicians, more than 2,300 new nurses and expanded clinic hours to evenings and weekends. He said women's clinics have been added since female veterans will increase from 11 percent of the veteran population to 20 percent soon.
McDonald said Veterans Affairs is working on a five-point strategic plan that includes improving the veterans' experience, the employee's experience, improving internal support services (computers, etc.), instilling a culture of continuous improvement and looking for strategic partnerships.
"We want to create irreversible momentum in this transformation," McDonald said, acknowledging that a new administration will take office in January 2017. "We're committing that by the end of the year, assuming we get the funding from Congress, that any veteran who contacts the VA for health care will get same-day service for their individual need."
McDonald said the appointment controversy of two years ago was something that should have been anticipated. In 2017, an estimated 10 million veterans will be older than 65.
"The crisis that occurred in 2014 at the VA most of us would think was because of the fact that we've been fighting wars in Afghanistan and Iraq for 12 years," he said. "It actually wasn't that much the case. The biggest issue was the aging of the veteran population. In 1975, which was the year I graduated from West Point, there were 2 million veterans over the age of 65. As you have a population age, the issues that didn't bother us when we were young begin to bother us."
In 2009, the VA received 950,000 claims for disability with about 1.5 issues per claim, he said. In 2016, the VA will receive about 1.6 million disability claims with about six issues per claim.
"We need to build the capability to handle that," McDonald said. "The average veteran uses the VA for only 34 percent of their health care. If that goes to 35 percent, we need a budget increase of $1.4 billion. That's a huge difference."
McDonald added that Veterans Affairs needs to build a system that can handle the Afghanistan and Iraq veterans when they start turning 50 and 60 years of age.
In response to a question from Leno about the increase in aging veterans, McDonald said that Veteran Affairs needs to improve at predicting demand and work with Congress to obtain the budgetary resources needed to handle that demand.
During the hourlong Town Hall, McDonald also discussed successful efforts to reduce the number of homeless veterans, helping current military personnel transition out of the service into private industry jobs, and how valuable the Department of Veterans Affairs is to American medicine because of its groundbreaking medical research, training of doctors and clinical training for residents.
Grand Ronde Tribal veterans who attended the Town Hall included Wink Soderberg (Navy), Raymond Petite (Army) and Steve Bobb Sr. (Marine Corps), and community veterans Bob Duncan, Dennis Kleffner, Ron Tuomi and Al Miller.
Tribal Council members who attended included Leno, Secretary Cheryle A. Kennedy, Brenda Tuomi, Denise Harvey, Jon A. George, Gleason-Shepek and Chris Mercier. Tribal Council Chief of Staff Stacia Martin and General Manager David Fullerton helped keep the whirlwind tour of Grand Ronde on schedule. Tribal Police Chief Jake McKnight and Sgt. Tim Hernandez helped provide security for McDonald's visit.
At achaf-hammi, the Tribal plankhouse, McDonald was greeted by Culture Department Manager Kathy Cole and Tribal Elder Greg Archuleta, who gave a brief history of the Tribe and the plankhouse.
Archuleta and Tribal Council member Jon A. George joined Cole and Public Affairs Administrative Assistant Chelsea Clark in singing a prayer song. Before leaving and heading back to Salem, McDonald asked how to say "thank you" in the Tribe's language, Chinuk wawa, which George taught him.
Leno said it was a "great honor" to host McDonald at Grand Ronde.
"Grand Ronde was actually chosen as the Tribe to come out here to be for the Tribal piece of it," Leno said during the same-day Tribal Council meeting. "I believe that he does understand a lot of the problems with the VA. We talked a lot with him about the Agent Orange issue for the upcoming veterans, the Vietnam veterans out there. … I think the man totally understands a lot of the problems and a lot of the bureaucracy. I just think it was a real honor to have him here and be able to talk to him."