Culture
Chachalu exhibit features Willamina student artwork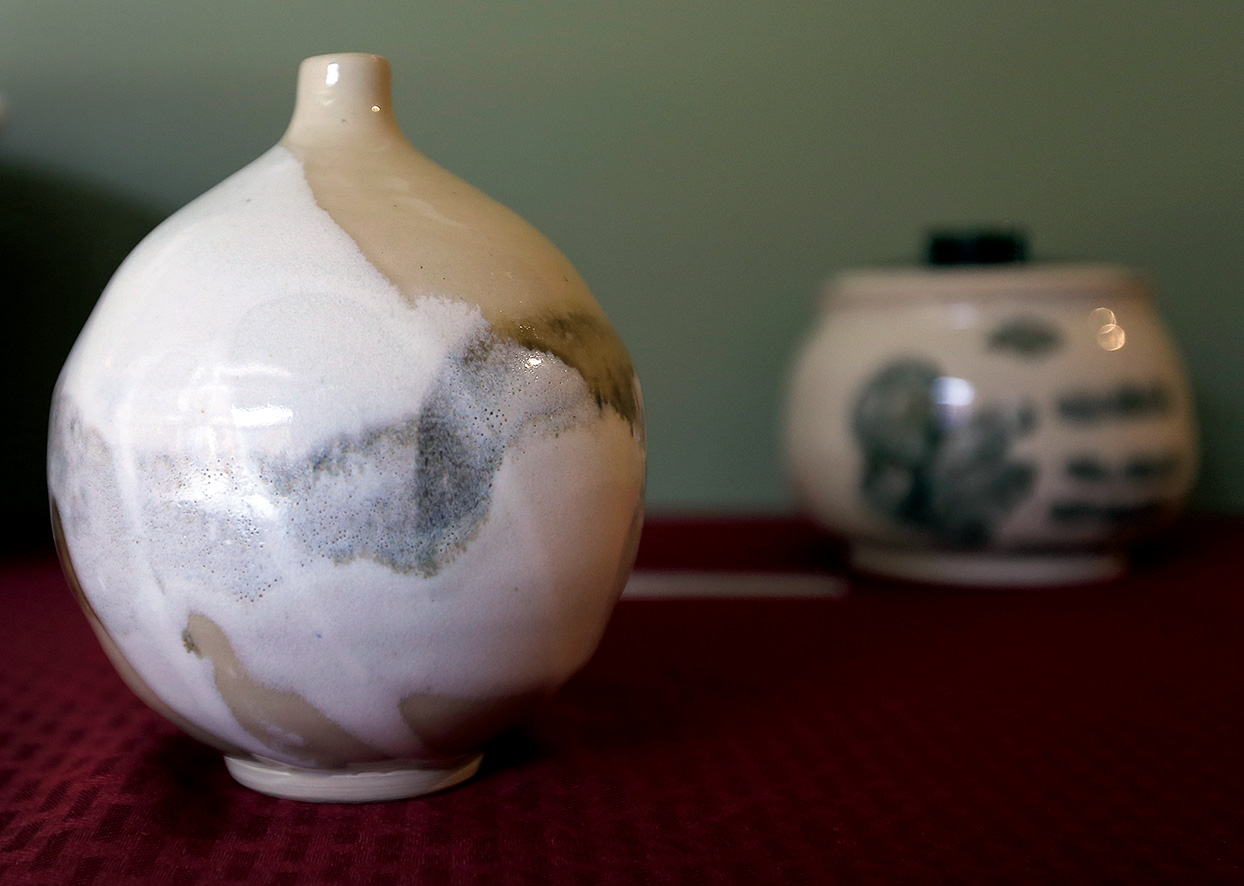 With all the concern about a massive earthquake hitting the Pacific Northwest, retiring Willamina High School art teacher Bill Boyson says he might be partially to blame if and when it does happen.
Boyson, who has taught art at Willamina since 1976, is currently teaching photography and ceramics, and as many local families can attest their homes are filled with student art projects created in his classes.
"I like to joke that if we ever have the big earthquake and Oregon falls into the ocean, the amount of ceramics in the Willamina, Grand Ronde and Sheridan communities might just be the tipping point," said Boyson.
His student' artwork is currently on display at the Tribal museum and cultural center, Chachalu, in Grand Ronde through June 30. The exhibit is titled "chxi-tilixam" and it features photography, wood working and ceramics by local youth.
Twenty students have their art represented, including the work of six Tribal members, in the exhibit of 33 photographs, 29 ceramic pieces and two wood carvings. Boyson has one of his five-piece tea pot sets and three of his bowls and plates displayed and Cultural Interpretive Specialist Bradley Leno has two ceramic pieces on display that he made when he was in Boyson's class from 1998 through 2001.
Also on display as part of the exhibit is a 7-foot-tall painting of Boyson by Tribal Artisan Travis Stewart. Stewart was in Boyson's class at Willamina High School in the early 1990s.
Boyson, who is retiring at the end of this school year after 39 years teaching at Willamina High, said he was honored to be asked to provide student artwork to Chachalu for the exhibit.
"Kathy (Cole) approached me about showing some student artwork and of course I thought that would be a great idea," said Boyson. "The main thing going on at the school right now is ceramics and photography. I went through and found some things in my class that I really liked."
Cole, who is the Culture Department manager, said when the staff at the museum found out that Boyson was retiring they thought an exhibit of his students' art would be the perfect way to honor him.
"We have been doing these rotating exhibits to bring more people in and we really wanted something for youth," said Cole. "He (Boyson) is very well loved. We gifted him a blanket."
Cole said it was Leno who was charged with bringing everything together and worked with Boyson to make it happen.
"I did all the contact with Boyson about arranging what pieces were going to come in and making sure that we had all the information for the bios (individual student artist biographies) that we did," Leno said. "It's a great feeling."
The exhibit features photography from Jessica Nolen, Emma Nolen, Jared Shaffer, Vanessa Hilpert, Emilee Elwood, Daisy Gray, Erin Ross, Yuting Tang, Alyssa Kennett and Tribal members Emily Sterling, Andrea Grijalva, Jillian Thomas and Micah Rogers.
Students providing ceramics work are Cian Bailey-Saucy, Brooke France, Stella Shaefer, Ethan Howard, Orion Boyd and Tribal members Madison Leno and Justin Fasana.
Fasana, who was selected by Boyson as student of the year at the high school's annual awards for 2015-16, also has two wood carvings on display.
"That's one of the sadnesses I'm feeling right now is that I won't get to be with him next year as a senior," said Boyson of Fasana. "I'm hoping he will do a senior project that involves clay and that I'll get to be his mentor because then I'll get to keep up with him. He has really advanced at such an astounding rate. He is in here (studio) all the time. To have that kind of youthful energy is inspiring for me and also infectious to the other kids. The next guy that comes into my office is coming into a pretty good situation."
Boyson said he has had a special relationship with many young Tribal members and that he has watched them grow up and become part of the Tribal community.
One of the close relationships he developed was with former student Stewart.
"It's hard for me to consider Travis as an ex-student, he's just more of a contemporary of mine," said Boyson. "He's a great artist."
Boyson said the most touching moment of the whole exhibit effort was receiving a Tribal Pendleton blanket and seeing the larger-than-life painting of himself created by Stewart.
"I think the thing that surprised me the most was when I went to the museum on the opening day and I turned around and saw that big portrait that Travis Stewart did of me," said Boyson. "It kind of overwhelmed me a little bit. I was really honored that Travis would pay homage to me that way.
"It just brought home the fact that I've been here a long time and I'm really proud of my association with the Confederated Tribes of Grand Ronde and seeing the Tribe evolve since 1976 when I first started. I was a witness to that. Just seeing the Tribe go from where it was in '76 to where it is today has just been incredible to see it happen and to know people that have been involved in that."
Boyson said the student display at Chachalu is more than just an exhibit to him.
"The event out there just meant a lot to me," said Boyson. "The two cultures coming together the way they have, it's the greatest thing."
When Boyson received the blanket, he said he thought of his late father and grandfather.
"I was talking to my mom and I said, 'Dad would have gotten the biggest thrill out of hearing that.' It is just so unique that that was able to happen. When my grandfather retired from the railroad he received a gold watch. How cool is it to get a blanket presented to you by a Native American Tribe. This is awesome. There is a lot of love going both ways."