Culture
Tribal member Tony Bynum an expert at capturing wildlife images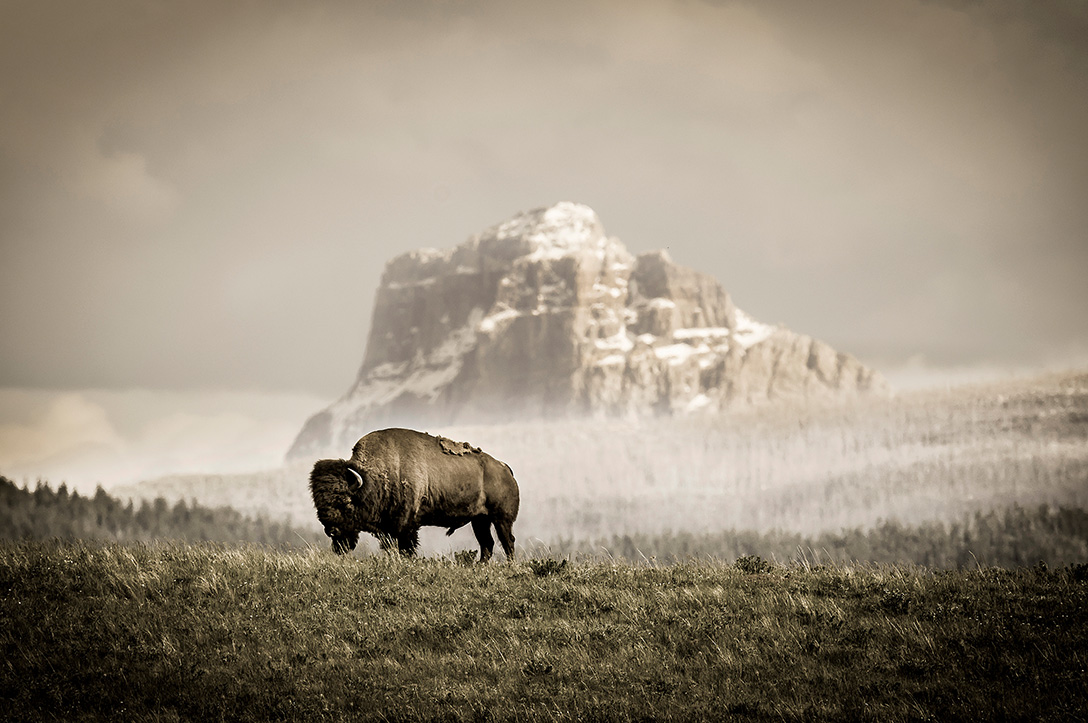 Imagine being high up in the Rocky Mountains of Montana and staring down an 800-pound grizzly bear sporting five-inch claws with nothing but a camera.
Imagine being close enough to two head-butting bighorn rams to not only capture the image, but feel the impact as well.
Imagine being flown into a remote location with nothing but the provisions in your backpack and then getting on a horse to ride even deeper into the bush knowing that for the next 14 days it will be just you and the elements.
This is the life of Grand Ronde Tribal member Tony Bynum.
Bynum, who lives at a 5,000-foot elevation on the Blackfeet Indian Reservation in East Glacier Park, Montana, is a celebrated outdoor photographer whose images have been featured in many magazines, on book covers, calendars and an NBC television show.
Facing down Mother Nature in such a tangible way wasn't always a part of Bynum's plan, but after growing frustrated with the policy side of wildlife conservation and becoming a father, he decided to be more hands on with his love of the outdoors.
Bynum, 45, is the son of Tribal Elder Janis Duddles and David Bynum, the grandson of Sally Jones Myrick, the great-grandson of Avery Jones, the great-great-grandson of Sarah "Sally" Hudson Jones and the great-great-great-grandson of Chief Alquema or Joseph Hutchins, who was the chief of the Santiam Calapooya. Alquema signed the Santiam Treaty of 1851.
Born in Walla Walla, Wash., Bynum moved to Olympia as a child and graduated from Capital High School. He earned a master's degree in resource management and undergraduate degrees in geography and land studies from Central Washington University in Ellensburg, Wash.
Bynum then spent the first 15 years of his professional life working on developing environmental regulations in Indian Country, first for the Yakama Nation and then for the Environmental Protection Agency in Washington, D.C.
Bynum became the acting senior Indian program manager in the assistant administrator's office at the EPA.
"I wasn't seeing change as rapidly as I wanted to see it, so I left that job in Washington, D.C., shortly after 9/11," said Bynum. "I had a daughter (now 13) after that and I decided I wanted to raise my daughter, and I wanted to focus in on being home and being around her."
Bynum's daughter, Jaida, is a member of the Blackfeet Nation. 
Building a portfolio  
Bynum said he had always had an interest in photography and spent the next few years building a portfolio of his landscape and wildlife images.
"He has worked very hard," said Grand Ronde Tribal Elder Tracie Meyer, who is Bynum's aunt.
Bynum said he worked on a number of large conservation projects as a photographer and that he liked the results.
"The imagery actually changed minds a lot faster than pushing papers or developing or working on policy at the highest levels of our government," said Bynum. "It was really driven – the whole photography thing – was really driven by an interest in the outdoors. I figured out I could actually influence people's thinking maybe in a more effective manner just by taking photographs and it was a lot more enjoyable. I got to be outside a lot more."
Since beginning his photography career, Bynum has photographed buffalo, bull elks, grizzly bears, black bears, mule deer, caribou, Rocky Mountain bighorn sheep, mountain goats, coyotes, northern pintail ducks, sage grouse, bull sprigs, geese, hawks and horses. He also has photographed bow hunters, rifle hunters, backpackers, kayakers, river rafters, rodeo riders, powwow dancers, yoga enthusiasts and children, as well as landscapes, flowers, trains, airplanes, lodges and a dog outside of a restaurant.
Bynum operates Tony Bynum Photography and FinalShot Photography as well as his seasonal Glacier Impressions Gallery. He also worked as a location manager for an IMAX film "Wild America – Our National Parks" that will be released in 2016.
When he is not out in the field shooting, Bynum writes a regular blog and an outdoor photography column for Western Hunter Magazine, where he is the photo editor as well.
Bynum is also the elected second vice president of the Professional Outdoor Media Association and a member of the board of directors of the organization.
Bynum has traveled the world taking pictures.
"I have been to over 40 different Reservations," said Bynum.
He has taken photographs throughout Montana – including Little Dog Mountain, Logan Pass in Glacier National Park, Sinopah Mountain, Chief Mountain, Badger Two Medicine area, Saint Mary Lake and Wild Goose Island, Swift Current Lake, Flathead Lake, Two Medicine Lake, Upper Missouri River Breaks National Monument and the Marias River.
Bynum has traveled to all the lower 48 states, Alaska, British Columbia, Mexico, Argentina, Africa and, most recently, to France and Switzerland to pursue his profession.
"The Swiss Alps are some of the most incredible places I've been," said Bynum. "That has to be one of the highlights, being able to go hunting and photographing in the Swiss Alps was pretty fantastic. The alps in France and Switzerland were pretty spectacular."
Most of Bynum's international travel has come during his time working on an outdoor sports television series called "Eye of the Hunter," which airs at 9 p.m. eastern time on NBC Sports Outdoors on Mondays. Episode clips of "Eye of the Hunter" also can be viewed at www.eyeofthehunter.com.
The show's producer and director Tom Opre hosts the show along with his wife, hunting consultant Olivia Nalos Opre.
Tom Opre, who has hosted the program for the last eight years, said the show is a big adventure series based around hunting.
"We travel the world and meet people and look into the history and cultures of the places we go," said Tom Opre. "We take Tony along with us to do photo documentation of everything. The stuff he shoots looks like it comes right out of National Geographic. He is an awesome photographer. It really helps us."
Tom Opre said that he also shoots high definition film for several clients and that he takes Bynum on those outings as well.
"Often while we are doing these shoots, they (his clients) would like to have professional still photography so we bring Tony on," said Opre. "We are traveling around and we were just in France and Switzerland a couple of weeks ago. We were hunting mountain ibex. We're hiking, climbing up mountains. We're stopping off at villages, eating at restaurants that only serve wild game taken from the surrounding area. We meet a lot of different people from different places.
"Tony has been all over the world with us. He's such a phenomenal photographer. He's just got a great eye for capturing relevant, real subject matter. He's able to capture these moments in time. It works out really great because he captures the essence of what we do.
"We're out there in the wilderness, on horseback or flying in little planes to get to the middle of nowhere, and being able to live out there and be comfortable takes a special kind of person to be able to do that. Tony is a great guy, great to be out there with. We're always striving to do things better than the last time we did them. Tony and I always push each other when we are out on location. He is just a phenomenally great professional."
While working with Opre on a television shoot in northern British Columbia, Bynum met guide/outfitters Jim Peterson and Dempsey Callison of Tahltan Outfitters. Both Peterson and Callison live and work out of Smithers, B.C., which is east of Ketchikan, Alaska.
Peterson, who has been a guide/outfitter for the last 15 years, brought in Callison for this particular assignment.
Callison, 77, is a living legend of sorts in the area and has been a guide/outfitter for 35 years. Callison said when he met Bynum on the trip to hunt stone sheep, he was impressed.
"I met him at a place called Gun Lake," Callison said. "Then, of course, we traveled together up into the mountains and it was fantastic. He definitely was a real pleasure to work with. He is very professional."
Callison said that the Canadian government divides areas up into hunting zones for the guides and that is the area they work out of. He said his area is the northwest part of the province within about 100 miles from the Yukon border.
"It is remote," said Callison. "The area that Tony was in is even more remote because there isn't any roads at all. It's one of the only areas in British Columbia that there are no roads at all. It is 214 miles of just complete wilderness."
Peterson agreed with Callison on Bynum's professionalism and he said you learn a lot about people when you spend the night in a cave with them.
"He (Bynum) was awesome," said Peterson. "He was a super guy."
Tom Opre said he has plans to include Bynum in his next television series that will air in 2016.
According to Opre, "No Boundaries" also will be an outdoor adventure series that will feature a more in-depth look into the people in these remote locations.
"Tony is going to be an integral part of that as we move forward with production in 2016," said Opre. 
Obtaining images difficult
Bynum said getting standout images of wildlife is not easy.
"Most people don't care that it took 20 tries on 20 different days climbing a mountain getting nothing, getting nothing, getting nothing," said Bynum. "The story behind the image resonates with me because it took a lot of effort."
Bynum has had his images featured on the covers of magazines like Sports Afield, Outdoor Life, Field and Stream, American Hunter, Bowhunt America, The Wilderness Society, Backcountry Journal, Montana Magazine, Elk Hunter Magazine, Montana Outdoors and many more.
While working for the state of Montana, Bynum's photographs appeared on the side of trains in Chicago, in the Minneapolis-St. Paul International Airport and the Mall of America in Minnesota and the side of a city bus in Seattle.
"I've actually had an image in downtown Seattle that was an entire city block," said Bynum. "The whole side of the building was painted with one of my images. They were all advertising placement for the tourism department in Montana."
Fellow outdoor photographer Rod Sinclair of Sinclair Imagery Inc. said he has had many adventures with Bynum and considers him to be a good friend and partner when it comes to shooting photographs in the wilderness.
"I met Tony eight or 10 years ago after he saw a few photos that I had posted on the Internet on a wildlife site where I live in southern Alberta," said Sinclair. "I'll tell you this - Tony is amazing. And I quite frankly learned everything from Tony. When I met Tony he was already well on his way to being at the professional level and he just excelled.
"Like any artist you have to have something inside you that is there that other folks don't perhaps that makes you stand out. And Tony is one of those. We found out we share a passion for the environment, wildlife and scenery. He just shared a number of his secrets with me both technical and non-technical. You just have to be able to understand wildlife, their habitat and be thinking like the wildlife that we are shooting so you can capture it. It's something you are born with."
Sinclair, whose work has been featured in National Geographic, said he is a loner and will only work with Bynum on photo shoots.
"He is fun to be around," said Sinclair. "But his values and his principles – he is the top of the line. He is one of Montana's, and as far as I'm concerned, North America's top wildlife photographers and landscape photographers without a question. He's the real deal."
Even though his profession takes him all over the globe, Bynum's home is in the Rockies.
"I never tire of coming back to the Rocky Mountains," said Bynum. "I'm always proud to come back. You know when you're home. This is the place for me. I love it a lot."