Tribal Government & News
Coyote Joe's continues holiday tradition with Tribal gifts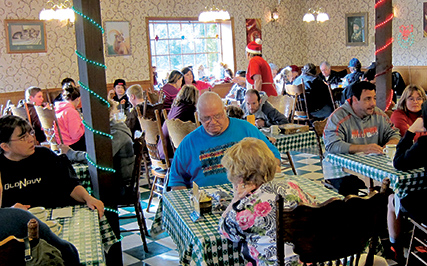 In its 19 years as a Willamina restaurant, Coyote Joe's has had two cars drive through its front window and experienced two burglaries.
The most recent theft occurred on Oct. 15 and it almost derailed the restaurant's annual free Christmas dinner, a tradition almost as old as the restaurant itself.
But riding to the rescue were Grand Ronde Tribal Elders and their Tribal Council.
"We all talked about it and decided to give $1,000, almost all we had left," said Tribal Elder Julie Duncan referring to the Tribal Elders Committee of which she is a member. She and her husband, Bob, are not the only Elders who eat at Coyote Joe's often during the year.
"We knew that he serves older people in the community," Julie said. "A lot of Tribal people go over there, too. The Christmas dinner serves a good purpose to the community because a lot singles go there for Christmas, and others who have no place else to go."
The donation came about when the Elders Committee gave its quarterly report to Tribal Council in early December. Tribal Elder and Elders' Committee member Richard Ray made the pitch.
"I raised the question of helping out the restaurant in light of the robbery," Ray said.
In addition to the Elders' Committee contribution, Tribal Council agreed to donate another $250.
Year-round, the Rays are patrons of Coyote Joe's. Ray said that his job is to harass the waitresses. For the last five years, the Rays have contributed $100 toward the Christmas dinner.
It is a large cast of characters who make the dinner happen every year. This year, volunteers took a lump of coal that came in the form of a makeshift crowbar used during the robbery and replaced it with turkey, ham and fixings for more than 600.
"One of the largest crowds ever," said Coyote Joe's owner Rolly Heuser, a Willamina resident.
Heuser has owned Coyote Joe's for all but three months of its run, going back to October 1993. A group that became the staff had started the restaurant in summer of that year.
Ray and his wife, Kathy, have been volunteers at Coyote Joe's Christmas dinner almost from the start.
 "The whole thing is run by the community," Richard says. "The community donates turkeys and time, presents and money." This year, Kathy was hostess and Richard did "pretty much anything that needed to be done."
Coyote Joe's employees volunteer on Christmas for the job they do daily. Other volunteers from throughout the area, adding up to some 25 in all, did every imaginable restaurant job, from collecting, delivering and preparing the food to waiting on tables and clearing them to washing dishes and resetting the tables.
Credits this year also included Willamina retiree Bob Hollister, who stood in for Santa Claus. He has starred in the show for the last two years and more in years earlier.
Under his tailored red suit with white accents, Hollister gave out what seemed like thousands of toys and gifts both to children and women.
The Total Destruction team with some 40 local members, coordinator of the annual mud drags in town, also collected toys and other gifts for the dinner at the McMinnville Bi-Mart.
In years past, Heuser said, the group has collected about $1,500 worth of gifts.
Dinner guests come every year from the local Willamina, Sheridan and Grand Ronde areas and beyond. They travel from McMinnville and Dallas to eat on Christmas Day, too, Heuser said.
Roy Whitman, a retired Willamina teacher, along with Future Farmers of America students from Willamina and Perrydale high schools made off-stage appearances, collecting 300,000 pounds of food this year. Some went to Coyote Joe's Christmas dinner, some to local food banks and a truckload also went to Coos Bay this year, Heuser said.
Volunteers from the Free Methodist Church in Willamina processed vegetables for the dinner.
Willamina High School contributed use of its cafeteria freezers and ovens. The school allowed the restaurant to store perishables in the days leading up to Christmas and to use cafeteria cooking facilities that enabled Whitman and his crew to turn a massive amount of raw food into four-star dinners.
 "We had 25 full-sized trays that needed to be cooked," Heuser said.
Whitman started cooking at 6 a.m. Christmas Day and by 9 he was delivering complete hot dinners to Coyote Joe's.
 "We couldn't handle all that in our kitchen," Heuser said, though Coyote Joe's cooking facilities also were busy all morning.
Heuser and staff scheduled the event from 11 a.m. until 2:30 p.m. A line started forming a little after 10, though, so the place opened and dinners were served well beyond the scheduled closing time.
"We were still full at 2:30," Heuser said, "and we continued serving those already in the restaurant."  In true Christmas fashion, they served everybody who came to their door.