Culture
Student Spotlight - Andrea Grijalva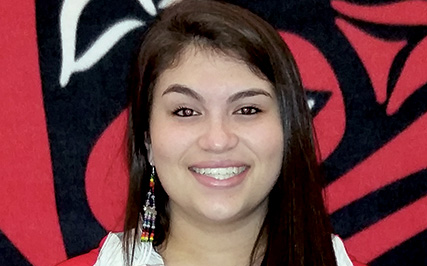 By Tiffany Mercier
Youth Education administrative assistant
"Have you ever met a person who can just make your entire day feel better?" asks Youth Education Department's Chris Bailey when asked about Willamina High School sophomore Andrea Grijalva. "Besides being a dedicated student and athlete, Andrea has shown that she cares about her community and fellow students."
Andrea was chosen as this month's Student Spotlight. She has one of the top five grade point averages for Native American students in the Willamina School District, proving that education is a priority in her life.
An amazing student, talented athlete and caring community member, Andrea is shining proof that Tribal youth are able to succeed despite teenage obstacles. Her favorite subject in school is English and she said she finds math to be her biggest struggle.
When asked how she is able to overcome this challenge, she says, "I wouldn't make it through without Chris and Youth Education. Sports is another big thing. They help me a lot."
With a love of sports, Andrea balances her education with involvement in volleyball and basketball. Her goal is to attend the University of California, Los Angeles, and pursue a degree that will "help people be active and healthy."
Andrea says that one of the biggest challenges to academic success is the immense amount of peer pressure to make unhealthy choices. She has made a choice to overcome this pressure and offers advice to other youth by saying, "Don't get caught up in it. Have your mind set on what you want. Know that high school will not last forever."
She said that involvement in her Tribal culture and community helps her maintain a sense of self and the strength needed to know who she is and what she wants. As an active leader in the formation of a Grand Ronde Youth Council, she hopes to help youth be engaged and have a voice within the community.
Her mother, Stephanie Simmons, is incredibly proud of Andrea and all of her hard work. "She has grown into a beautiful, intelligent young lady who has a very good head on her shoulders," Stephanie says. "She works hard to keep her grades up so she can go on to bigger and better things when she's done with high school. I will be here for her every step of the way. I am very proud of her."
Andrea has shown tremendous growth personally, academically and with her leadership abilities. Balancing school, sports, family, friends and her community, Andrea definitely has a full load of responsibilities. She keeps her eye on the future and is willing to take the necessary steps to reach her goals. The dedication, focus and leadership that she exhibits on a daily basis is truly an inspiration for all Tribal youth.