Tribal Government & News
Reibach nominated for best artist, flutist at Native American Music Awards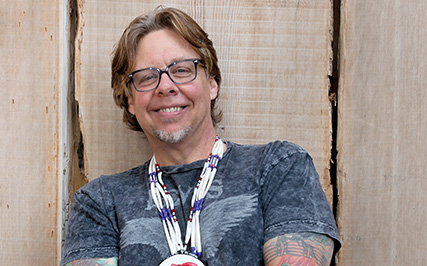 Jan Looking Wolf Reibach will be presenting at the 15th annual Native American Music Awards being held Friday, Nov. 14, at the Entertainment Center at the Seneca Allegany Casino & Hotel in Salamanca, N.Y.
Reibach was nominated by NAMA for Artist and Flutist of the Year for his compact disc "Tamanawas."
Reibach is attending the event and will perform "Fire and Water" from the release.
"Tamanawas" - Chinuk Wawa for "guardian spirit" - was released earlier this year on Arizona music label High Spirits and includes drumming by Tribal member Bobby Mercier on some of the songs.
The CD is dedicated to Tribal member Nicholas Larry Lee Faas, the son of Kathy Cole, who walked on at the age of 24 as the result of a May 2008 car accident.
Reibach said he recently signed a three-record deal with High Spirits to be recorded over the next six years.
"Music remains a strong part of my life," he said. "I really hope that Tamanawas wins because this CD is dedicated to Nick."
Voting to determine the winner in each category is open to the general public. Music tracks from all the nominees are featured on the awards' website at www.NAMALIVE.com.
Reibach is a multiple Native American Music Award winner, having been honored previously as Best Flutist, Artist of the year, Record of the Year, and Best Music Video respectively. "Tamanawas" was the 19th compact disc release since making his first CD with a home digital recorder in 2003 in the bedroom of his then Grand Meadows home.
"Tamanawas" is internationally distributed at stores and at several sites on the Internet, including www.highspirits.com.