Culture
Reibach receives fourth lifetime achievement award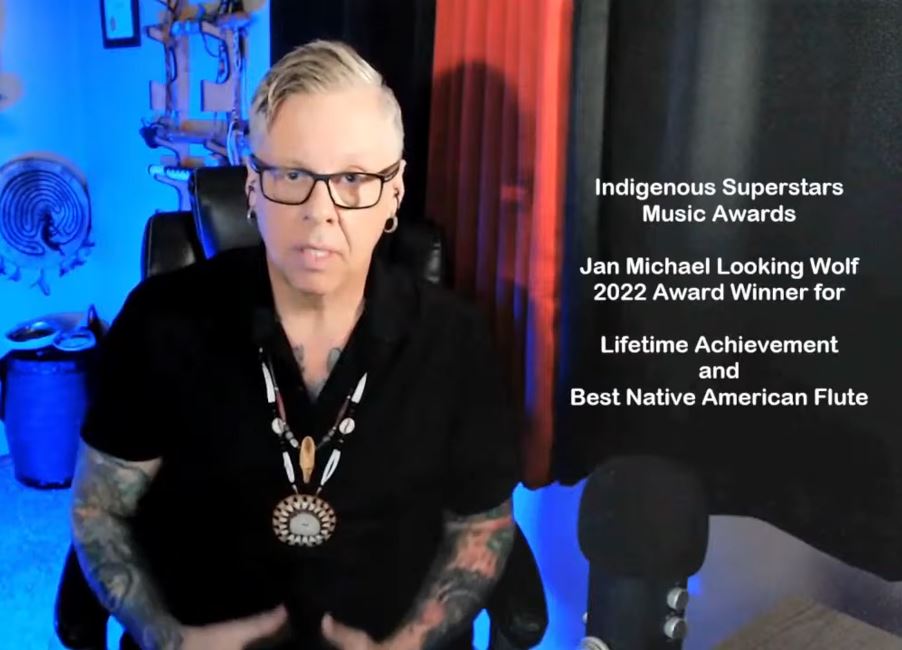 By Dean Rhodes
Smoke Signals editor
WINNIPEG, MANITOBA -- Grand Ronde Tribal member Jan Michael Looking Wolf Reibach received his fourth lifetime achievement award on Sunday, Feb. 13, when the Indigenous Superstars Music Awards honored him for his "remarkable impact" over the course of 28 Native American flute albums.
"We are pleased to announce the presentation of the highest honor of the Lifetime Achievement Award for Jan Michael Looking Wolf for the remarkable impact through his music artistry, as a Native American educator and humanitarian that spans decades," said Awards Program Director Rhonda Head. "The lifetime award is presented in memory of Canadian Aboriginal musician Vince Fontaine."
In addition to the lifetime award, Reibach also won the award for Best Native American Flute Recording for his album "Earth Tribe" that was released in 2021.
Reibach, who works as the Tribe's Lands Department manager, thanked everyone for their love and support.
"Without you, this music would not be possible," he said. "Without love, the notes on my flute would be meaningless. And without the Creator, I would not even have breath to share. Music is a language that we all share together. Everyone on Mother Earth is a descendant of an Indigenous ancestor, and in that way we are all related. Please remember that your feelings are so important and that you are appreciated."
In his career, Reibach has released 26 albums, performed more than 700 concerts, made dozens of music videos and taught accredited Native American flute courses for 20 years at universities including Oregon State.
The Indigenous Superstars Music Award honor marks the fourth lifetime achievement award that Reibach has received. In 2020, he became the first Native American and flutist to receive the Global Music Awards Odyssey Award for a lifetime achievement in music. He also is a Hall of Fame member at One World Music Radio and lifetime achievement honoree from Spirit Wind Records.
His music career also includes seven Native American Music Awards, including Artist of the Year, and 11 Global Music Awards. He has received the Peace Star Award from Oregonians for Peace and a Hero Award from the Children's Cancer Association.
The Indigenous Superstars Music Awards was broadcast in Canada to recognize prominent Native artists in North America (Turtle Island). It can be viewed on YouTube at www.youtube.com/watch?v=OjHBfh6h7Rw with Reibach accepting the lifetime achievement award at about the 46-minute mark.