Culture
Veterans Powwow honors LaBonte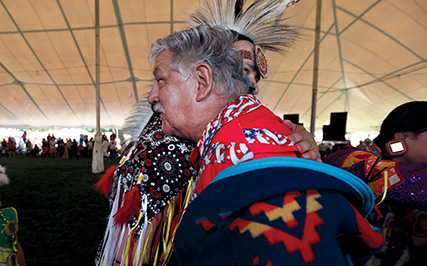 The three-day Marcellus Norwest Memorial Veterans Powwow held at Uyxat Powwow Grounds on Friday, July 11, through Sunday, July 13, honored Tribal Elder and Navy veteran Gene LaBonte on Saturday, July 12.
During the Vietnam War, LaBonte served in Stockton, Calif., for three years, 11 months and 29 days, he said, as a Radioman 3rd Class Petty Officer.
"I never went to sea," LaBonte said. "I was a dry land sailor. It takes 100 non-fighting personnel to support one soldier."
Ever since, LaBonte has been active in veterans' affairs. He has participated in many capacities for many years at the Tribe and in 2008-09 LaBonte was elected vice chair and then chair of the nine-member Governor's Advisory Committee on Veterans Affairs.
LaBonte was appointed to a four-year term on the committee in 2008 by then-Gov. Ted Kulongoski. He served as chair for one year, becoming the first Native American to serve on the committee, as well as serve as its chair.
LaBonte worked toward two goals during his term on the Governor's Advisory Committee: ensuring continued funding of the existing veterans' home in The Dalles and building a second one in Lebanon. Veterans build the homes and support them with private contributions.
The Dalles home has been funded without a break since LaBonte served on the Governor's Advisory Committee.
The second home is "coming along," LaBonte said, and is scheduled to open in September.
LaBonte also sought legislation to equalize payments to all veterans. The so-called "a vet is a vet is a vet" bill ensures that veterans are paid equally, whether they served in a battle zone or were based in the United States. LaBonte has been practicing that policy for years in Grand Ronde.
He has been a longtime member of the Grand Ronde Color Guard. His leadership and hard work made it possible for the Tribe to supply color guards to veterans' events for many years across Oregon.
He also has worked for many years with the Northwest Indian Veterans Association.
"He is a community member who always goes beyond the call, helping people whenever he's needed," said Tribal Elder and Veterans Special Event Board Chairman Steve Bobb Sr. "He is a very big part of all of our lives."
With typical self-effacing humor, LaBonte, 73, translated that into, "I think they want to get rid of me." As a way of saying they weren't going to succeed, he added, "You can't give up on veterans. Once a vet, always a vet."
Veteran Bill Stam, who runs the All Nations Native American Veterans Memorial in Jefferson, said, "Gene has kept me out of trouble." He presented the veteran of the moment with a copy of a plaque honoring him. The original will be mounted at the All Nation's memorial.
"You can't do anything by yourself," LaBonte said. "Without (so many veterans who have helped him over the years) I could have been nothing."
Tribal Council Chairman Reyn Leno, a Marine Corps veteran, and Tribal Council member June Sherer, an Army veteran, presented a blanket to LaBonte and draped it over his shoulders.
"For your effort and commitment," said Leno, "may you always be surrounded by warmth and surrounded with love."
LaBonte also received a plaque and a gift certificate for a stay at the Oregon Coast.
His wife, Billie, and four generations of the LaBonte family were in attendance for the honoring. Later that day, the family was headed to the wedding of granddaughter Brianna Nann.
This year's Veterans Powwow, "Honoring Our Warriors Past and Present," also honored two Tribal World War II veterans who walked on earlier this year - Allen "Biff" Langley and Eugene Hudson - as well as a special event honoring Korean War veterans.
The powwow started with the first Grand Entry, drummed in by host drum West Hill Boys, at 7 p.m. Friday. It was the first of four grand entries over the weekend including those held at 1 and 7 p.m. Saturday and 1 p.m. Sunday.
Nick Sixkiller, a familiar face at powwows in Grand Ronde, was again the master of ceremonies. Albert Summers was Arena Director and two other familiar powwow faces, Deitz and Rose Peters, served as Head Man and Head Woman.
Deitz Peters and LaBonte led the first Grand Entry carrying Eagle staffs.
Veterans, drummers and dancers arrived from all over - from the Nez Perce Tribe in Lapwai, Idaho, to the Dine (Navajo) people spread across parts of Arizona, Utah and New Mexico. They came from the Lummi Nation in northern Washington and from the Burns Paiute Tribe north of Burns in eastern Oregon.
Deitz Peters sponsored the Men's Traditional won by Irvin Tso and Rose sponsored a drum contest on Saturday evening that was won by Northern Black Horse.
The family of Marcellus Norwest sponsored a Tiny Tot special.
Gourd dancing was held on Saturday and Sunday mornings, and Intertribals were held every day and three times on Saturday. A blanket dance earned $134.57.
Exhibition dancing and committee specials included Women's Basket Cap, won by SuSun Fisher; Teen Girls Jingle Jackpot won by Destiny Summers; and Teen Boys Grass Jackpot won by Josiah Barney.
Raffle winners were Jerry Barkley, 70-inch TV; Tribal Vice Chair Jack Giffen Jr., Traeger grill; and Fran Hartsfield, Spirit Mountain Casino package.
Oldest veteran in attendance was 90-year-old Don Cook, a World War II Army Air Corps veteran who served in Okinawa.
Oldest woman veteran in attendance was 83-year-old Dorothy Ackerman, who served as a chaplain's assistant in the Women's Air Force during the Korean conflict. She wrote letters that were sent to the families of airmen killed in action. "It still gets to me today," she said.
Both Grand Ronde and Veterans Royalty were introduced Friday evening and they helped all weekend. The young ladies in their regalia included Savannah Ingram, Veterans Queen; Amelia Mooney, Junior Veterans Queen; Goldie Bly, Senior Miss Grand Ronde; Iyana Homes, Junior Miss Grand Ronde; Kaleigha Simi, Little Miss Grand Ronde; Promise Rimer, Grand Ronde Princess; Elizabeth McRae, Grand Ronde Princess; Hailey Little, Grand Ronde Princess; Elizabeth Watson Croy, Grand Ronde Junior Princess; as well as two members of Royalty from other Tribes.
Drums were All Nations, Me Hock Pride, Little River, Big Eagle, Woodsmen, Johonaaii, Wondering Boy, Turquoise Pride, Northern Black Horse, Ani Ni Gi and 4 Directions.
Bobb gave the invocation and Leno gave a welcome speech that talked about how meaningful this "very sacred ground" is to the Tribe. He added that the powwow is "not just about honoring veterans this weekend, but honoring them every day."
Multiple Native American Music Awards recipient Jan Looking Wolf Reibach played taps and "Amazing Grace" on Native flute. Trumpeter Loren Corpuc, as he has for many years, bugled the songs of each of the different branches of the U.S. armed forces.
"It's a good life," Sixkiller said.