Culture
Spirit Mountain Stampede saddles up on July 19-20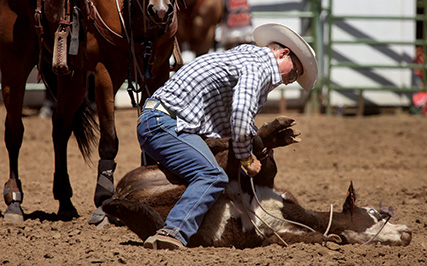 Northwest Professional Rodeo Association competitors will return to Grand Ronde on Saturday and Sunday, July 19-20, to compete in the annual Spirit Mountain Stampede at the Spirit Mountain Rodeo Grounds on the Tribal campus.
Competition is scheduled to start at 1 p.m. both days as cowboys and cowgirls will compete in bull riding, steer wrestling, saddle and bareback bronc riding, tie-down roping, breakaway roping, team roping and barrel racing.
Winners of the rough stock bronc and bull riding events will win $1,800 in addition to a portion of the entry fees while winners of the timed events will receive $1,300 and a portion of the entry fees.
There also will be open events for children along with donkey races for those 12 and older, as well as featured performances by the Rodeo Bandits.
The Confederated Tribes of Grand Ronde hosted the NPRA-sanctioned event from 1996 through 2008. Because of the nationwide recession, the Stampede was not held in 2009 or 2010. Starting in 2011, the Stampede has been supported by Spirit Mountain Casino with additional personnel and financial backing to help keep the tradition continuing.
"The Rodeo Special Event Board put in hundreds of hours to prepare for this year's event," said Rodeo Special Event Board Secretary Jim Holmes.
Holmes said this year also marks the second annual Stampede Series All-Around award in conjunction with the Santiam Canyon Stampede. Competitors must enter both rodeos to be eligible for a $2,000 prize and custom Gist buckle.
The all-around Cowboy and Cowgirl prizes will be awarded on Championship Sunday immediately following the bull riding event. The Merle Holmes Memorial Bull Riding Champion Trophy also will be awarded on Sunday.
Tickets are $10 for adults and $5 for children. Children 4 and younger are admitted free. Tickets can be purchased in advance at www.spiritmountain.com, at the Coyote Club desk or at the gate, which will be cash only. Half-price tickets with a Tribal ID are available at the gate.
Stock will be provided by Howell Rodeo Co.
Free parking will be available at the casino with shuttle buses running between the casino and rodeo grounds.