Culture
Reyes wins state wrestling title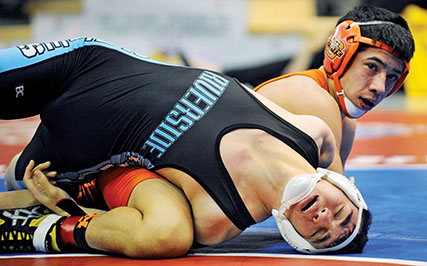 By Dean Rhodes
Tribal member Michael Reyes, a sophomore at Willamina High School, won the Class 3A state wrestling title at 120 pounds on Saturday, March 1, during the OSAA Wrestling Championships held at Memorial Coliseum in Portland.
Reyes pinned Elijah Conlon of Riverside at the 5:46 mark to take the title.
To reach the finals, Reyes defeated Emmet Earlywine of Rainier High School 6-2.
At the March 2 General Council meeting, Tribal Chair Reyn Leno mentioned Reyes' accomplishment on the mat, but also said he was a straight-A student who beads.
Reyes is the grandson of Bonnie Tom.
Leno spent the previous two days at the wrestling championships watching his grandson, Justin Fasana, compete for Willamina High School.
Tribal member Matt Hofenbredl, who attends Dallas High School, lost in overtime at 126 pounds in the Class 5A competition.
Hofenbredl, a state champ his first two years of high school, was upset in a 4-2 decision against Hood River Valley's Christian Marquez.
Hofenbredl, who battled a knee injury most of this season, almost had Marquez turned in the third period, but he was ruled out of bounds.
Late in overtime, Hofenbredl shot in on Marquez, but Marquez took him down for the win.
To get to the finals, Hofenbredl beat Valen Wyse of Hermiston High 7-2.
Includes information from the Salem Statesman-Journal.