Culture
Gathering of Oregon's First Nations Powwow still standing strong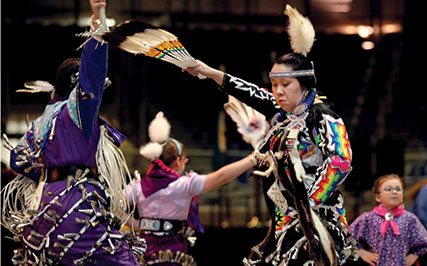 ,
SALEM -- Intertribal cooperation in preparing for this year's Gathering of Oregon's First Nations Powwow, "Standing Strong," was "phenomenal," said Siobhan Taylor, Public Affairs Director for the Grand Ronde Tribe.
"There was such a good feeling among Tribes this year," Taylor said of the sixth annual event held Saturday, Jan. 25, inside the Salem Pavilion at the Oregon State Fair & Expo Center.
Taylor and her administrative assistant, Chelsea Clark, took the lead in preparing for the popular event that has been cherished by sponsoring Tribes since the first one occurred in 2009. They also found support from Tribal leaders of the four participating western Oregon Tribes that have hosted the powwow every year.
The first powwow coincided with Oregon's 150th birthday celebration. The idea was to inform Oregonians that although Oregon was turning 150, Tribes and their ancestors have lived in what became Oregon since time immemorial. The late January date remains symbolic of that history since the powwow occurs before Oregon's birthday in mid-February.
The event was planned only for that first year to make the statement, but the popularity of the event, which has drawn as many as 5,000 attendees, encouraged Tribes to make the Gathering of Oregon's First Nations Powwow an annual event.
Participating Tribes this year were the Confederated Tribes of Grand Ronde, the Coquille Indian Tribe, Confederated Tribes of Coos, Lower Umpqua and Siuslaw Indians and the Cow Creek Band of Umpqua Tribe of Indians.
Although the Confederated Tribes of Siletz Indians of Oregon helped sponsor the first few powwows, Siletz has not participated as a sponsor in recent years. Individual members of the Tribe, however, continued to support the event.
Siletz canoe carver Willy Towner showed three of his canoes on the floor of the Salem Pavilion. Two previously carved canoes were of western red cedar and the third canoe, from a Sitka spruce, was still being carved at the powwow. It was one of many demonstrations at the event.
Towner wore a red T-shirt that read "Culture Over Politics," a comment on Siletz having backed out of the event.
Friendliness among sponsoring Tribes was evident to all in attendance, estimated at 2,000 this year.
As Grand Ronde Tribal Council Chairman Reyn Leno said to the crowd, "Welcome to the ceded lands of the Grand Ronde, but wherever (this powwow) is held, it's always about people coming together, Indian or non-Indian, to learn about our cultures."
That spirit of friendship was seen among the different Tribes represented at the head of this year's Grand Entry. Elder chiefs from Siletz, Umatilla and Warm Springs participated in the 1 p.m. Grand Entry with an Honor Guard made up of veterans from the four host Tribes. Tribal Council representatives from each Tribe marched in by date of their Tribe's Restoration.
Former Grand Ronde Tribal Council member, Vietnam-era Marine Corps veteran and Tribal Elder Steve Bobb Sr. carried an Eagle staff during Grand Entry.
"Tribal leadership made a commitment of time, money and resources, and gave staff encouragement and support to work on the project that took a year-long commitment to preparations," said Taylor.
The growing success of Tribes in regaining lost rights and territory also may have been a catalyst for the good feelings.
Ron Brainard, 72, current Tribal chair and member of the Confederated Tribes of Coos, Lower Umpqua and Siuslaw Indians' Tribal Council for almost 20 years and a leader in the development of the powwow, reminisced about how far the Coos Tribe has come during his years as a Tribal leader.
He said that as far as he could trace his family's heritage, they have all lived in Coos Bay, where the Tribe is located.
He remembered how his great-grandmother talked to the children in the family. "We thought she was just an old Indian woman telling us stories, but it was our history she was telling. It was not the way they tell it in the history books," Brainard said.
Brainard said he anticipates retirement from Tribal politics and will not stand after his term ends in April.
Highlights of the event, and there were many, included the Grand Ronde Canoe Family protocol and hands-on cultural demonstrations by all sponsoring Tribes, particularly demonstrations for children.
Among the Grand Ronde demonstrations and craft exhibits were necklaces, carving, weaving and jewelry. Education and culture specialists led by Cultural Education and Outreach Program Manager Kathy Cole had a number of books on hand for people to enjoy learning the Chinuk Wawa language.
In addition, for the first year the Grand Ronde Tribe held a showing of the design and a raffle for Chachalu, the Tribal Museum and Cultural Center. The Yamhill Kalapuya people called the Grand Ronde area Chachalu, which translates to "place of the burnt timbers." The name came from a massive forest fire that burned through the Grand Ronde Valley shortly before relocation in 1856.
Tribal Historian David Lewis is spearheading the effort to raise funds for building the museum and reported $166.92 raised from the raffle, direct donations and book sales.
Grand Ronde promoted its museum at this year's gathering. Next year, a different host Tribe will have that privilege, Taylor said.
The Confederated Tribes of Coos, Lower Umpqua and Siuslaw Indiansshowed the use of tule reeds and taught visitors how to make items like mats and animals from the traditional material.
The Tribe also showed traditional stick/dice games, woven hats, ducks made of tule reeds and a leister spear used to harvest salmon. In addition, they showed two redwood canoes on the pavilion floor.
The Coquille Indian Tribe showed artifacts found in the south fork of the Coquille River. On display were a canoe weight that served as an anchor, a pestle, an antler-carved spoon and the carving tool traditionally used in the area.
Cow Creek Band of Umpqua Tribe of Indianshad their Takelma language coloring book and language/number booklet and memory game on display. Tribal Elder Butch Bochart assisted children with making their own necklaces out of medallion-shaped pieces of wood and beads.
Former Grand Ronde Tribal Council member and Tribal Elder Wesley West, and his wife, Delores, were among 49 vendors this year. They showed West's cradleboards made with rabbit fur and deer and elk hides in a Paiute/Kalapooia design.
Grand Ronde Tribal Council members in attendance were Chairman Reyn Leno, Cheryle A. Kennedy, Jon A. George, Denise Harvey, Ed Pearsall, June Sherer and Kathleen Tom.
Respect for veterans in attendance started with an honor song followed by self-introductions by veterans in attendance. An Honor Guard representing many Tribes posted the colors.
Host drums for the powwow were Woodsman, Star Horse, Bulls 'n Bears and Dancing Thunder, but drums from all over kept showing up, Taylor said.
Guest drums included 4 Directions, Johonaaii, Turquoise Pride, Little River, Spring Creek, Splata Da Alla, Striking Lightning, Rock, A Fellas, All Nations, Me Hock Pride, Good Medicine, Nicht Yow Way, Big Eagle, Sacred Earth, Northern Black Horse, Medicine Water, Calm Waters and Heart Break Ridge.
Chief Warren Brainard of the Confederated Tribes of Coos, Lower Umpqua and Siuslaw Indiansoffered the invocation.
Dance specials included Men's and Women's Traditional, northern and southern styles, and in the evening dance competitions in those styles; an Owl Dance special; father-son and mother-daughter specials; and the Veterans Recognition Honor Dance.
Among the winners were Katie and John Beavis of the Umatilla Tribe, who won the Owl Dance special. Katie Beavis also won the Women's Traditional special. And Saul Jurado of the Confederated Tribes of Siletz Indians of Oregon won the Men's Traditional special.
Among volunteers were Elders, younger members of the Tribe, staff and Grand Ronde community members. In addition to Taylor and Clark, demonstration booth volunteers included Greg Archuleta, Cole and her father Larry, Lewis and his sonInatye, Julie Brown, Dolores Parmenter, Brian Krehbiel, Travis Stewart, Flicka Lucero, Johnny Lucero, Chris Edwards, Jon A. George and Bobby Mercier.
Nick Sixkiller (Oklahoma Cherokee) was master of ceremonies and Tony Whitehead (Siletz) was arena director.