Culture
'Renewing Spirits' fights back in war on Native women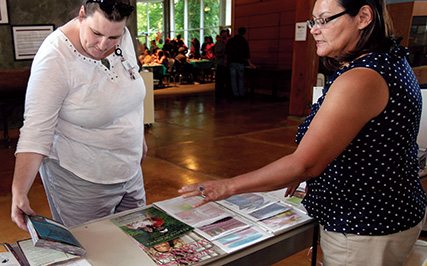 At the "Renewing Spirits" meeting held at the Elders' Activity Center on Monday, June 17, a sticker sitting on one the vendor tables read, "Sexual violence is NOT our tradition."
Outside, a line of T-shirts hung from string and featured hand-made ideas for fighting domestic and sexual abuse in Grand Ronde. Tribal staff members who are trauma survivors, their friends and family members printed the advice on the T-shirts. One said: "SPEAK UP! About battery against women … if you don't, we can't help."
Another concluded: "So we can see ourselves for who we are: complicit."
The three-hour session, led by attorney Rose M. Quilt (Yakama/Lummi), program specialist for the Montana-based National Indigenous Women's Resource Center, pointed to solutions.
"It takes a village," she said. "Ending violence against women is integrally tied to reclaiming our traditional, natural lifeways."
Throughout the session, heart-wrenching statistics about the prevalence of domestic and sexual violence against women, from the federal Department of Justice, Office on Violence Against Women, were presented.
Native American women are 2.5 times more likely to be sexually assaulted than the national average; 60 percent of assaults are not reported; 80 percent are committed by non-Native men; 15 of 16 perpetrators never spend a day in jail.
"These are statistics that hurt our hearts," said Rhonda Fabreth, director of Henderson House in McMinnville. Henderson House provides help for victims of domestic and sexual violence, and Fabreth said that the nonprofit would like to "get groups going in Grand Ronde."
A couple days after the session, the World Health Organization reported that worldwide 30 percent of women suffer domestic and/or sexual violence in their lifetimes.
The network fighting domestic and sexual violence says that these are among the most under-reported crimes, and in Grand Ronde, the extent of the underreporting appears to bear that out.
In 2012, according to Tribal Police Chief Al LaChance, the Grand Ronde Police Department received three calls for domestic and sexual violence, and made three arrests.
In McMinnville, at Henderson House, where they work with victims of domestic violence, Native American "crisis calls" also numbered three and face-to-face meetings with victims also numbered three.
"Underreporting is always an issue for many reasons, which can vary," said Quilt. Reasons may include fear of retaliation from the perpetrator and/or the perpetrator's family, fear that law enforcement will do nothing and fear of further harm. Unfortunately, leaving the relationship does not stop the violence. In fact, the most dangerous time for a victim of domestic violence is when she takes steps to leave the relationship.
"The ones that go unreported are the ones that we cannot do anything about," said LaChance. "Some start out with simple assault, and that's often enough to keep someone from making that 911 call.
"Educating people is the hardest part," he added. There's so much stigma that people don't want to call. They're trapped.
"There is so much shame with it," said Henderson House's Fabreth. Instead of using domestic violence in describing the agency's mission, they try to avoid the connection with shame and use another description: healthy relationships.
"It's not always women who are victims," LaChance added. "There are women assaulting men, and that's even less reported."
The lunch session hosted some 50 in the Elders' Activity Center, along with some 25 from Youth Education, who stayed for part of the session.
"This is our first step," said Tribal Medical Assistant Jamie Adams, who is also head of Grand Ronde Native American Women Against Sexual and Domestic Violence. "We're hoping to bring more awareness into the community. We're hoping this will be the start of a network for support at the Tribe. We just want it to bear fruit."
In February, the group sponsored a sexual assault training.
"The bottom line," she said, "is that no woman should need to leave her home and have no safe house to go to."
"It starts with us," said Tribal Elder Laura Gleason.
"Indigenous peoples in the USA face deeply entrenched marginalization - the result of a long history of systemic and pervasive abuse and persecution," says Amnesty International. "Sexual violence against Indigenous women today is informed and conditioned by this legacy of widespread and egregious human rights abuses."
"We've lived through a holocaust that started in 1492," said Quilt. "Intergenerational trauma is part of our history. It's important to look where we've come from to see where we are going."
That place, she said, is one where "children grow up without violence in their lives."
"The answer, though, is within ourselves," Quilt said.
Traditionally, Native women were very respected. That respect has eroded over generations of institutional and personal abuse.
"Women have always been the backbone of the Tribe," said Tribal Elder and longtime Tribal Council Chair Kathryn Harrison.
Children exposed to domestic violence may experience eating and sleeping disorders and mood disorders, Quilt said. They can be over-compliant or aggressive or detached. They may also have school problems and suicide ideation.
The movement toward justice requires that the truth of women's and children's lives needs to be told; that harm be repaired to the greatest extent possible; and that conditions that gave rise to the violence be removed or eradicated.
It also requires an end to victim blaming and a beginning to coordinated community responses.
"We have to teach our sons to have respect for women," said Tribal Elder Betty Bly. "Why do we as women always have to be afraid?"
It is "huge," Quilt said, that Tribes now have jurisdiction over non-Native perpetrators on Tribal lands. "It is an affirmation that Tribes have the inherent right to protect their people, including the safety for Native women in their Tribal communities," she said.
"I want to make a difference for future generations," said Adams. "We owe them. It's time to make a change."
Services available for victims of domestic violence include:
Grand Ronde Native American Women Against Sexual and Domestic Violence, Grand Ronde, 503-930-8799
Henderson House, McMinnville, 503-472-1503
Sable House, Dallas, 503-623-6703
Willamette Valley Crisis Center, Salem, 24-hour hotline: 503-399-7722; or toll-free in Oregon, 866 399-7722
Services available for perpetrators or would-be perpetrators of domestic violence include:
Focus Circle, with Tribal Consultant Priscilla Marlowe, 503-930-8799; focuscircle.pm@gmail.com.