Culture
Bryanna Langley receives Gates scholarship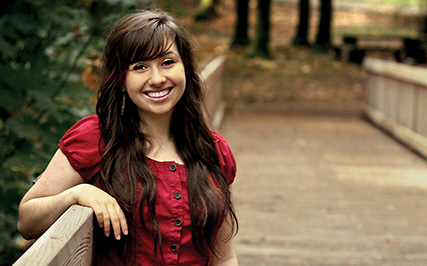 Years of community service, volunteer work, academic excellence and work experience paid off when Bryanna Langley received a large envelope in the mail with a letter that read, "Congratulations, we are pleased to inform you of your selection of the Gates Millennium Scholarship!"
"When I saw that envelope in the mailbox, I knew she got it. Her reaction was pure disbelief. She didn't believe she had really received this scholarship" said her father, Tribal member Bryan Langley.
The Gates Millennium Scholarship is one of the nation's largest scholarships awarded to Native American students.
Langley was one of 1,000 students who received the scholarship. There were 54,000 students across the United States who applied for the scholarship.
This year was the largest and most competitive group of candidates in the program's history.
Langley is the third Grand Ronde Tribal member to receive the distinguished scholarship following Ashlee Webb (Merrill) and Amanda Monk (Thomas) in 2005.
The letter Langley received stated, "We are very excited for you to join the community of Gates Scholars and we are very pleased to confer this distinct honor that distinguishes you as a Leader for America's Future."
The Gates Millennium Scholars Program selects 1,000 talented students annually to receive a good-through-graduation scholarship to use at any college or university of their choice with the opportunity to receive funding through graduate school.
Scholars receive personal and professional development through leadership programs along with academic and financial support throughout their college career. The program was originally established in 1999 by the Bill and Melinda Gates Foundation.
Bryanna is the daughter of Bryan and Rhonda Langley and is one of six siblings. She is the granddaughter of Dale and Shirley Langley and James and Lillian Hosley. She is a recent home school-high school graduate whose extensive volunteer work has included fundraising for Love's Door Orphanage, working with Habitat for Humanity, coordinating the Samaritan Purse Operation Christmas Child Project and helping in the Barnabas Episcopal Church Soup Kitchen.
When asked what advice she would have for someone applying for scholarships, Bryanna said, "Keep track of your volunteer experience, work experience, activities and awards starting your freshman year of high school and seek out people to look over your application and essays."
Her plans include continuing to work part time through spring to save money for a mission trip to Africa this summer. While in Africa she will serve in the Love's Door Orphanage ministry teaching children in the villages and working to fulfill needs in the local community; truly a life-changing experience.
When she returns she will start full-time studies this fall at Chemeketa Community College to earn her associate Oregon transfer degree. Her plan is to transfer to Corban University where she will earn a degree in counseling.
Bryanna's hobbies include writing, singing, reading and spending time with friends and family.
She is truly an outstanding leader for her community and Tribe. As a staff, we couldn't be prouder. It is a great honor to have a Tribal member receive this prestigious scholarship. Congratulations Bryanna from the entire Tribal Higher Education staff on a job well done. We wish you the very best in your educational journey.