Culture
Crafts help Erin Soderberg connect with her Umpqua heritage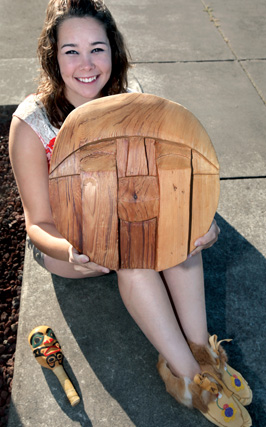 Erin Soderberg, Alaskan-born and -raised granddaughter of former Tribal Council member Wink Soderberg and his wife, Kathy, is taking a love of her culture to college in Oregon.
From seventh through 12th grade, she learned about Native arts and culture through Tlinget master carver Jon Rowan, Native arts teacher at Klawock High School in southeastern Alaska. She made carvings and moccasins, a bowl and a rattle, among a dozen or so projects over the years.
"I really want to give him credit," she says. "He taught me everything I know about Native arts. He was a lot of fun and a really wise guy."
Along the way, she visited Grand Ronde and had a look at Umpqua crafts. With Rowan's support, she shifted her education to learn the Native cultural arts through the Umpquas, who now live on through her and others in the Grand Ronde Tribe.
She started sharing her culture with her grandparents when she was 12, grandfather Wink Soderberg says.
"She sent me a carving when she was 12 years old, which was Tlinget," he recalls. "I didn't know she was doing anything like that. I was amazed. When she sent me other things, later on, I couldn't believe it. I took them and showed them around. Everybody very impressed."
At 18, Erin is a freshman at Eastern Oregon University this year and is moving right away to join up with other Natives at the school.
First thing, she contacted Tribal Elder and former Education Department Manager Jackie Leno Grant, who is Rural and Native American Programs coordinator for the university.
"The Indian club on campus - Speel-Ya (Coyote) - NA Student Council is one of EOU's oldest and most active clubs," says Grant.
In November, the group organizes events for Native American Heritage Month. It works with other campus departments on events for all students. These events include Indian arts and speakers. In May, the group sponsors the annual Indian Arts Festival Powwow.
"It's one of the integral groups on campus," says Grant.
Soderberg arrived in La Grande for her first semester with experience as student council president in both her junior and senior years at Klawock High School.
"I liked parliamentary procedure," she says, "and learned how to properly work with people in uncomfortable situations. It was hard at times."
Starting out with courses to prepare herself for a nursing degree, Erin also intends to continue immersing herself in Native culture.
"I really want to get more involved in culture," she says. "I wanted to learn more because culture is part of who I am. Not living (in Grand Ronde) has affected me, because I always wanted to be more involved."
Native American attendance at the school last year included 85 students with about 50 participating in the online distance education program, says Grant.
Last year, two Grand Ronde Tribal members graduated from Eastern Oregon -- Myranda Markey and Kristi DeLoe.
"The numbers are small," Grant says, "but it is so nice to have someone from our own Tribe here. She looks to be a very competent and outgoing young lady. She is a delight and Eastern is a good fit for her."
Erin also enjoys volleyball and has been working in the Klawock fishing industry - cleaning boats and fish and vacuum sealing fish - after school since she was 9 years old.
"I really liked it," she says. "It's a pretty cool thing to do in the summers. I get to meet a lot of new people, and you get to know them because they come back year after year. You develop relationships."