Health & Education
Veterans Affairs holds conference at Spirit Mountain Casino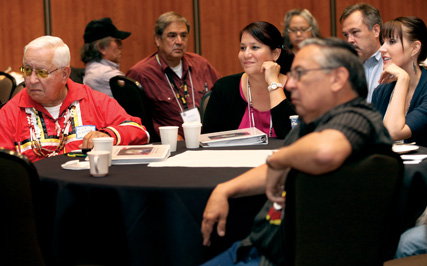 The U.S. Department of Veterans Affairs' Office of Tribal Government Relations held its second Western Region Conference at Spirit Mountain Casino on Tuesday and Wednesday, July 10-11.
Helping coordinate the conference on the Grand Ronde end was Member Services Specialist Reina Nelson, who said that the goal of the conference was "creating awareness to Tribal veterans and facilitators of the programs available from all four legs of Veterans Affairs." Those legs are: Veterans Benefits Administration, National Cemetery Administration, VA Health Care and Veterans Housing Administration.
Oregon Department of Veterans Affairs Director Jim Willis put the goal of the conference another way: "To collaborate, educate and network to serve this population."
In welcoming the crowd that came from the Western Region's six states of Oregon, Washington, Idaho, Nevada, California and Alaska, Grand Ronde Vice Chairman Reyn Leno, a Vietnam War-era Marine veteran, said, "One of the biggest things, I always have to think, is for veterans to tell you their needs. They won't tell you until they need it bad. (Overcoming that resistance) will be your hardest job."
Michelle Cooper, a Tribal member and Iraq veteran living in Corvallis, came "to learn about benefits and what's available" in terms of vocational rehabilitation, housing, mental health and other services.
"I think the VA is really complicated to the average veteran," she said. "A lot of vets don't have any clue what's available to them."
For Louis Bickford, an Ojibwe veteran from California, the two government-to-government conferences held so far have been "invaluable," he said.
"It brings together all the resources we need; more than just VA compensation pension and health care, but also Social Security SAMSHA (Substance Abuse and Mental Health Services Administration), and county and state programs." Bickford is founder and volunteer director of the National First Nations Veteran Service Organization.
The two-day program included workshops on many veteran issues, including disability, success stories, health care and homelessness, as well as a session on understanding American Indian worldviews.
Led by Seattle Indian Health Board's Annette Squetimkin-Anquoe, a Colville Indian who leads the Washington Urban Indian Tobacco Prevention and Control Coalition, the session described "what it means for us to be in balance, in health and able to heal."
Also in attendance was Mark Johnston, director of the Tribe's Health & Wellness Clinic, who was on hand because "the Tribe and the local VA have been working on an agreement for three months," he said. "The agreement is part of the Affordable Care Act requiring the VA to negotiate agreements with Tribes to reimburse them for health care services provided at Tribal clinics for eligible veterans. Ultimately, the agreement should create better access to health care services to all eligible veterans and provide added revenues for the CTGR Health and Wellness Center that can be used to enhance the health care services we provide."
The concept of the Veterans Affairs' Office of Tribal Government Relations began with an executive order in 2000 from President Bill Clinton, but the office did not exist until the Obama administration ordered it in 2009.
Posting the colors was a Grand Ronde Honor Guard, including Tribal Elder Gene LaBonte, LaBonte's cousin Ronda Metcalf, who is a project director for the Northwest Portland Area Indian Health Board, and veterans Bob Duncan and Al Miller.
"It just isn't a matter of honoring vets one day," said Leno. "We have to honor them every day."